Ronald Darby Injury: Eagles CB Suffers Dislocated Ankle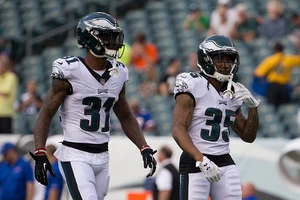 Eagles starting cornerback Ronald Darby could miss multiple weeks with a dislocated ankle.
A return date is currently uncertain, but Darby could return at some point this season. Eagles head coach Doug Pederson said the team would have more details on the injury tomorrow.
"Yeah, it's something we'll look at tomorrow. Obviously evaluate Darby and see where he's at. I'm sure he'll miss some time."
NFL reporter Ian Rapoport of NFL Media reports the X-Rays were negative, which is good news for Darby. He is scheduled to undergo an MRI on Monday to check for ligament and tendon damage.
Sources: #Eagles CB Ronald Darby has suffered a dislocated right ankle. X-Rays were negative. MRI to check for ligament & tendon damage.

— Ian Rapoport (@RapSheet) September 10, 2017
#Darby @Eagles better case scenario. Sounds like subtalar ankle dislocation If so, no surgery, mid season return.https://t.co/wz6BDDU3Hs https://t.co/6I9nb8bHC2 — David J. Chao, MD (@ProFootballDoc) September 10, 2017
Not anticipating tendon damage.
Yes, ligament tear but unlikely surgery.
With quick reduction by good @Eagles med staff, will play 2017. https://t.co/yh2OeRPqxQ

— David J. Chao, MD (@ProFootballDoc) September 10, 2017

Darby's ankle injury appeared to be a potential season ended at first view. In the first half of Philadelphia's Week 1 matchup against the Washington Redskins, the former Buffalo Bill was running when the non-contact injury occurred, falling awkwardly when his right ankle appeared to give out.
The non-contact nature of the injury suggested a fracture, a condition that usually signals the end of a player's season. Fortunately for Darby and his team, the third-year corner may return at some point this year.
In the interim, it appears likely the Eagles will go with Jalen Mills and Patrick Robinson as the starting cornerbacks with Jaylen Watkins elevated to the No. 3 role.
"Those corners are on an island quite a bit and I thought both of them, Jaylen [Watkins] when he came in and Jalen Mills – what a big play when we needed it," Pederson said. "A couple drives, the Redskins had our defense on the field for a long time so a turnover at that time was huge. I thought he stepped in and did a nice job."
So how will the Eagles move forward without Darby?
"You saw it today when Jaylen Watkins stepped in and battled out there. You get [Dexter] McDougle now and you get these guys ready to go."
"It's going to be tough but guys have to step up," Eagles linebacker Jordan Hicks said. "That's the NFL. That's how I got my opportunity. It's just the way it happens. We trust our guys and we keep going."
The team should an update tomorrow when Pederson speaks at noon, listen to the Doug Pederson Day After Press Conference on 97.3 ESPN.