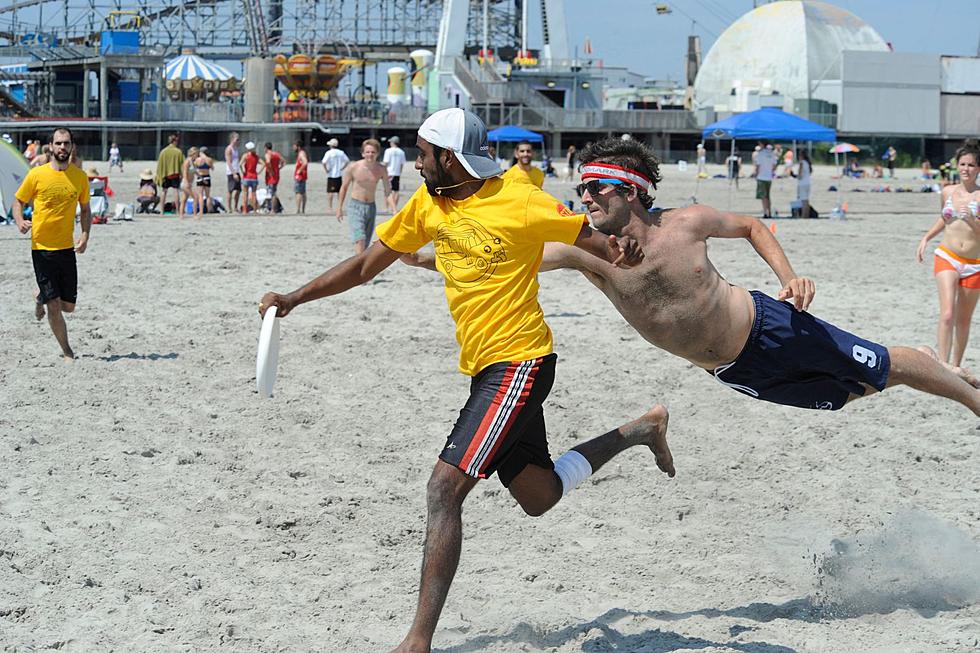 31st Annual Beach Ultimate Tournament back in Wildwood, NJ
Photo courtesy of The Greater Wildwoods Tourism Improvement and Development Authority
The 31st Annual Beach Ultimate Tournament is back on the Wildwood Beaches later this month, which is the world's largest Co-Ed Frisbee Beach Tournament with a projection of over 500 teams invading Wildwood Beaches.
This year's Wildwood Beach Ultimate Tournament will feature mixed-gender frisbee teams of all ages and competition levels competing on Saturday, July 29th, and Sunday, July 30th. Since 1992, teams consisting of Four-on-Four competitions in Beach Ultimate, formerly known as Ultimate Frisbee, to see who can score 15 points first. The event will be hosted on the beaches between Oak Avenue to Rio Grande Avenue with Saturday's action played from 9 am to 5 pm and Sunday's competition scheduled for 10 am to 5 pm.
Registration is still open if you want to submit your co-ed team consisting of a roster typically numbering up to 10 people. There are different divisions for those who are playing for fun more than winning and other divisions for those who are ultra-competitive, plus different age brackets ranging from High School to "Grand Masters" consisting of Males 40 years and older plus females 37 years and older.
Ultimate Beach Frisbee Tournament in Wildwood is free for spectators to watch Pool-Play on Saturday and Elimination Games on Sunday. For more information about this competition and details of the cost of registering your team for this event, you can visit the Wildwood Beach Ultimate(W2BU) Tournament website here.
25 Best Things to Do in South Jersey — From beaches to boardwalk and everything in between