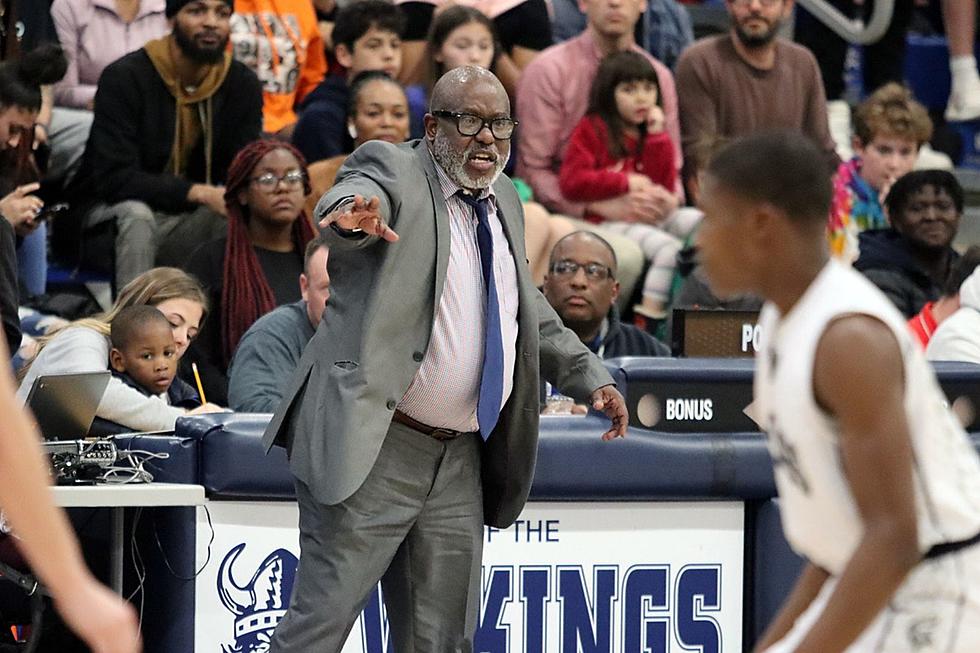 Atlantic City, NJ Head Coach Gene Allen Still Loves Competing
Atlantic City HS Boy's Basketball Head Coach Gene Allen - Photo by Dave O'Sullivan/Glory Days Magazine
Gene Allen has been the face of the Atlantic City high school boys basketball program since being hired by the school in 2003. Allen is the all-time wins leader at the school and has led the program to unprecedented heights.
He is the only coach in the history of the storied program that has won a state Group IV title, accomplishing that feat on three separate occasions.
This season is a little different for the usual hunted Vikings.  They are coming in under-the-radar with a lot of inexperienced kids, but Allen says you can never count out AC.
"We haven't played a meaningful game in two years," Allen said. "Last season was abruptly interrupted due to the pandemic at the time we were 7-1. Many of this year's  key returnees have limited to zero experience.  I have had years where AC started not on the grid but as the season progressed, we made some noise so don't count us out yet."
Allen mentioned players like Rob Fishbein, Nasir Turner, Jac and Jai Pridgen-Hill and Dylan Culmone as players who he envisions playing pivotal roles this season for the Vikings to have success.
While Atlantic City is a perennial power, it does have it challenges, the biggest might be getting the kids to buy in to his message and show the commitment it takes to win at the high school level.
"The biggest challenge has been getting kids to understand the type of commitment it takes to play for the blue and white," Allen says. "Today kids have so many distractions from video games to social media all taking time away from their peruse of excellence. I can say that all of my former players regardless of what level they played in college were dedicated high school players. The current group of kids like basketball but I don't see as much love for the game."
While the kids my have changed, Allen has not.  He admits and understand he is old school, but he told me there is no other place he would want to coach.  Coaching at Atlantic City high school was his childhood dream.
At first winning games and championships were this goal, but that has since changed.
"My goals have changed from a coaching standpoint," Allen explained. "Its important to teach the game more than ever. Kids want to be the next Steph Curry or Joel Embiid but they don't want to spend time on shooting, boxing out, making good basketball decisions."
Allen told me he doesn't keep track of wins and still feels many of the loses.
"All I know is we have had some success and I'm proud of the accomplishments that the players and coaches have had during my tenure," Allen said.
To get those many wins and accomplishments, Allen took a little something and learned from some of the best Vikings who paved the way before him.
"The coaches I learned from the most have been Bob Lester the old ACHS coach, Lloyd Barkesdale, Joe Fussner and Donnie Marsh, who is a current assistant at Detroit Mercy University, all ACHS greats.
"The biggest thrill was I got to spend five straight summers working with Bob Hurley Sr. at his camp in the Poconos with Hoop group. That man is as nice as they come and as tough as they come. All I ever wanted to do is run my program like his and to be able to pick his brain and watch how detailed he is it's the equivalent of working for Saban or Belichick when  talking about HS basketball in NJ. It ranks up their with anything I've ever accomplished in basketball."
So whats next for coach Allen?
"Its a great question," Allen admitted. "I don't have a definitive answer for that. At my mature age I've come to understand everyday is a bonus and I'm learning to enjoy them. Watching what St. Augustine heaad boys' Coach [Paul] Rodio went through this fall put a certain perspective on what's important and what's not. At the end of the day its just a game of basketball and life's loyalty is fleeing."
A new season brings new challenges, but Allen says he still loves competing against his rivals, many of which have become friends over time.
"My favorites are John Bruno and Paul Rodio both have helped me grow as a coach."
He says both those coaches are as intense now as they were when they first locked horns on the court back in 2003.
"I met Paul at a summer league game where we were coaching against each other for the first time 20 years ago and we had to be separated because we squared off at mid court after a time out. I was insistent on letting him know Atlantic City was here to challenge the Hermits," Allen laughed. " My first game against John, who took me into overtime at their place, almost got me run out of town."
"I'm curious to see how I fair against the new infusion of young bloods coming into the profession."
One other name Allen says he loves to compete with is That last one would be Elizabeth High School Varsity Basketball Coach Phil Colicchio.
"That would mean we made it to another state championship he is a wonderful coach, friend, and intense as hell."
If they made it that far it might be a surprise to some, but nothing is ever a surprise with Coach Allen on the sideline.
Every NJ pizza joint Barstool's Dave Portnoy has reviewed
Dave Portnoy, commonly known as El Presidente, is the founder of Barstool Sports. Somewhere along the way, he decided to start reviewing local pizzerias, and the concept took off. Here is every New Jersey pizzeria Dave has stopped in, along with the score he gave them.