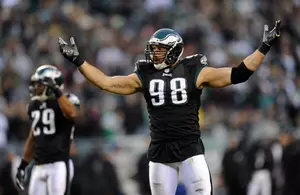 Barwin Understands Why Eagles Moved On
Connor Barwin understands why the Eagles moved on. (Photo by Maddie Meyer/Getty Images)
PHILADELPHIA (973espn.com) - It's rare when a veteran NFL player is released and understands why but Connor Barwin has always been a rare breed.
The former Eagles defensive end who recently signed with the Los Angeles Rams called his former team "smart" to cut him considering where the club is in its rebuilding effort.
"Obviously, there was a ton of money invested in the defensive line room with Fletcher (Cox), Vinny (Curry), (Brandon Graham) and myself," Barwin told the Philadelphia Inquirer. "Now they have a quarterback (Carson Wentz) that appears to have a chance to be a really, really good player.
"I wish it wasn't the money I was getting paid, but I think it was smart to use that money and help Carson."
Barwin was scheduled to make $7.75 million this season for the Eagles before the organization moved on, needing that money to help sign receivers Alshon Jeffery and Torrey Smith in free agency.
Eagles executive vice president of football operations Howie Roseman has been consistent in saying this offseason is all about building up around Wentz and the message wasn't lost on Barwin.
-John McMullen covers the Eagles and the NFL for 973espn.com. You can reach him at jmcmullen44@gmail.com or on Twitter @JFMcMullen