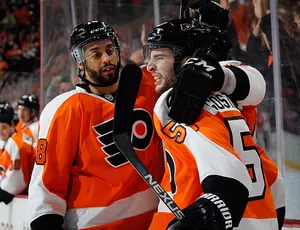 Bellemare Heading to Vegas in Expansion Draft
Alternate captain Pierre-Edouard Bellemare, the team's fourth line center last season, has been selected by the Vegas Golden Knights in the NHL expansion draft. (Photo by Bruce Bennett/Getty Images)
CHICAGO — One piece of the Flyers' leadership group won't be back next season.
Alternate captain Pierre-Edouard Bellemare, the team's fourth line center last season, has been selected by the Vegas Golden Knights in the NHL expansion draft, a league source confirmed before the announcement in Las Vegas Wednesday night. Craig Custance from The Athletic first reported the transaction Wednesday afternoon.
Bellemare, 32, had four goals and eight points last season and was one of five Flyers to play all 82 games. His role wasn't so much to score, but to shut down the opposing top line. He was a minus-1, which was fourth on the team among forwards who had played at least 30 games.
The Frenchman has a $1.45 million cap hit for the next two seasons. Vegas GM George McPhee had said he would be open to taking larger cap hits so selecting Bellemare from the Flyers gives him a little more room to do so.