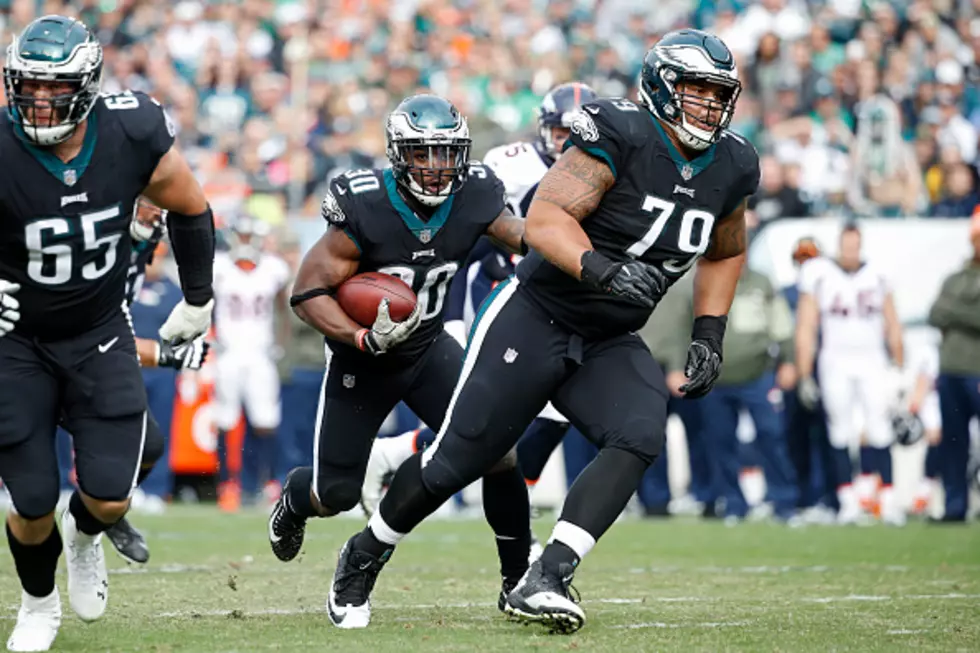 Brandon Brooks Still Not Ready for Team Drills
(Photo: Getty Images)
PHILADELPHIA (973espn.com) — After a medical evaluation last week Eagles Pro Bowl right guard Brandon Brooks is earmarked for the next step back in his rehab from the torn Achilles he suffered in the postseason back in January, according to Doug Pederson.
"Part of his rehab is we can sprinkle him into more individual work, one-on-ones, things like that with Brandon," the Eagles coach said on Sunday. "[He] still hasn't been officially cleared yet to work in any team stuff, and we're just going to progress him like we've done with all our guys."
Brooks said last week that he hoped to be cleared for team drills after a checkup on Wednesday but Philadelphia remains cautious with the Pro Bowl guard.
"Everything is going according to schedule," Brooks insisted in the locker room before practice.
The Eagles regular-season opener is now just three weeks away, and Brooks is still eyeing Sept. 8 as the target date for his return to the starting offensive line.
"[Week 1] was always on the table since I got hurt," Brooks said.
To date, Brooks has been able to take his familiar spot at right guard during group install but then handed the baton to backup Halapoulivaati Vaitai during any 11-on-11 sessions as well as the first two preseason games.
This week will serve as a big test for Brooks with the Baltimore Ravens coming in Monday and Tuesday for joint practices.
"I've still got time and I think the biggest indication is going to be this week with the one-on-ones," Brooks said. "See how it feels versus not just the defensive player, but the [Ravens].
Brooks suffered the torn Achilles in the first half of the Eagles' 20-14 divisional-round loss to the New Orleans Saints on Jan. 13.
-Veteran QB John McCown and rookie OT Brett Toth made their Eagles practice debuts in a scaled-back 10/10/10 session with the Ravens scheduled in Monday and Tuesday. Both of those sessions will be in pads but there will be no live periods. The AccuWeather real feel reached a blistering 106 degrees and the oppressive heat is forecasted to continue over the next two days.
-The Eagles started McCown slowly, letting him throw it a bit in 7-on-7s. He started with a short crossing-route to J.J. Arcega-Whiteside and then missed badly on a back-shoulder attempt to JJAW.
-Cornerback Ronald Darby continues to ramp things up from his ACL injury and was the starting right corner in both 7-on-7s and some team work. At one point Rasul Douglas got some looks on the left side for what could be the first time this summer. It was mainly Sidney Jones at LC, however, with Avonte Maddox in the slot so the trio that leads in the clubhouse is going to be Darby-Jones-Maddox.
-Linebacker Nigel Bradham (offseason toe surgery) was cak in 7-on-7s for the first time this summer.
-Undrafted rookie Nate Herbig got the second-team reps at center with Stefen Wisniewski at RG and Matt Pryor at RT.
-Mack Hollins got an easy look at a deep throw and dropped it with Josh Hawkins trailing. Remember that a 10/10/10 session is for the defensive to give the offense looks but not be competitive and vice versa so the drop gets magnified.
-On at least occasion Marken Michel, typically a slot receiver, and Orlando Scandrick, typically a slot corner, were working outside.
-Both DeSean Jackson and Alex Ellis bobbled potential receptions, resulting in interceptions by Deiondre' Hall and Asantay Brown.
-Josh Sweat missed the practice and was listed as day-to-day by the Eagles with a knee injury. Richard Rodgers returned from a foot injury while Paul Worrilow was absent as his stop-and-start rehab from an ACL continues and he was ultimately released late in the day.
-Cody Kessler hasn't been cleared yet but was out at practice wearing a baseball cap.
- Al Groh, the former coach of the New York Jets as well as Virginia and Wake Forest level and the father of Eagles offensive coordinator Mike Groh, took in the practice.
-John McMullen covers the Eagles and the NFL for 973espn.com. You can reach him at jmcmullen44@gmail.com or on Twitter @JFMcMullen