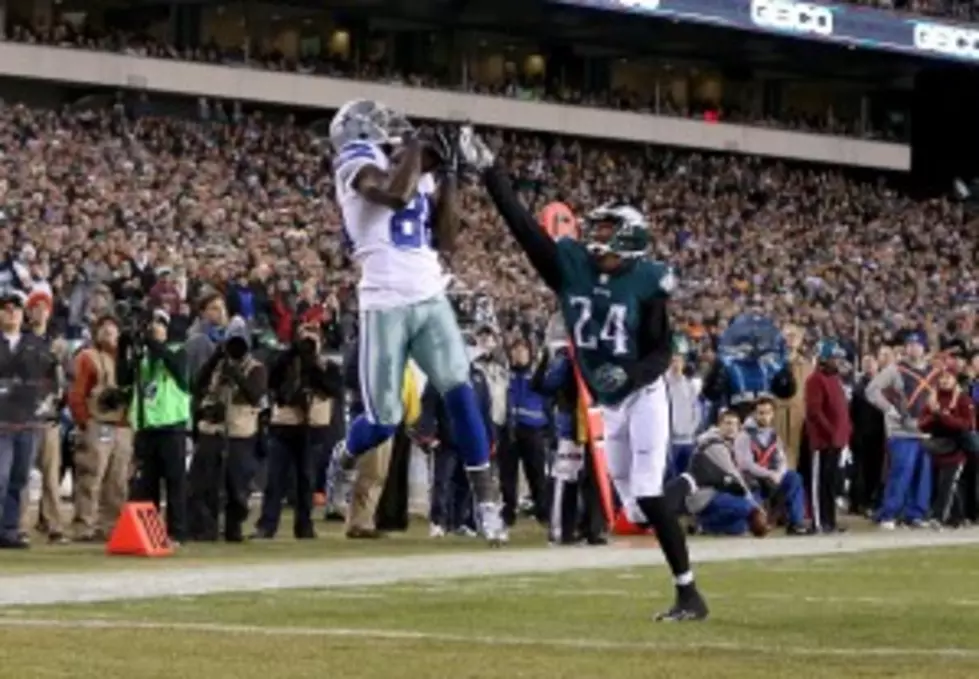 Bryant, Cowboys Win Rematch With Eagles
Dez Bryant's career-high three touchdowns helped the Cowboys put away the Eagles 38-27. (Getty Images)
PHILADELPHIA -- Dez Bryant went nose-to-nose with Malcolm Jenkins in warmups and torched Bradley Fletcher three times during the game.
Bryant caught a career-best three touchdown catches from Tony Romo and the Dallas Cowboys rallied to beat the Philadelphia Eagles 38-27 on Sunday night after wasting a 21-0 lead.
DeMarco Murray had a pair of TD runs to help the Cowboys (10-4) move ahead of the Eagles (9-5) into first place in the NFC East. The Eagles dominated the Cowboys in a 33-10 road win on Thanksgiving, but Dallas takes control of the division with two weeks left.
"Just came out poised. I was focused," Bryant said. "We knew that this game was going to be big. We're not really out trying to prove nothing to nobody. We're trying to stay together, play together and understand from here on out it's big games. We've got to stay together. We've got to block everybody else out. We can't be in to all of that."
The NFC-leading Arizona Cardinals (11-3) clinched a playoff berth because the game didn't end in a tie.
The Cowboys took a 21-0 lead early in the second quarter before Philadelphia rallied behind Mark Sanchez.
Chris Polk had TD runs of 1 and 5 yards and Darren Sproles ran in from the 1 to give the Eagles a 24-21 lead late in third quarter. But Romo and the Cowboys answered quickly with two touchdowns in a span of 2:51.
Murray scored on a 2-yard run to cap a 78-yard drive. After J.J. Wilcox intercepted Sanchez's pass, the Cowboys started the fourth quarter at the Eagles 42. Romo then hit Bryant in stride for a 25-yard scoring pass.
Bryant couldn't wait for this game after being held to 73 yards on four catches in the first meeting. After that game, he called Philadelphia's secondary "cheap" and he had a heated exchange with Jenkins before the game. Bryant came back twice after Jenkins walked away and it wasn't known why they argued.
Bryant finished with six receptions for 114 yards. He beat Fletcher on each of the TDs.
"Having a guy like Dez makes it easy to throw to spots that he can go get it," Romo said. "Just lucky to have him."
Romo threw for 265 yards and Murray ran for 81 on 31 carries.
Sanchez had 252 yards passing and two interceptions. LeSean McCoy was held to 64 yards rushing.
Sanchez completed a 72-yard catch-and-run pass to Jeremy Maclin on third-and-12 to the Cowboys 1 before Polk ran in to get the Eagles to 21-17.
Vinny Curry then sacked Romo and forced a fumble that was recovered by Fletcher Cox at the Cowboys 14. Sproles scored to give Philadelphia a brief 24-21 lead.
The Eagles had won 10 straight regular-season games at home before losing to Seattle and Dallas for their first consecutive losses since Weeks 7 and 8 in 2013.
After Romo threw a 26-yard TD pass to Bryant early in the second quarter, the Cowboys had outscored the Eagles 21-0 and outgained them 167-0. Curry sacked Romo on third down two plays before the TD pass, but a holding call on Cary Williams kept the drive going.
The Cowboys recovered what ended up being an onside kick to start the game. A short kickoff bounced between deep returner Josh Huff and short man Brad Smith at the 15 and was recovered by C.J. Spillman at the Eagles 18.
After Romo connected with Terrance Williams on an 8-yard pass on third-and-6, Murray ran in from the 1 to make it 7-0.
"We can't turn the football over and expect to win games," Eagles coach Chip Kelly said. "We're not coaching it and we're not doing the right things."
The Eagles went three-and-out on their first possession, but Donnie Jones pinned the Cowboys back to the 12 with a 68-yard punt.
Romo then led the Cowboys 88 yards on 16 plays. He completed three third-down passes to Jason Witten to extend the drive and tossed a 4-yard fade to Bryant over Fletcher to put Dallas up 14-0.
The start was the opposite of the first meeting when the Eagles steamrolled the Cowboys on their way to a convincing win. The Cowboys bounced back from that loss with a win at Chicago last Thursday night and had three extra days to prepare for the rematch.
The Eagles beat the Cowboys last year in a winner-take-division game at Dallas in Week 17. Romo missed that game after having back surgery.
(Copyright 2014 The Associated Press. All rights reserved. This material may not be published, broadcast, rewritten or redistributed.)