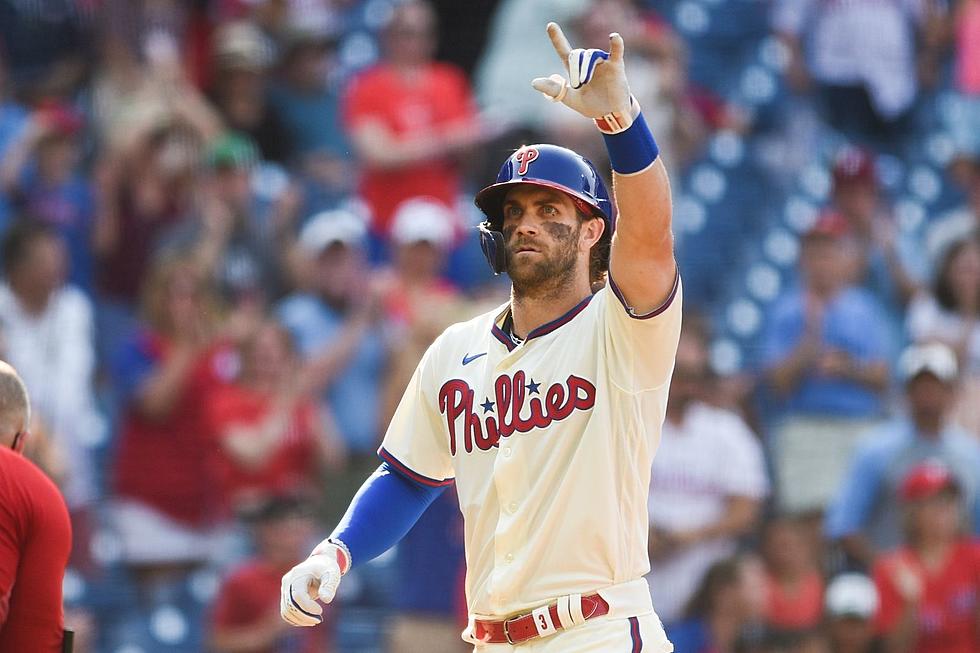 Bryce Harper expected back Tuesday, where will he hit in Phillies lineup?
(Photo by Cody Glenn/Getty Images)
Five months after Tommy John surgery, it appears that Bryce Harper is ready to return.
According to Matt Gelb of The Athletic, if cleared when he visits with Dr. Neal ElAttrache on Monday, Harper could be in the Phillies lineup against the Dodgers on Tuesday night in LA.
"This is one of the quickest comebacks i've ever seen from a very serious injury," said veteran ESPN baseball reporter Tim Kurkjian on Baseball Tonight/"
Harper was originally expected to be back around the All-Star break, he is two months ahead of that anticipation.
"The Phillies are prepared to put him right back in the lineup once he's cleared, he doesn't need time in the minor leagues," said ESPN's Buster Olney on Sunday Night Baseball.  He's done a lot of simulated games.  A Phillies team that is getting hotter will be getting some help back soon."
So when Harper returns, where does he fit in the batting order?
I'm not sure where they will hit him, but here is how I would stack the lineup with Harper back in the lineup.
1. Turner
2. Stott
3. Bohm
4. Harper
5. Castellanos
6. Schwarber
7. Realmuto
8. Marsh
9. Sosa
I like the left-right-left throughout the lineup with this lineup.
I'd rather Harper hit in the No. 3 spot, but I also like Turner leading off with Stott getting to hit with the first baseman holding Turner on base, giving him a bigger hole on the right side.
I think Bohm has earned the opportunity to hit in the top of the order and the way Castellanos is going, he gives some nice protection behind Harper.
I guess if you like Stott at the top and Harper Np. 3, you could see:
1. Stott
2. Turner
3. Harper
4. Castellanos
5. Schwarber
6. Realmuto
7. Bohm
8. Marsh
9. Sosa
Little different look here with Harper hitting third and Castellanos staying in the four spot. This gives Castellanos some power behind him and plenty of bats, but it takes away the left-right-left all the way through the lineup, which isn't a huge deal.
Either way, adding Harper, really gives this lineup more depth.
25 Best Things to Do in South Jersey — From beaches to boardwalk and everything in between