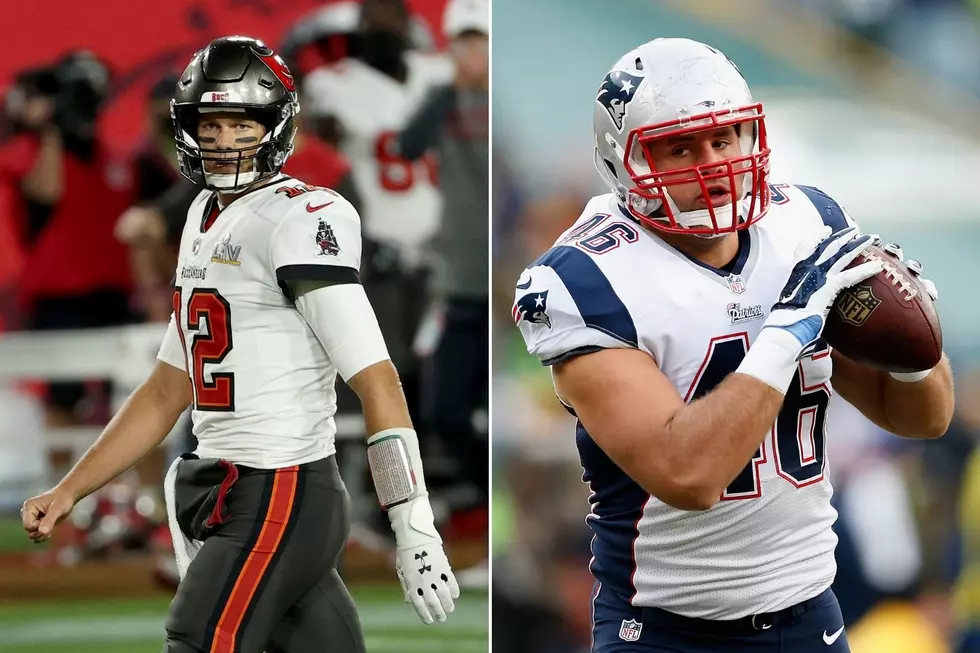 Busy Sports Week Reviewing Super Bowl LV, Eagles, Sixers, Flyers
*Tom Brady: (Photo by Patrick Smith/Getty Images) *James Develin: (Photo by Christian Petersen/Getty Images)
Last Sunday the Tampa Bay Buccaneers won Super Bowl LV and Tom Brady is now the undisputed Greatest Of All Time by winning his seventh Super Bowl title, the first with his new team. In fact Brady might have earned the title of G O A T for all sports still winning games at age 43!
Meanwhile it's been a busy week in Philadelphia sports, with our Philadelphia Eagles are in the news with rumors abound about the future of Carson Wentz and where he will be playing Quarterback in the NFL next season.  The Philadelphia 76ers are in first place with an 18-8 record in the NBA's Eastern Conference. Can they keep their lead and hold of the Milwaukee Bucks, Brooklyn Nets and Boston Celtics as the season rolls on? The NHL and the Flyers are dealing with COVID-19 outbreaks as several players have been placed on their COVID List.  The Flyers games this week have been postponed and the Black and Orange won't return to play until at least February 18th. The Phillies will be opening up Spring Training this Tuesday with Pitchers and Catchers and their first full squad reporting on Wednesday. 
On Saturday's show in The Locker Room with Billy Schweim, we will review the week in sports.  Scott McKay and I talk with former NFL Fullback James Develin who played for the New England Patriots with Tom Brady and won three Super Bowl rings. Develin is a local guy who can give insights from being apart of a 3-time Super Bowl Champion.  We will also debate where Carson Wentz will end up.  The Sixers continue their road trip visiting the Phoenix Suns on Saturday at 3pm and we will preview the game. The Flyers and Phillies will round out the conversation. 
On Sunday's show we will review the Sixers-Suns game and then we will talk with former Flyers goalie Dominic Roussel about his playing days and the state of today's NHL. The latest in Eagles rumors and the Phillies starting Spring Training news will keep you up to date.
Don't miss all the action every Saturday and Sunday from 10am to noon on 97.3 ESPN radio!
Eagles Head Coaching Wins All-Time