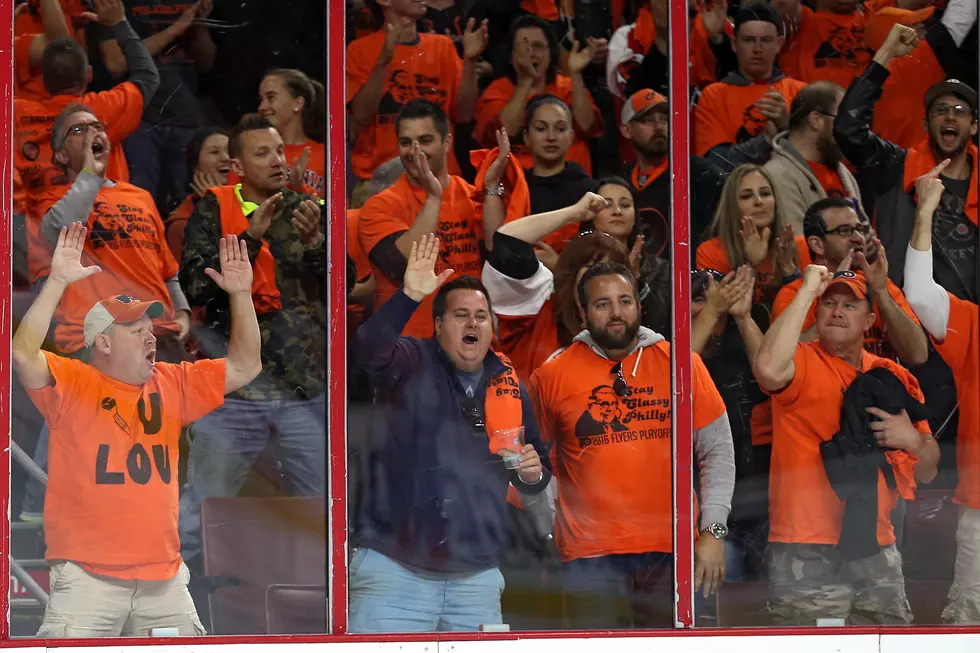 Could you Imagine if a Philadelphia Flyers Fans Did This…
Getty Images
The Tampa Bay Lighting took a 3-2 series lead in New York on Thursday night, beating the Rangers 3-1 at Madison Square Garden.
However one Rangers fan took things a bit too far after the game.
As you can see in the video below from Scott Kaplan, a Rangers fan wearing a red T-shirt, sucker-punched or more like straight up assaulted a Tampa Bay fan, who was wearing a blue Lighting jersey.
The assumed Rangers fan, was walking out of the arena, as was the assumed Tampa Bay fan when the assault happened.
According to reports, the fan in the red shirt has been found and arrested.
Rangers fan James Anastasio, 29 was arrested. Police say as Anastasio ran away, a witness tried to stop him and Anastasio then punched the witness too. Witness refused medical attention. Lightning fan is considered stable.
My first thought was, could you imagine if this happened in Philadelphia. Could you imagine if that guy in the red shirt was a Flyers fan?  This video would be the lead story on Sportscenter and it would be discussed on all the debate shows about how unruly Philadelphia fans are.
However, as I have maintained for years on The Sports Bash, there are bad people and fans in every fan base - not just in Philadelphia.
Per reports, Anastasio faces two counts each of assault, disorderly conduct and harassment.
In my opinion, he should never be allowed to buy a ticket for another game again.
20 Sporting Events That Happened at Boardwalk Hall in Atlantic City