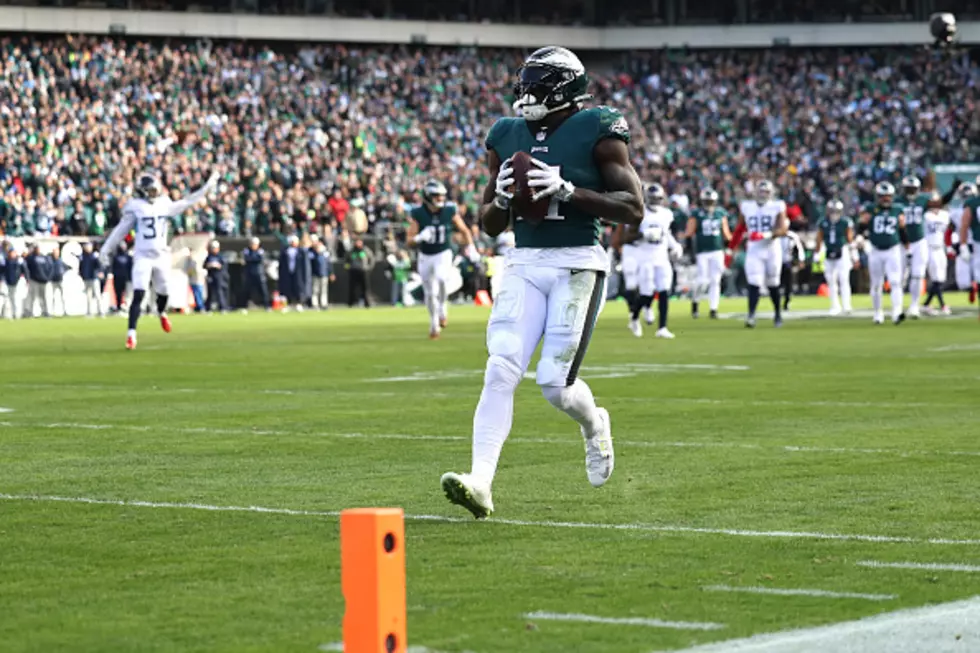 Dave Weinberg's Titans-Eagles 2-minute drill
Getty Images
A quick look at the Eagles 35-10 win over the Tennessee Titans on Sunday in Philadelphia.
Eagles' best number: 380 (Jalen Hurts passing yards)
Eagles' worst number: 12 (Eagles penalties)
View from my living room:
We finally finished putting up the outside Christmas lights before kickoff. It marked the 30th consecutive year of me climbing onto a rickety, aluminum ladder just to hang a string of bulbs on the gutter.
Three stars
1. Eagles quarterback Jalen Hurts (380 passing yards, three touchdown passes)
2. Eagles defensive end Josh Sweat (two sacks)
3. Eagles punt return Britain Covey (averaged 17.5 yards on six returns)
Eagles' best play
Wide receiver A.J. Brown, who had eight catches for 119 yards, burned his former team for two TDs, including a 29-yarder in the third quarter that saw him reach around Titans rookie cornerback Tre Avery to haul in a TD.
Eagles' worst play
Pick any of the 75 penalties on the Eagles' offensive line.
Turning point
The Titans cut the Eagles' lead to 14-10 on a Randy Bullock field goal in the second quarter. The Eagles answered with a 75-yard, seven-play drive that ended with Hurts' scoring on a 2-yard run that put them back in control at 21-10.
Did you notice?
The Eagles are 11-1 for the fourth time in franchise history, having done it in 1949, 1980 and 2004. ... Eagles became first team to run and throw for 350 yards or more in back-to-back games since the 1987 Los Angeles Raiders. ... Eagles scored 35 or more points for the fourth time this season. ... The 25-point margin of victory was their second-biggest of the season. ... The Eagles committed 12 penalties for 80 yards. ... All five offensive linemen had at least one penalty. ... Titans running back Derrick Henry rushed for 30 yards on 11 carries.
The Most Incredible BYOB Restaurants In Atlantic County