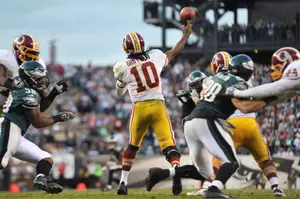 Eagles Among Teams Interested in RGIII?
Could Robert Griffin III, be the Eagles quarterback next season? (Photo by Drew Hallowell/Philadelphia Eagles/Getty Images)
Chip Kelly and rumors never seem to go away.
Whether its his ties to the college game or "fits" for his style of offense, there always seems to be some sort of connection to the Eagles head coach.
With the final weeks of the season here, off season chatter warms up, now its the Eagles quarterback rumors that we'll start to hear about.  With Sam Bradford set to become a free agent at the end of the year, some have doubts if he will want to return to Philadelphia, or if he can get a better deal some place else.
Per NFL Media Insider Ian Rapoport, the Eagles would be one of the teams that would interest in Washington Redskins quarterback Robert Griffin III this off season. Other teams he includes that would have interest are the Cowboys, Texans and Saints.
Would the interest be only if Bradford left?  Would it be to bring him in as a backup to Bradford? Or would it be to let Bradford walk and replace him with Griffin, who hasn't had much success since his rookie season, when he tore his ACL in a Redskins playoff game.