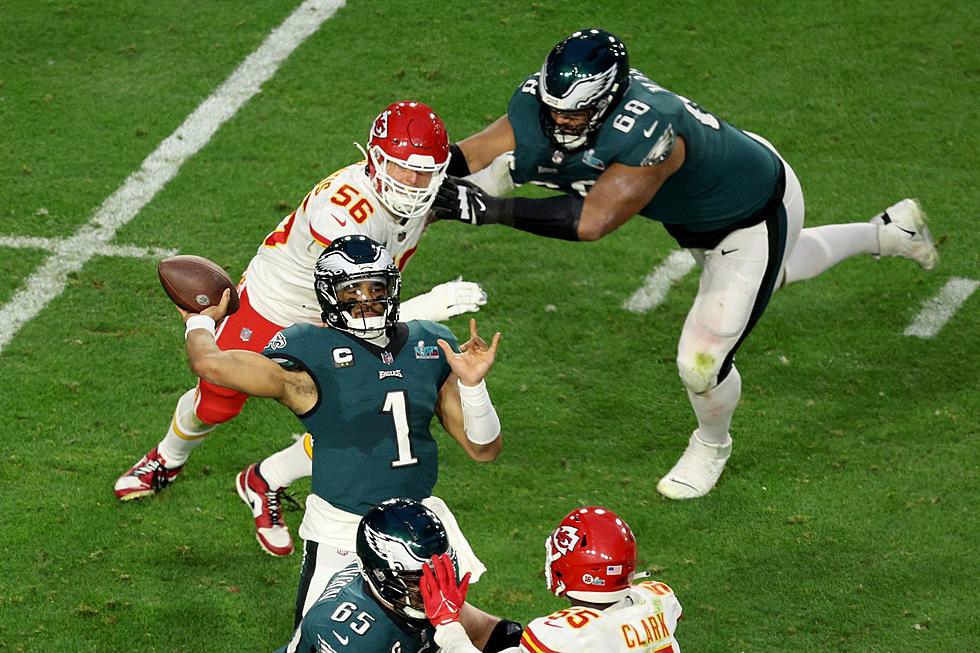 Eagles Prepare For Rematch With Chiefs in Kansas City
Photo from Getty Images
The Philadelphia Eagles embark on the toughest part of their schedule starting Monday Night they will face the defending Super Bowl Champions Kansas City Chiefs at Arrowhead Stadium in Kansas City, Missouri.  It's Mahomes vs Hurts Part Two plus the Kelce Family Reunion Game.  It's Eagles Head Coach Nick Sirianni who owns a 31-12 record as Philadelphia's Head coach against former Eagles Head Coach Andy Reid, owner of two Super Bowl rings as head coach who's record since 2021 is 33-10 which is tops in the NFL.  If that's not enough headlines for you, well Taylor Swift will be there rooting for her boyfriend Travis Kelce along with her parents!
The Mainland High School Football team is 12-0 and they will face the 10-2 Winslow Township in the Group 4 NJSIAA Semifinal game on Friday night for the right to play for the State Group 4 Championship.  On Saturday in The Locker Room with Billy Schweim we will talk with the Head Football Coach of the Mainland Mustangs Chuck Smith. 
The Sixers lost two games this week and abruptly ended an eight game winning streak.  With speculation about what really happened to Kelly Oubre and his broken ribs, will the search for the truth become the latest dark cloud hanging over the 76ers?  They start a two-game road trip on Friday Night when they travel to Atlanta to play the Hawks and then come back north on Sunday to play the Nets in Brooklyn.
The Flyers have won three games in a row, all on their current road trip.  They beat the Ducks, Kings, and Hurricanes and look to make it four in a row Saturday afternoon against the defending Stanley Cup Champions Las Vegas Knights in Philadelphia.  Catch all the Flyers action on 97.3 ESPN Radio South Jersey and you can hear the action also on the 973 ESPN Mobile App.
Don't forget to join us every Sunday morning as we broadcast Live from the Caesars Sports Book inside the Tropicana Atlantic City every week of the NFL season, your ultimate gameday destination for food, drink, and sports betting in South Jersey!
On Saturday's show, Mainland Regional Graduate and former Kansas City Chiefs Wide Receiver Dave Klemic plus Producer Nick Earnshaw join me in studio for spirited sports talk.  Dave Klemic knows a thing or two about the Chiefs and we will get his analysis of the rematch from the Super Bowl and how the Eagles can get revenge.  At 10:30 am we will hear from the Head coach of the Mainland Mustangs Chuck Smith to discuss the results of their semifinal NJSIAA group 4 game against Winslow Twp.  In Hour Two we will visit with the always colorful Sports Book Consigliere Dave Sharapan, who checks in Live from Las Vegas each week.  We will get "The Book" to discuss his unique perspective on betting this weekend's action.  Plus we will have some Sixers and Flyers talk on Saturday morning!
On Sunday show, join me, former Kansas City Chiefs Wide Receiver Dave Klemic, Mike Carlin, and Josh Hennig as we broadcast Live from the Caesars Sports Book inside the Tropicana.  We will start off talking Birds Football and get the "Keys to the Game" with Fox 29 News Sports Anchor and 973 ESPN Eagles Writer Scott Grayson brought to you by Blitz's Market in Ocean City.  Grayson gives us the Eagles' blueprint for victory on Monday Night.  In Hour Two, we will talk with former NFL Tight End Jason Dunn, who played for both the Eagles and the Chiefs.  Finally we will talk with my Fantasy Football Guru Brian Hartley brought to you by Charlie's Bar and Restaurant in Somers Point.  "The Guru" will give you his best plays for week 11 in the NFL.
All that and more this weekend in The Locker Room with Billy Schweim, heard every Saturday and Sunday from 10 am to Noon on 973 ESPN Radio South Jersey.
Top Ten Philly Athletes Age 25 or Younger
Philadelphia has some great young athletes right now, from NFL MVP Runner-up Jalen Hurts to NL Gold Glove Award Finalist Bryson Stott to 30 Points Per Game Scorer Tyrese Maxey. In honor of the Philly Sports teams Youth Movement, here are my rankings of the top ten Philadelphia Professional Athletes who are 25 years old or younger:
Gallery Credit: Josh Hennig/Townsquare Media