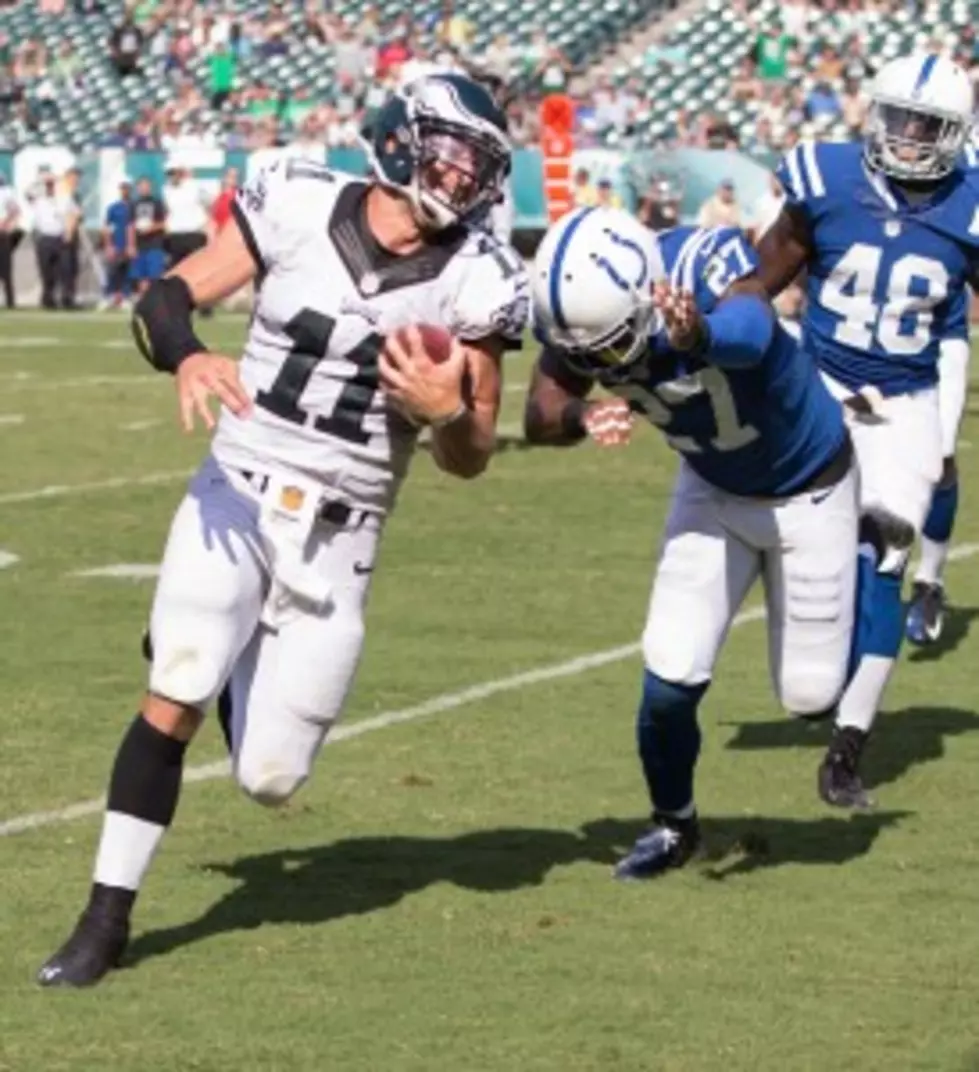 The Eagles have released quarterback Tim Tebow. (Photo by Mitchell Leff/Getty Images)
"We're not done," Kelly explained. "So, there could be a third quarterback. We'll look and see what happens with the waiver wire. Whether we add a quarterback to the active roster or to the practice squad, we will have a third quarterback."
Tebow made his case on Thursday night against the Jets, completing 11-of-17 passes for 189 yards, two touchdowns and an interception, he added four carries for 32 yards in Thursday's preseason finale - but it wasn't enough.
"Yeah he played well in that game," Kelly admitted. "But it's a compilation of the whole time. As I said, it wasn't just one game that was a make-or-break [game] and that if you play well in one game you are here. But he did play really well against the Jets."
When the Eagles traded Matt Barkley on Friday, it seemed to open the door for Tebow to make the team after a preseason here he finished 21-of-36 for 286 yards, two touchdowns and a pick. As a runner, he rushed 14 times for 82 yards and a score, but like most NFL teams the Eagles will carry just two signal callers.
"We just felt like – I think Tim has really progressed, but we didn't feel like he was good enough to be the three right now," Kelly stated.
While rusty, his skill set seemed to be a good fit for the style of offense Chip Kelly runs in Philadelphia.  The team gave him a look in some 2-point conversion situations and some short yardage tries, but putting Tebow on the field in those situations means taking Sam Bradford off-the-field, something that doesn't make a lot of sense.
"We looked at everything," Kelly explained.  "We just make the best decision on what we had to do for the Eagles."
This could signal the end of the road for Tebow in the NFL but Kelly stressed that he thought if given an opportunity he could play in the NFL.
"I think he really improved his throwing motion from when he was throwing a couple of years ago," Kelly said.
"He worked extremely hard on it and deserves a lot of credit for that. You know, I talked to him a little earlier today when we released him and I think he just needs to get more playing time; he needs to get out there and get actual reps because I think he has done a ton on his own from an individual basis, but it's about playing the game. It's taking that next step and now playing the game."
Do you think we have seen the end of Tim Tebow in the NFL?