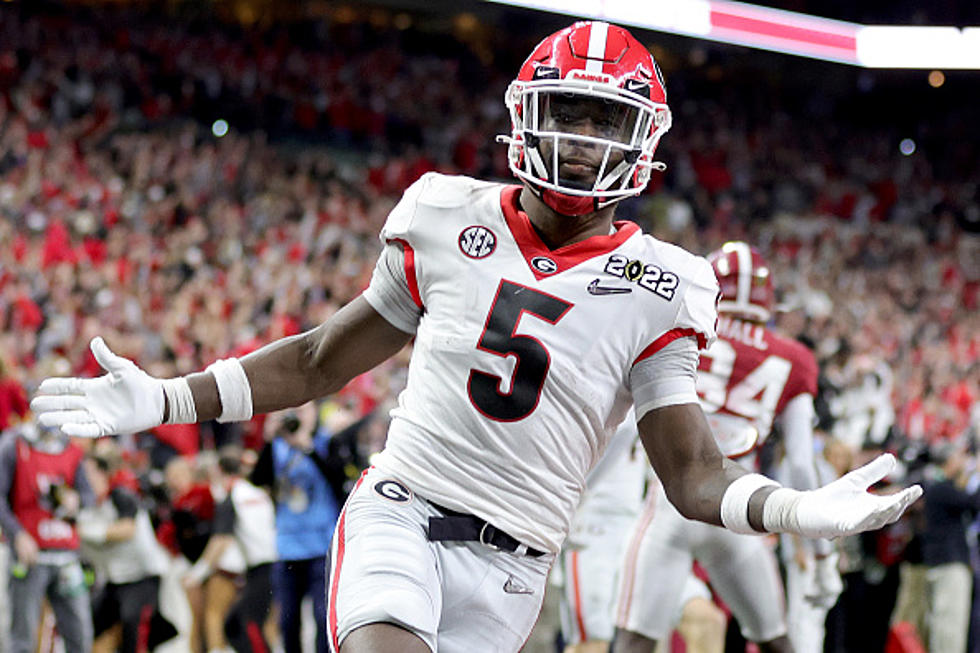 Eagles trade into the fourth round, select a playmaking defensive back
Getty Images
Not long after adding a pair of Georgia Bulldogs in round one,  the Eagles went back to the well, adding another Bulldog in four, making another trade with on Saturday afternoon. Philadelphia sent a 2024 third-round pick to Houston for pick No. 105.
With that selection, Philadelphia selected Kelee Ringo, a defensive back out of Georgia.
Ringo checks in at 6-foot-1 and 210 pounds. He ran a 4.36 40-yard dash at the combine.
Ringo was a top flight recruit and excelled at Georgia. He'll join a talented Eagles defensive backfield, one that is highlighted by Darius Slay and James Bradberry.
Here's how NFL.com summed him up as a draft prospect:
Ringo was a top-10 national recruit and first-team USA Today All-American at Saguaro High School in Arizona, also winning state titles in the 100- and 200-meter dashes. The five-star recruit redshirted the 2020 season. Ringo stood out his first year on the field for the Bulldogs, earning SEC All-Freshman Team notice and starting the final 12 games (34 tackles, one sack, two interceptions, eight pass breakups) of the team's national championship season. His pick-six against Alabama in the title game basically clinched the win. Ringo garnered second-team All-SEC honors after leading Georgia with seven pass breakups (also posting 42 tackles and intercepting two passes) and starting all 15 games of their second straight title-winning campaign.
10 Best Atlantic City Area Sports Bars to Watch the NFL Draft
So you're looking for a place to watch the NFL draft. But where? There are plenty of options in the Atlantic City area to watch football with a few drinks.