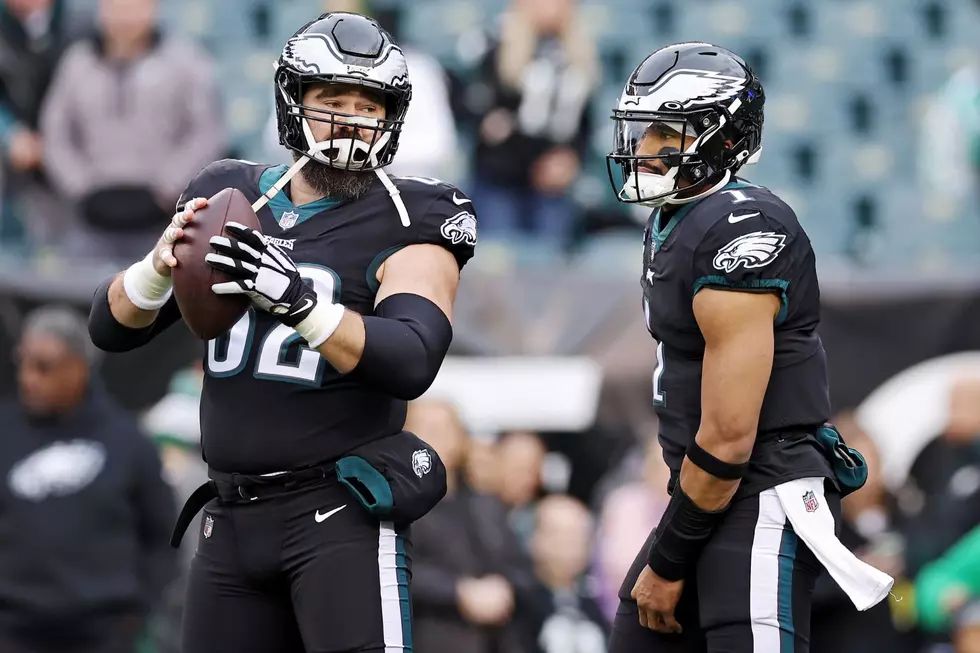 Eagles watching NFL Weekend plus Sixers and Flyers action
(Photo by Tim Nwachukwu/Getty Images)
Welcome to NFL Wildcard Weekend and there is a full slate of games that you can hear on 973 ESPN Radio starting Saturday coverage at 4pm!  The Eagles, who finished the regular season with the best record in the NFC thanks to their win on Sunday over the Giants to get their win total to 14, they will be watching this weekend like you and me, waiting to see who they will face in the divisional round next weekend.  Securing a first-round bye gives the players extra time to get healthy and capitalize on home field advantage throughout the playoffs. This weekend in The Locker Room with Billy Schweim we will get you ready for all the football action and preview all six playoff games. 
The Flyers have won six of their last seven games thanks to their surprising win this week against the Washington capitals.  Since returning from their Christmas Break, the Orange and Black have pumped in 29 goals and Forward Travis Konecny is on fire: In his last 10 games, he has 10 goals and eight assists!  The Flyers have been fun to watch lately thanks to their scrappy play and we will examine why they've been playing well recently.
The Philadelphia 76ers have reached the midpoint of the season with a 25-16 record and are currently in  5th place in the Eastern Conference Standings, five games behind the Boston Celtics ahead of Friday Night's action.  The Sixers start a five-game road trip on Saturday in Utah as they travel around the Western Conference and look to continue to stay injury free while playing good basketball.
On Saturday's The Locker Room with Billy Schweim, 3x All-Big Ten Linebacker Brad Quast joins me in the studio as we have a jammed packed show!  At 10:30am The Sports Book Consigliere Dave Sharapan checks in from Las Vegas brought to you by Dino's Subs and Pizza of Margate.  "The Book" will give you his insights on picking winners this weekend in the NFL Playoffs.  At 11am, you will hear from my Fantasy Football Guru Brian Hartley brought to you by Padula Masonry.  There are plenty of playoff fantasy leagues plus Daily Fantasy Lineups to setup and The Guru will help you get your team set to win this weekend.  Then at 11:30am, we will hear from the Head Football Coach of the Kentucky Wildcats Mark Stoops.  Stoops is the all-time winningest coach in Kentucky Football history and he just landed South Jersey's own Devin Leary, Quarterback from Timber Creek!  We will get his thoughts on the state of college football, NIL and more.  We will try to squeeze the Flyers and Sixers talk during a busy two hours!
On Sunday's show, we are back in the studio after being on the road broadcasting Live for the Eagles Pregame shows at The Pool inside Harrah's Atlantic City and Yesterday's Creekside Tavern in Marmora during the regular season.  Mike Carlin joins me in studio on Sunday as we recap Saturday's playoff action and look ahead to Sunday's games.  We will hear from Fox 29 News Sports Anchor Scott Grayson with his "Keys to the Eagles" winning in the playoffs brought to you by Van Brill Pools.  Grayson will take a look at the Eagles potential first round opponents.  We will also react to the Flyers and Sixers Saturday night results.
All that and more in The Locker Room with Billy Schweim, every Saturday and Sunday from 10am to Noon on 97.3 ESPN Radio
Learn about Cape May County's Breweries