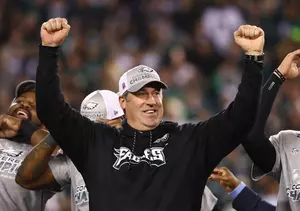 Everything is Right in Front of Eagles
Al Bello/Getty Images
PHILADELPHIA (973espn.com) - The Eagles are currently a .500 team and haven't won consecutive games at the midpoint of their season yet after the true heavyweights in this league -- think the LA Rams, New Orleans, Kansas City and New England -- no team is more likely to make the postseason than Doug Pederson's club.
The NFC East was bad to begin with but after the greatest bye week an idle team has ever had, the division now shapes up as almost a fait accompli for Philadelphia.
Not only did Washington and Dallas lose while the Eagles were enjoying some downtime but the Redskins were decimated by injuries -- with starting guards Brandon Scherff and Shawn Lauvao, as well as deep threat Paul Richardson ruled out for the season -- and the Cowboys lost Sean Lee again just as they are set to visit Lincoln Financial Field for a must-win game if they hope to remain relevant down the stretch.
Meanwhile, the only race the New York Giants are in is for the No. 1 overall pick in April's draft.
The Eagles, on the other hand, keep getting handed good news.
A proven producer on offense, Golden Tate, was acquired from Detroit at the trade deadline, the clock was started on defensive tackle Tim Jernigan, who could be back over in three weeks, Darren Sproles is likely to return against the Cowboys, Lane Johnson is evidently cool with two weeks of rest and rehab for an MCL sprain, and a true in-line tight end in Richard Rodgers could be in the mix soon.
If Philadelphia isn't able to lap its dilapitaed rivals, disappointing will be far too tame an adjective to describe the team's second half.
Maybe the biggest trick will be limiting the urge to look ahead to try to manipulate the bracket in order to take the best shot at the Rams and Saints.
Often if the landscape looks too good to be true then it probably is. In this case, however, if it walks like a duck and quacks like a duck, go ahead and assume the obvious.
About the only thing as certain as death and taxes for Philadelphia fans is an NFC East crown for their favorite football team.
"Coaches, players, really the organization, that one, we're coming off a lengthy bye, getting some guys back. But at the same time, we've got to make sure that we maintain that physicality, we maintain the aggressiveness," coach Doug Pederson explained. "You can look down the road a little bit and see -- kind of break it up, the next four weeks and the last four weeks and then see exactly what's in front of us. But we always focus on a one-week-at-a-time mentality. We talk about winning our division opponent games, and [the Dallas game] is one of those that you try to win.
"When you say things are right in front of you, it's kind of right there for this football team to go attack and try to capture. I just remind them each and every day of that."
-John McMullen covers the Eagles and the NFL for 973espn.com. You can reach him at jmcmullen44@gmail.com or on Twitter @JFMcMullen