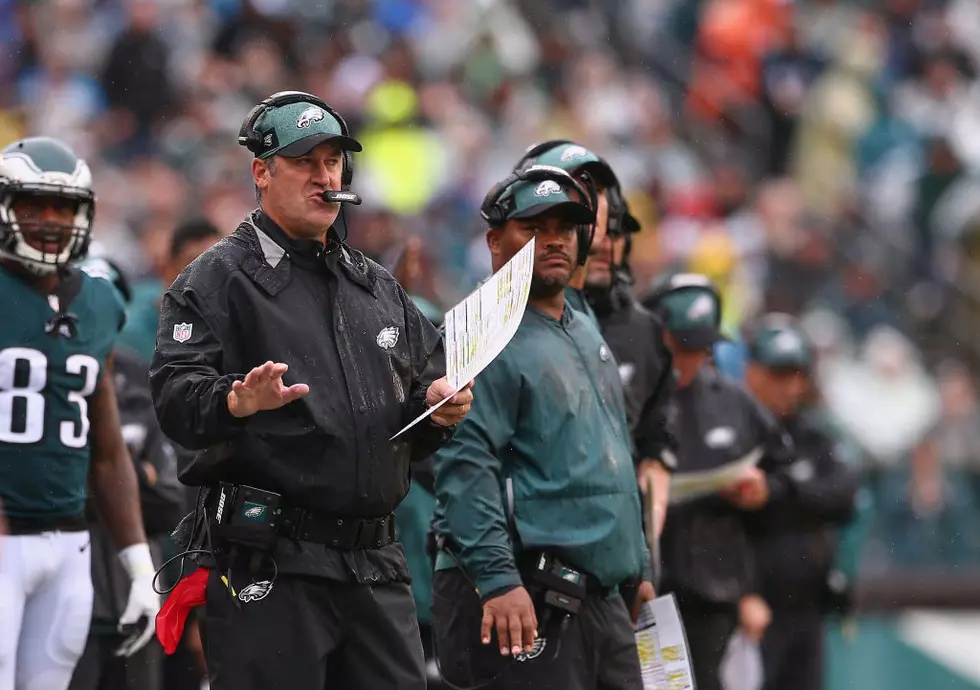 Extra Points Column: I'm a Believer
Photo by Mitchell Leff/Getty Images
George Conway had an interesting idea a few days ago.
The attorney invited folks to share their political opinions on Twitter under the hashtag #IBelieve.
My beliefs in that area will remain private, mainly because I don't think my views on politics and religion belong on social media. I wish more people would take that stance.
*#IBelieve the Eagles will be just fine without an official offensive coordinator. Head coach Doug Pederson calls the plays, anyway, so there's really no need for one. Quarterbacks coach Press Taylor will serve as passing game coordinator while running backs coach Duce Staley and offensive line coach Jeff Stoutland will be running game coordinators and as such will help Pederson develop the game plan.
*#IBelieve my golf game should be getting a lot better, considering the way the weather has cooperated this winter. I've already played a half dozen rounds at my home course, Cape May National, this year, including two in February. This is going to make it tough for me to convince my wife to spend winters in Florida or Arizona.
*#IBelieve the Phillies should reconsider their decision to retire No. 34 in memory of late Roy Halladay. The Phillies announced his jersey will be retired on May 29, on the 10th anniversary of Halladay's perfect game at Miami in 2010. They are also erecting a statue outside Citizens Bank Park. He simply wasn't a Phillie long enough to be honored like that. Halladay spent 12 seasons with Toronto, which retired his No. 32 jersey two years ago by the way, before a four-year stint in Philly from 2010-13.
They have only retired five numbers in their history: 1 (Richie Ashburn), 14 (Jim Bunning), 20 (Mike Schmidt), 32 (Steve Carlton) and 36 (Robin Roberts). I think 6 (Ryan Howard), 10 (Larry Bowa, Darren Daulton), 11 (Jimmie Rollins), 15 (Richie Allen) and 26 (Chase Utley) should be honored ahead of Halladay.
*#IBelieve I have the cutest, most talented grandsons in the world in Hampton and Graham. Hampton, who turns 4 later this month, is destined for greatness as a baseball/football/basketball player, cyclist, swimmer, surfer, wrestler musician, actor or any or all of the above. Graham, who will be 2 in May, has shown similar potential, though his greatest attribute at the moment is an amazing ability to eat blueberries by the handful. Not that I'm biased or anything.
*#IBelieve Atlantic City's casinos should band together and start bringing big-time boxing events to Jim Whelan Boardwalk Hall again. There hasn't been a fight in its main arena in six years, since Sergey Kovalev-Bernard Hopkins on Nov. 8, 2014. That's ridiculous. There's no reason why the Deontay Wilder-Tyson Fury heavyweight rematch on Feb. 22 couldn't have been there instead of Las Vegas. Come to think of it, the UFC should also return.
*#IBelieve every PGA and LPGA tournament, including the ShopRite LPGA Classic, should have a hole similar to the 16th at the Waste Management Phoenix Open. It's the rowdiest, loudest hole in golf, where thousands of fans cheer great shots and boo bogeys. I think it would be cool to have that kind of atmosphere on the Bay Course at Seaview Hotel.
*IBelieve Lower Cape May Regional graduate Charlie Wise was the best high school basketball player in our area over the last 50 years. He tops a personal list that also includes Lou Roe (Atlantic City), Reggie Miller (Pleasantville), Ricky Harmon (Middle Township) and Willie Glass (Atlantic City), among others.
Wildwood's Monica Johnson leads a list of girls players that also includes Mary Gavin (Wildwood Catholic), Jennifer Snyder (Middle), Candice McCallum (Southern Regional), and Kylie Watson (Mainland Regional) among others.
*#IBelieve Stockton University will become a national power in rowing and E-sports. The Osprey's women's rowing program made impressive strides last spring under coach John Bianchari. The Ospreys are also the defending ECAC Fortnite champions. Of course, their football team has been undefeated since 1969.
*#IBelieve I'm going to take the leap off the Cape May-Lewes Ferry for the sixth straight year on June 14 in the Escape the Cape Triathlon. It's the best, most unique event on the East Coast, drawing competitors from all over the country, thanks to race director Steve DelMonte and his crew. Other than the jump, my favorite part is the bike leg, where I get to see Hampton and Graham yelling "Go Poppy!" when I pedal past their house.