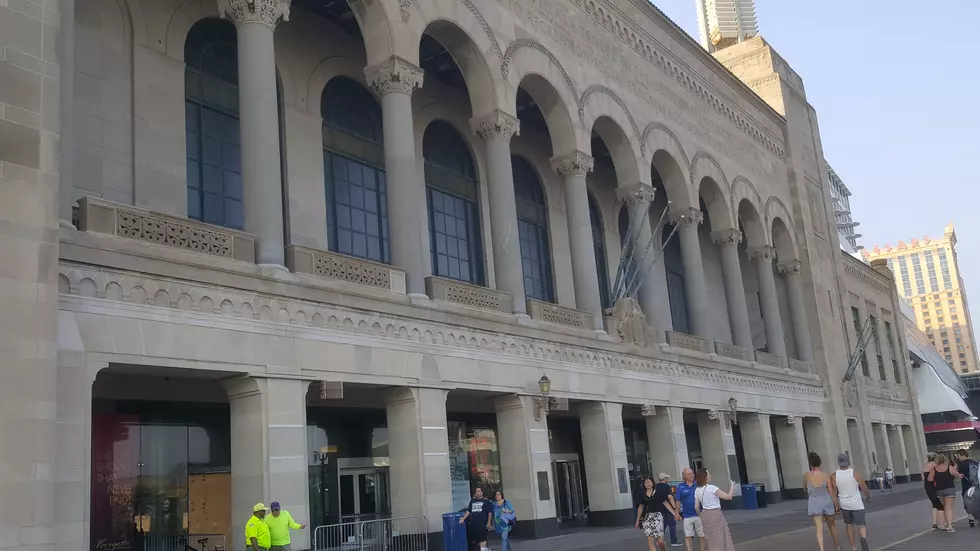 Extra Points: LaManna, Figueroa earn big wins in Atlantic City, NJ
Chris Coleman/Townsquare Media
By DAVID WEINBERG
ATLANTIC CITY - Millville Middleweight Thomas LaManna and Atlantic City Junior-Middleweight Justin Figueroa earned significant victories Saturday night at Jim Whelan Boardwalk Hall.
LaManna (36-5-1, 15 KOs) kept himself in line for another shot at the WBA title with a third-round knockout over Argentina's Juan Manuel Witt (33-2-2, 25 KOs).  Figueroa (6-0, 5 KOs) went the distance for the first time enroute to a six-round, unanimous decision over Egg Harbor Township veteran Jeff Lentz (5-2, 1 KO).
An enthusiastic crowd of about 1,500 watched the action inside Boardwalk Hall's Adrian Phillips Ballroom.  The card was staged by Millville-based Rising Star Promotions, which LaManna owns, in conjunction with the Atlantic City Sports Commission.  LaManna, a Millvile High School graduate who has fought 22 times on the Boardwalk during his 12-year pro career, had a large group of supporters.  So did Figueroa, a Holy Spirit High School Graduate and former member of the Atlantic City Beach Patrol.  All six of his bouts have been on the Boardwalk.  Lentz, who owns and operates a mixed martial arts studio in Mays Landing, also had a sizeable group of backers.
"The crowd was awesome and electrifying," Figueroa said. "The support I have in Atlantic City is phenomenal. Every fight here is like a concert. It's like a show."
LaManna, who is ranked Number Four by the WBA, turned in an impressive performance in gaining his sixth straight victory since a first-round knockout loss against WBA champion Erislandy Lara on May 1, 2021 in Carson, California.  It was his first fight working with trainer Derek "Bozy" Ennis, father of IBF welterweight champion Jaron "Boots" Ennis.  Earlier this month, Jaron Ennis retained his title with a 10th-round knockout over Roiman Villa in the same Atlantic City ring.
"I sparred with Boots every day and I think it really helped," LaManna said. "Witt was tough and very durable, but I think my size (advantage) helped me overpower him."
After Friday's weigh-in, Witt returned to a house in Atlantic City he was renting with members of his camp and some other officials. He thanked them by making dinner for the group Friday night, preparing steak, pork and ribs on a grill.  On Saturday night, he got cooked.
LaManna landed a crisp, right cross midway through the third round that put Witt on the canvas.  Witt rose quickly, but was soon down two more times from LaManna flurries. After the third knockdown of the round, referee Brian Vera halted the scheduled 10-round bout with 2 minutes, 47 seconds left in the third.
"This was a very important fight for me," LaManna said. "I wanted to show that this is where I belong. Despite (Witt's) good record, I've got a good record, too. I can fight."
Figueroa's fight with Lentz was also important.  The 24-year-old had breezed through his first five bouts, winning in three rounds or less against opponents who sported a combined 2-13 record at the time.  Lentz (5-1, 1 KO), a former Ring of Combat and Cage Fury Fighting Championships MMA champion, whose boxing resume included wins over Tim Witherspoon Jr. (10-4-1) and Fred Jenkins Jr. (9-1), was a step up in competition, though he was returning from an eight-year layoff.
"I never really retired," Lentz, 34, said. "I wanted to keep fighting the whole time, but my coach (the late Vince Jackson) moved to Las Vegas and then Covid-19 hit.  I was doing some roadwork by myself and LaManna called and asked if I wanted to fight Figueroa on six weeks' notice. I said, '(Bleep) it, let's go.' You know me. I wasn't gonna come back against some 0-3 guy.  Give me the 5-0 guy."
The result was an action-packed, entertaining fight that had the crowd on its feet throughout.  Figueroa took command early, peppering Lentz with combinations in the first two and a half rounds.  Midway through the third, Lentz began to rally with some big shots of his own.
"I knew he was tough," Figueroa said. "I could have taken another easy fight, but I took the high road and wanted to test myself. I'm on a process to be a complete fighter and a world champion and I wanted to test myself to see where I was at."
He passed the test.  Lentz continued to rally in the fourth and fifth rounds, switching between an orthodox and southpaw stance and landing overhand rights and lefts.  With the bout seemingly in doubt, Figueroa dug deep in the sixth and clearly won the final round.
Two judges scored it 59-55 for Figueroa while a third had it 58-56. 973ESPN.com also had it 58-56.
"It was 100 percent my fault that I lost," Lentz said. "My plan was to let him wear himself out in the first two rounds, then fight back in the third through sixth. But I waited too long to start fighting."
***
In other fights on Saturday Night, Albanian Heavyweight Kristian Prenga (14-1, 14 KOs) scored a first-round knockout over Colombia's Santander Sligado (32-16, 26 KOs).  Brooklyn, New York Super-Middleweight Nadim Salloum (11-1, 5 KOs) stopped Ecuador's Antonio Ocles (12-12, 3 KOs) in the second round.  Iselin lightweight Daniel Gonzalez (1-0, 1 KO) won his pro debut via second-round knockout over Lacey Township's Michael Ruiz (0-2).  Albuquerque, New Mexico Lightweight Sharahya Taina-Moreu (1-0) won her pro debut with a four-round, unanimous decision over Brazil's Janiasa Morandin (0-2).
20 Sporting Events That Happened at Boardwalk Hall in Atlantic City