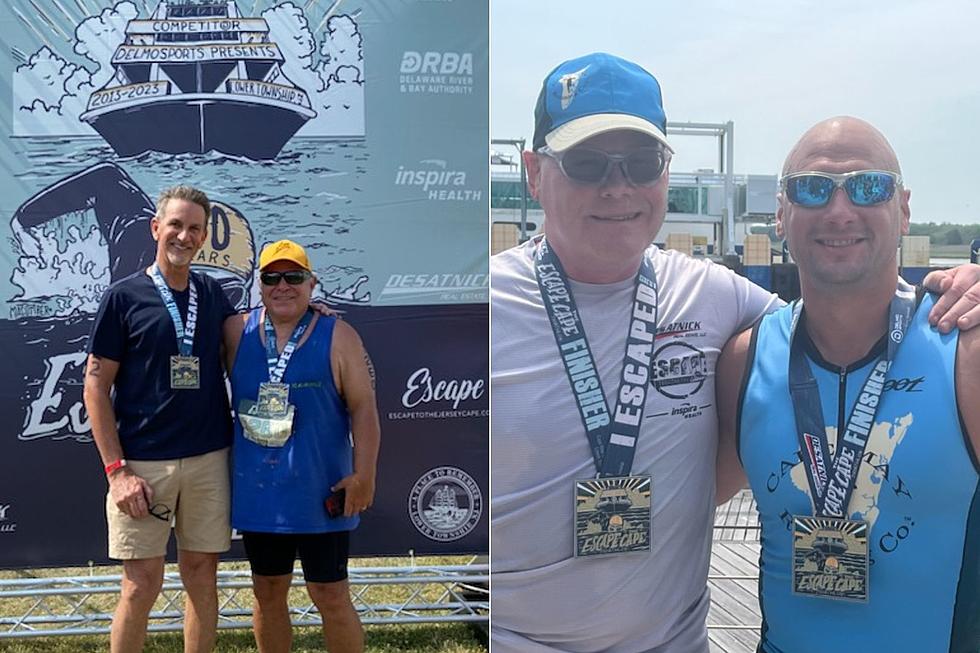 Extra Points: Local continue to take the leap at Escape the Cape
Photos by Dave Weinberg
BY DAVE WEINBERG
Thousands of competitors have stood on the edge of the Cape May-Lewes Ferry in the last decade years and taken a leap of faith that has to be experienced to explain.
There's something about sidling to the edge of the boat at the start of the Escape the Cape Triathlon, then making a 12-foot plunge into the murky, chilly Delaware Bay, that is both scary and exciting.
Most people do it once as a bucket-list item; A special group of athletes jumped for the 10th time last Sunday in Lower Township.  Eighteen triathletes were honored after the race for their dedication to the unique event, a group that included locals Edward Gibbons, Mike Mader, Ryan Osmundsen, and Erik Simonsen.
"I always wanted to do a triathlon and someone told me about this one and that's right in our backyard," said Osmundsen, a Lower Township native. "As soon as I jumped off the boat that first time in 2013, I was hooked."
Race organizer Steve Delmonte, a North Wildwood native who now lives in Wildwood Crest, got the idea to have the event after participating in the Escape from Alcatraz Triathlon in San Francisco.
"That fact that this event has been going on for 10 years is remarkable," Delmonte told The Press last Sunday. "In those 10 years, we've had close to 16,000 or 17,000 people jump off a boat."
The Olympic-distance race begins with a 1-mile swim and is followed by a 23-mile bike through the vineyards and horse farms of Lower Township, then finishes with a brutal, 5-mile run that includes several segments in the sand.  The sprint distance consists of a .35-mile swim, a 12.5-mile bike, and 5K run.
Edward Gibbons, who I've known for over 60 years, has done the Olympic-style race all 10 times.  The grandfather turns 64 in a couple of weeks, but looks – and swims, bikes and runs – like a 30-year-old.  I both admire him and hate him.
"I had already done a few local triathlons like the one in Stone Harbor," said Gibbons, who now lives in Linwood. "When I saw that this one was happening and that we would be jumping off the ferry, I was all in."
He's been all in every year since, along with Mader, Osmundsen, Simonsen, and the others.  And he'll be back in 2024.
"At first, I thought 10 years would be enough," Gibbons said. "But as long as I'm able to do it, why not keep going?"
Mader, Osmundsen, and Simonsen are taking the same approach.
They also have every intention of keeping their streak going and even including some family members.  Mader, who actually owns a home on the run course, did the swim and bike portions of the sprint race Sunday while his 9-year-old daughter, Amaya, did the 5K run.
Osmundsen was joined Sunday by his sister, Kim, who missed the first Escape in 2015, but has now done nine in a row.
I'm also hoping to keep going:  Sunday marked my seventh time competing in the Escape the Cape.
I watched the first two from the shores of the bay and was riveted by the sight of people jumping into the bay and swimming to shore. I missed the 2020 race due to an eye injury and a shoulder injury prevented me from doing the swim portion of the race Sunday.
But I have every intention of taking that leap again in 2024!
Learn about Cape May County's Breweries (Alphabetical Order)