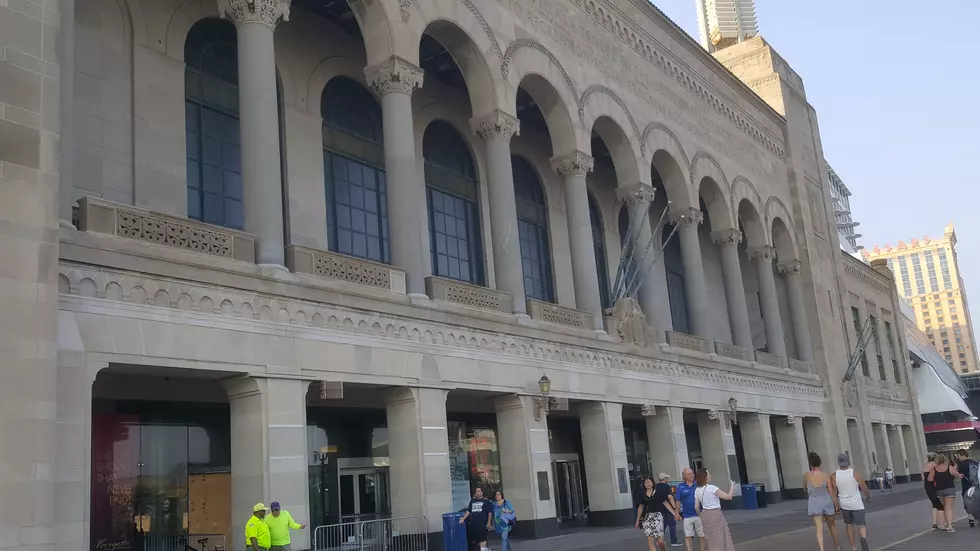 EXTRA POINTS: Local promoter brings boxing back to Boardwalk Hall
Chris Coleman/Townsquare Media
By DAVID WEINBERG
Atlantic City's Jim Whelan Boardwalk Hall has been home to some terrific sports events in the last month.
A record 34,000 fans watched the State Individual High School wrestling championships at the stately arena March 3-5. One week later, a basketball court replaced the mats for the MAAC Men's and Women's Championship Tournament. Saint Peter's subsequently wrote the first chapter of its ongoing storybook run by winning the men's title while Fairfield won the women's crown.
Now it's boxing's turn.
Millville-based Rising Star Promotions will be staging a card at Boardwalk Hall's Adrian Phillips Ballroom on Saturday night, marking the first time boxing has been held there in three years. The last one took place on April 13, 2019, when women's middleweight champion Claressa Shields defeated Christina Hammer in the ballroom.
"It is very special (to promote a fight at Boardwalk Hall) because of the history," LaManna told FightNews.com. "We've got all the icons that fought there. " It just shows growth. It's really, really cool."
The card also marks a homecoming of sorts for Rising Star, which is staging the show in association with the Atlantic City Sports Commission. The company, which is being run by Millville middleweight boxer Thomas LaManna (31-5-1, 13 KOs) and Linwood's Mike Brestle, made its mark on the boardwalk. It staged a whopping 16 cards in local venues such as the Claridge and Showboat Hotels from 2016 to 2019, but hasn't been in town since a card at Showboat on July 20, 2019.
When the Covid-19 pandemic knocked out boxing in Atlantic City, Rising Star headed south of the border. It promoted a series of cards at La Terraza Sports Bar in Agua Prieta, Sonora, Mexico in 2020-21 before regaining a license to promote again in New Jersey late last year.
A dozen bouts are scheduled for Saturday, including an eight-round main event pitting Greg Outlaw (9-1, 4 KOs), of Bowie, Maryland, vs. Jonathan Montrel (12-0, 7 KOs), of New Orleans. Egg Harbor Township super-middleweight DeCarlo Perez (18-6-1, 6 KOs) will continue his comeback in a six-round bout against Rance Ward (6-3-1, 2 KOs), of Houma, Louisiana. Perez, 31, stayed out of the ring for three years before earning a victory in Mexico on a Rising Star card last September.
"We wanted to come out with a bang," LaManna said. "We haven't promoted a show in New Jersey (in three years). We're coming back strong."
The card will hopefully help boxing regain some momentum in Atlantic City. After hosting 10 cards in 2018, it only had 13 combined shows over the next three years. This will be the second show this year, following a great card at Borgata Hotel Casino & Spa two months ago.
The next challenge is to bring boxing back to Boardwalk Hall's main arena. Once home to some of boxing's biggest fights featuring top legendary boxers such Mike Tyson and the late Arturo Gatti, it's been eight years since 8,545 saw Sergey Kovalev dominate Bernard Hopkins on Nov. 8, 2014.
One possibility would have been for Kovalev's (34-4-1, 29 KO's) upcoming cruiserweight fight against Tervel Pulev (16-0, 13 KOs) to be held there on May 14 instead of the Forum in Inglewood, California. Kovalev, who is promoted by Main Events, has fought four times in Atlantic City and would be a better draw on the boardwalk than in SoCal.
Better yet, it would have been awesome to see Mexican superstar Canelo Alvarez (57-1-2, 39 KOs) make his Atlantic City debut at Boardwalk Hall on May 7 instead of fighting WBA light-heavyweight champion Dmitry Bivol (19-0, 11 KOs) in Las Vegas. Bivol fought twice in Atlantic City in 2018.
No one seems to be interested in putting another big fight in Boardwalk Hall, which is baffling. Although it's been the site of many great events over the years - Miss America, the 1964 Democratic National Convention, the Beatles - sports fans equate it with memorable fights like Tyson-Spinks, Holyfield-Foreman and Gatti-Ward III.
There's nothing like a championship fight at Boardwalk Hall. The atmosphere crackles with raw energy. Once the bell sounds for the start, a wave of excitement rolls through like the breakers at nearby States Avenue Beach. A knockout brings a deafening roar that can be heard all the way to Margate.
Saturday's card might not match those legendary bouts.
But it's a good start.
20 Sporting Events That Happened at Boardwalk Hall in Atlantic City