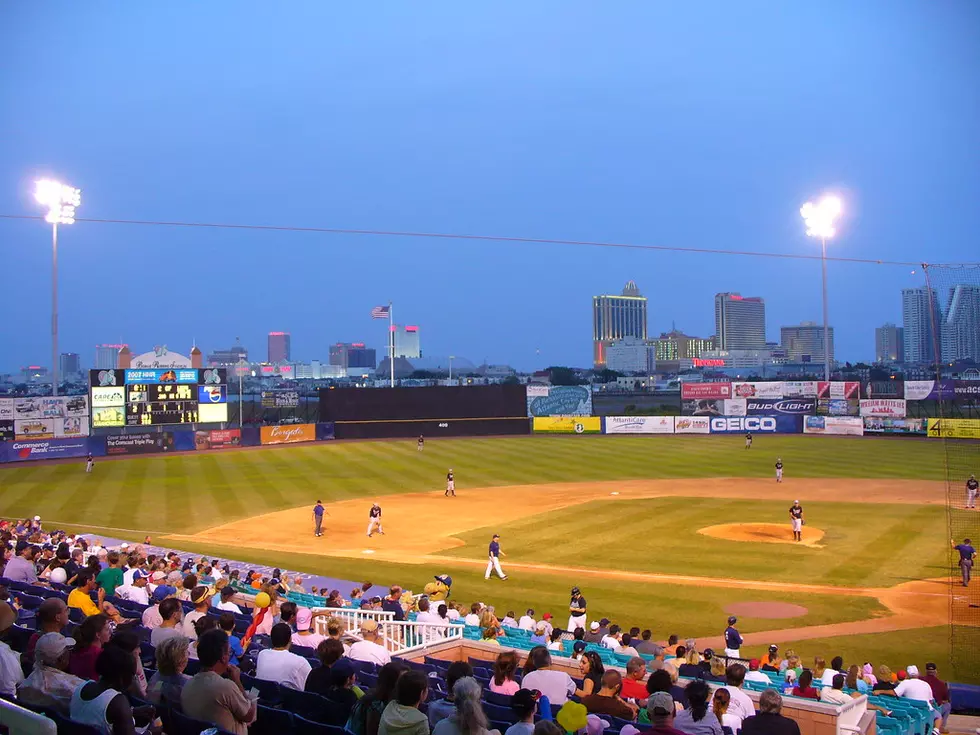 Extra Points: Surf's 25th anniversary approaching
Photo: flickr.com/photos/harpo42/1032879961
Next month marks the 25th anniversary of the Atlantic City Surf.
A lot has changed since I covered the inaugural spring training of the Atlantic League of Professional Baseball in 1998.
I was about to turn 40 when I headed to Plant City, Florida to see the Surf and the other five original franchises - the Bridgeport Bluefish, Nashua Pride, Newark Bears, Newburgh Black Diamonds, Somerset Patriots - prepare for the first season.
Our daughter was 15 and our son was almost 13.
I still had a full head of brown hair and visible abs.
On the sports front, Eagles vice-president Joe Banner and director of football operations Tom Modrak had just drafted Florida State defensive tackle Tra Thomas in the first round and linebacker Jeremiah Trotter in the third. Problem was, Bobby Hoying, Koy Detmer and Rodney Peete were the quarterbacks. The Eagles went 3-13 that year and coach Ray Rhodes was fired.
Catcher Mike Lieberthal, first baseman Rico Brogna, third baseman Scott Rolen, pitcher Curt Schilling and the Phillies were a few games into a 75-87 season under manager Terry Francona.
Over 100 players headed to Plant City - former Spring Training home of the Cincinnati Reds - to try out  while Atlantic League founder Frank Boulton and president Bud Harrelson looked on along with Surf manager Doc Edwards and other skippers such as Sparky Lyle (Somerset) and Willie Upshaw (Bridgeport).
ALPB headquarters was at a Ramada Inn near the ballpark that was next to a cemetery. At night, I would usually head to nearby Lakeland to watch a Detroit Tigers minor-league team play. One evening was spent at the Ramada Inn bar, where I watched 20-year-old Cubs rookie Kerry Wood strike out 20 Astros.
The trip did have a few other highlights for me.
I drove to Clearwater Beach and took a dip in the Gulf of Mexico. It's one of the bodies of water I've waded into, along with the Atlantic and Pacific Oceans, Delaware Bay, Great Egg Harbor Bay in Somers Point, Lake Michigan in Chicago, Lake Lenape in Mays Landing. I'm not sure I should count the ankle deep inflatable pool in my backyard when I was a kid. Or the various Cape May pools I snuck into - my favorite was the indoor one at the Golden Eagle (now the Grand) - in the 1970s.
There was also a visit to Tropicana Field for a Tampa Rays game, followed by a stop at the Mons Venus gentleman's club nearby. I wasn't going to go, but it's considered a Tampa landmark. That would be like going to New York and skipping the Empire State Building. Or not going to the Arch on a visit to St. Louis.
The Surf's stadium was also on its way to becoming an Atlantic City landmark in 1998. A large crowd hit the Sandcastle on May 20 to see the first game in franchise history against the Somerset Patriots. Fans were greeted to a spectacular view of the Atlantic City skyline beyond the right-field fence. Everyone flocked to the merchandise store to buy a blue cap with a wave on the front or a Juan "The Large Human" Thomas jersey.
Thomas, a slugging first baseman, was one of the more popular players that season, along with outfielders Will Pennyfeather and Gerald Young, and former Phillies right-hander Jose de Jesus.
When the Surf came to bat at the bottom of each inning, the public address announcer would bellow, "Surf's Up!" That was one of the many ideas from the late Ken Shepard, who served as the Surf's first president and general manager.
The Surf hosted the Atlantic League All-Star game that year and went on to win the first ALPB championship. During its 10-year tenure, former major leaguers Cecil Fielder, Mitch Williams and finally Jeff Ball served as managers. Ruben Sierra played in A.C. in 1999 on his way back to the majors.
Twenty-five years later, I'm about to turn 65.
Our daughter is 40 and our son is almost 38.
We have three grandsons.
In honor of the Surf's Silver anniversary, my hair is now silver, as is my chest hair, and my six pack is now a keg.
I recently bought a pair of Sketchers slip-ons to wear until it's warm enough for flip-flops. No laces means less chances of pulling a back muscle when tying my shoes.
There is now a suction cup attached to the end of my Odyssey putter. That saves me from having to bend over to grab my Titleist out of holes that appear to be getting deeper.
At least I've aged better than the Surf's stadium, which now resembles a sand castle at high tide.
There's been talk over the years of resurrecting the franchise and the ballpark. Last year, the Atlantic City Baseball Project website was created with the hopes of bringing an ALPB or Frontier League franchise to town, but nothing has materialized.
Hopefully, they can get one before my hair turns from gray to non-existent.
Surf's Up.
The 12 Most Memorable Atlantic City Surf Players