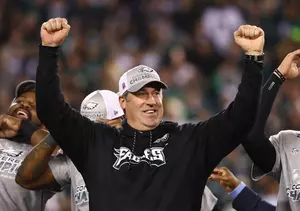 'Fearless' Pederson Set to Tell His Story
Doug Pederson's memoir "Fearless" will be out this summer. (Photo: Al Bello/Getty Images)
PHILADELPHIA (973espn.com) - Doug Pederson lasted 13 years as a player in the NFL, many of them as a lightly-regarded backup quarterback.
When the Philadelphia Eagles pulled the plug on Chip Kelly, a coach once swooned upon by the fan base, the city desperately wanted Adam Gase or Ben McAdoo to replace him and when they were told it would be Pederson, hearts sunk.
Two years later Pederson has pulled a Charlie Manuel, somehow racing from punch line to the guy who never has to pay for another drink around town after leading Philadelphia to something even his mentor Andy Reid couldn't do, the Lombardi Trophy.
And he did it by being an innovative play caller who coached in a fearless manner, refusing to play it by the book and simply surrender possessions.
And "Fearless" will be the title of Pederson's memoir set to be released this summer, according to co-author Don Pompei on Twitter.
Hachette Books will release the tome, which is expected to document the rise from longtime backup QB to Super Bowl 52 championship coach.
Pederson has always regarded himself as the underdog who once backed up Dan Marino and Brett Favre to the guy former NFL executive Mike Lombardi claimed "might be less qualified to coach a team than anyone I've ever seen in my 30-plus years in the NFL."
Pederson's greatest trick, however, was as a motivator somehow translating his own underdog status to an entire locker room of high-level athletes who rode a tide of "disrespect" which never really existed in the first place all the way to the championship despite being without superstar quarterback Carson Wentz.
-John McMullen covers the Eagles and the NFL for 973espn.com. You can reach him at jmcmullen44@gmail.com or on Twitter @JFMcMullen