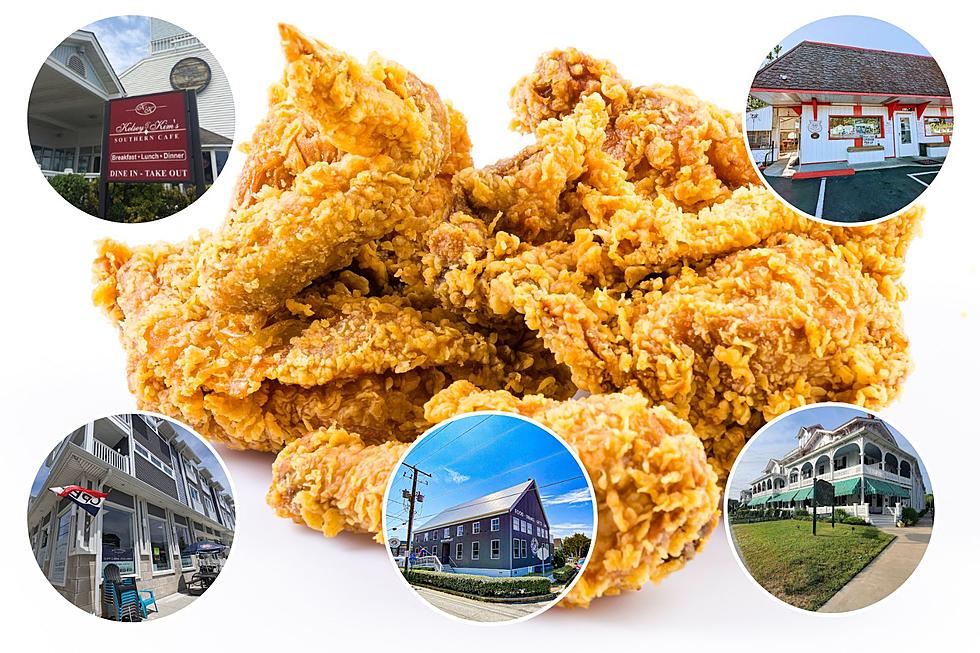 Five Local Fried Chicken Spots Named Among 22 Best in New Jersey
Canva
Last week was National Fried Chicken Day, so we started to think about what where you can get the best fried chicken in South Jersey.
Over at NJ.com writer Pete Genovese went looking for the best fried chicken in the entire state of New Jersey with five local spots making the list of the best 22 in the state.
We're not talking about KFC or Popeye's, but some amazing local spots that are known for that crispy fried goodness.
So here are the five best restaurants for fried chicken in New Jersey according to Pete Genovese.
There was no actual ranking, just a listing of the 22 best fried chicken spots in the state with the first one being Kelsey and Kim's Southern Cafe in Atlantic City.
Kelsey and Kimberly Jackson have come a long way since opening a bare-bones barbecue and soul food storefront in Pleasantville. They now own two restaurants in Atlantic City, Kelsey's and Kelsey and Kim's Southern Cafe, and have appeared on "Diners, Drive-Ins and Dives." This is all I wrote in my notebook after my visit to Kelsey and Kim's Southern Cafe: "This chicken has serious wonderful crunch." What more needs to be said?
Kelsey and Kim's Southern Cafe is located at 201 Melrose Ave in Atlantic City or their other location at 1545 Pacific Ave, which I have been to a few times and can say - get the chicken!
Next up is the Magnolia Room at the Chalfonte Hotel in Cape May.
Dorothy "Dot" Burton passed away in 2015, but her famous fried chicken lives on at the Chalfonte Hotel's Magnolia Room in Cape May. Dot and her sister Lucille Thompson were longtime employees at the hotel; Dot would cook the chicken in a black cast-iron skillet. Forget the deep fryer; the fried chicken at the Magnolia Room is special because of that skillet and hot, spattering, crackling oil. It's not cheap — a half chicken with chef's choice potato and Jersey vegetable cost $32 — but it's definitely worth it. The Magnolia Room ended up #2 on our list of Cape May's best restaurants.
While I have never tried the fried chicken at the Magnolia room, I have been to this restaurant quite a few times, which ended up No. 2 on the list of Cape May Best Restaurants recently. Wanna try this amazing chicken?  Head to 301 Howard Street in Cape May.
Another spot to try is out on the Black Horse Pike in Folsom, Henri's Hotts.
Henri's Hotts is a barbecue joint, but don't sleep on the fried chicken. In fact, it may even be better than the ribs, brisket or pulled pork. It boasts some major crackly crunch. There's little in the way of seasoning, but it doesn't need any. This is fried chicken at its primal best.
Anytime you drive out and see a big ole smoker on the side of the road, you know there is someone good coming your way - and their chicken is fantastic. You can get it at 1003 Black Horse Pike in Folsom.
A place you might not think about when it comes to fried chicken is Blitz's Market in Sea Isle City.
Fried chicken is available in 12- and 20-piece buckets only. It's surprisingly good, pleasantly greasy, with thick, sturdy, crackly skin.
When you think of Blitz's Market, you usually think of their deli, sandwiches, and other homemade items on the menu., but next time, try the chicken.
The final spot on the list was Exit Zero Filling Station in West Cape May.
We need another fried chicken sandwich in here somewhere, and Exit Zero's Hot Chick more than fills the bill. Buttermilk-marinated fried chicken, pepper jack cheese, Cajun slaw, sweet and spicy pickles, and sriracha aioli on a brioche bun add up to country fried fusion goodness.
This is an awesome spot, that I have never thought of when it comes to a fried chicken sandwich but next time I am here, I will definitely check this one out.
Stop by 110 Sunset Blvd in West Cape May and get this chicken sandwich and let me know what you think.
Do you agree with this list? Is anyone missing? Let us know!
10 Most Amazing Fried Chicken Places in South Jersey