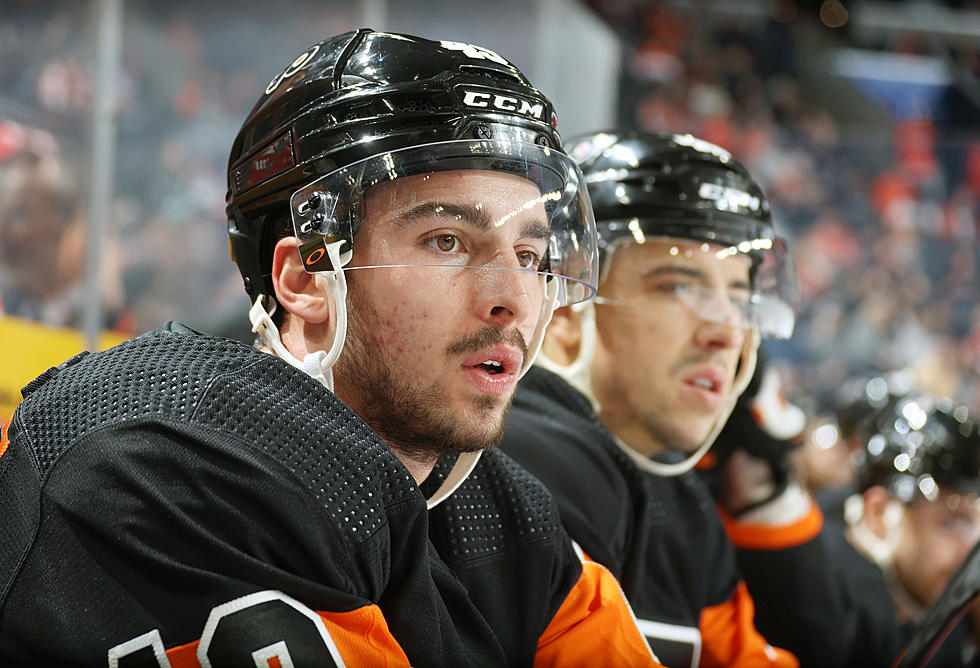 Flyers: Continued Progress Key for Cates, Frost
Len Redkoles/NHLI via Getty Images
Roster battles at a training camp tend to evolve over the course of the days and weeks leading up to a season. Over the course of development, those battles can also evolve year-to-year, as in a player who takes a bigger step can go from fighting for a roster spot to being an established part of the team.
That is the progression of Noah Cates from last season. One year ago, Cates had made an impression in a small sample of NHL games out of college, but essentially had to start over with John Tortorella taking over as Flyers head coach in the offseason.
The same is true for Morgan Frost. Frost has had to prove himself over the years, from a 20-game sample in the successful 2019-20 season for the team to missing almost the entire 2020-21 season with injury, to finally playing in his first full NHL season a year ago. 
What's the next step for both players? It's all about the continued progression to Tortorella.
"To keep progressing," Tortorella said of Frost. "I think he improved as the year went on, but if you want to be in the top-six forwards and I think that's a place, if Frosty's going to play, he kind of needs to be in that type of situation, then you need to keep progressing."
It's another critical year for Frost, especially with Sean Couturier back at the center position and the emergence of Cates. Both Cates and Frost re-signed on two-year deals in the offseason, offering a bit of a timeline to see just how far the progression can go as the new era continues to unfold.
"He still has quite a bit of work to do to solidify himself," Tortorella said. "That's Frosty's world and I think he has handled himself well, from where he was in my opinion early in the year to where he came to toward the end of the year, he progressed. And that's all I want to see is just keep moving the needle in the right direction."
As for Cates, there's less to prove from a defensive standpoint. Cates went up against top competition last season and even drew some Selke consideration as a rookie. What's next for him? Building more on his offensive game.
"I know my game away from the puck and defensively what I can do, there's things to work on, but with the puck – if you can play with the puck, that's the best defense," Cates said. "I think that's the next step that I can take to just add to this team."
"I force-fed him everything he could possibly eat last year and he handled himself very well. The next step for Catesy is, we don't need to teach him anymore or worry too much about him as far as his play away from the puck," Tortorella said. "He gets that. Now, he has to put some pressure on himself as far as the offensive part of the game without losing that part, and he won't, is put himself in a situation where he wants to create offense."
For as fascinating as roster battles can be for players just trying to earn a spot, an under-the-radar competition that could be unfolding is just how the center position lines up. Between Couturier, Cates, and Frost, Tortorella acknowledged there are many possibilities and he's anxious to see how it all plays out.
"I look at Catesy, what if he starts producing offensively? And let's say Coots comes back and does the things that we all know he can do. And then you have Frosty who's supposed to be an offensive center. Does Catesy displace him in an offensive role?" Tortorella said. "I want to see it play out. If we can get Noah Cates to gain confidence offensively, he may pass a few other guys. For me, it puts me in a good situation. I can play him and Coots against two top lines of the opposing teams and feel pretty comfortable, both offensively and defensively. 
"This is the battle Morgan Frost is going to have. Is he an offensive center for us, Frosty? Is Catesy? Where does he fall as far as when we play him against offensive lines? That's all going to be worked out as we go through this here. I'm not forecasting. I want things to play out." 
Things will start to play out even more as the team takes on the exhibition schedule starting on Monday. There is no time for slowing things down from the high pace to the start of camp. The Flyers have four exhibition games in the next six days and another next Monday to make five in eight days.
Kevin Durso is Flyers insider for 97.3 ESPN. Follow him on social media @Kevin_Durso.
Philadelphia Flyers Uniforms Through The Years