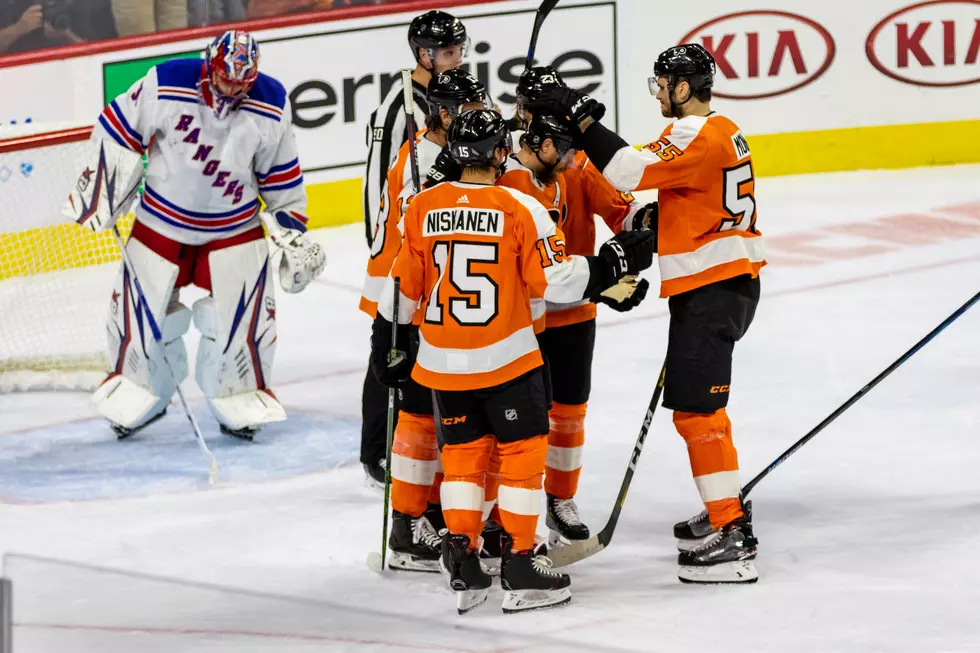 Flyers Defeat Rangers for 1st Win of Preseason
(Mike Kruce/97.3 ESPN)
In the first three games of the preseason, things just didn't click for the Flyers. It led to a change. Veterans were going to get into more games.
A veteran-heavy lineup delivered an expected result against the New York Rangers on Saturday night at Wells Fargo Center, getting a 4-1 win for the Flyers' first win of the preseason.
For most of the first period, both teams struggled to get sustained offensive zone time. The Rangers had two power plays that were killed off by the Flyers. Lines were shuffled early when Chris Stewart and Micheal Haley dropped the gloves at 1:27, each getting fighting majors.
Late in the period, the Flyers got their first power play of the game. In the previous three games of the preseason, the Flyers were 0-for-13 on the power play, but they finally cashed in.
Off a great feed from Jake Voracek, Claude Giroux moved in at the right circle and set up James van Riemsdyk for a deflection in front that hit off Jacob Trouba's skate and went in to give the Flyers the lead.
Just 1:32 later, the Flyers were back on the board. Voracek led a rush up ice and made a nice drop pass to Oskar Lindblom. Lindblom's shot rang off the post, but Voracek re-gained control, skated around the zone and put a chance on goal that was deflected in front by Kevin Hayes to make it 2-0 with 24 seconds left in the period.
After 20 minutes, the Flyers held a 12-6 lead in shots.
The Flyers dominated the second period, outshooting the Rangers, 21-5, in the period. They also hit the post three times, coming close to scoring in the opening minutes.
Two quality scoring chances came from Carsen Twarynski and both were stopped by Igor Shesterkin. Finally, at 12:58, Twarynski got the better of the Rangers netminder. Cutting in off a rush, Twarynski fired a shot on goal that Shesterkin stopped and the rebound popped high in the air. Twarynski followed up the play and knocked in the rebound out of mid-air to score and make it 3-0.
Through two periods, shots were 33-11 Flyers. That ended the night for Carter Hart, as scheduled. He finished with 11 saves.
The Flyers kept the pressure on in the third, once again scoring on a power play. Voracek cranked a one-timer off a setup from Ivan Provorov to make it 4-0.
The Rangers finally got on the board with 4:08 remaining in the game. Nick Jones entered the zone and fired a laser that beat Jean-Francois Berube to make it a 4-1 game.
Berube finished with six saves on seven shots. Shesterkin had 36 saves on 40 shots in the game.
The Flyers preseason continues on Monday as they hit the road to face the Boston Bruins at 7 p.m.
| | | | | |
| --- | --- | --- | --- | --- |
| | 1 | 2 | 3 | T |
| Rangers | 0 | 0 | 1 | 1 |
| Flyers | 2 | 1 | 1 | 4 |
PHI James van Riemsdyk (2) PP (Claude Giroux, Jake Voracek) 18:04
PHI Kevin Hayes (1) (Voracek, Oskar Lindblom) 19:36
PHI Carsen Twarynski (1) (Chris Stewart, Scott Laughton) 12:58
PHI Voracek (1) PP (Ivan Provorov, Giroux) 5:08
NYR Nick Jones (1) (Ryan Strome, Tim Gettinger) 15:52
| | | |
| --- | --- | --- |
| | Rangers | Flyers |
| Shots | 19 | 40 |
| Power Plays | 0/3 | 2/5 |
| Hits | 15 | 24 |
| Faceoff % | 40.4% | 59.6% |
| Giveaways | 3 | 11 |
| Takeaways | 2 | 8 |
| Blocked Shots | 8 | 7 |
| Penalty Minutes | 19 | 15 |