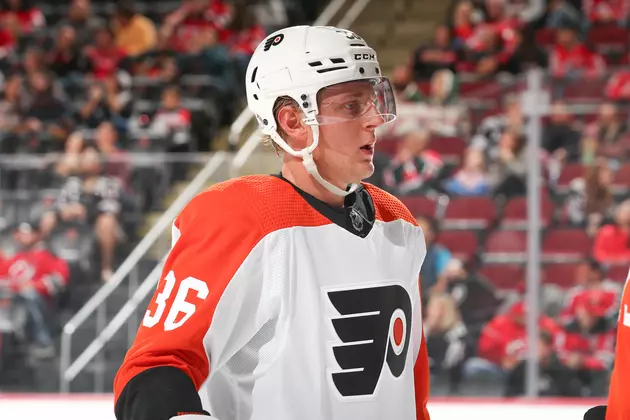 Flyers-Islanders Preseason Preview: Defensive Competition
Rich Graessle/Getty Images
As far as first impressions go, the Flyers didn't make a lasting one in Monday's preseason opener. A 6-0 loss to the Devils was the end result on a night when the energy just wasn't there after four days of intense skating and scrimmages.
The Flyers will send a primarily different group to face the New York Islanders in the second preseason game on Wednesday night, providing the next opportunity to add to the competition.
The Flyers roster for the game is as follows:
Forwards
17 Wade Allison
19 Garnet Hathaway
20 Cooper Marody
21 Scott Laughton
25 Ryan Poehling
27 Noah Cates
44 Nick Deslauriers
49 Rhett Gardiner
56 Samu Tuomaala
58 Tanner Laczynski
60 Zayde Wisdom
91 Brendan Furry
Defensemen
23 Ronnie Attard
36 Emil Andrae
37 Louis Belpedio
50 Adam Ginning
95 Adam Karashik
98 Victor Mete
Goalies
32 Felix Sandstrom
33 Samuel Ersson
Four players are getting back into action after playing on Monday. Wade Allison was a late addition to Monday's lineup after Cam Atkinson was scratched late. Samu Tuomaala and Brendan Furry are getting a second game in the preseason. Emil Andrae, who is expected to get a long look at camp, is also playing again.
Travis Konecny returned to the ice in one of the non-game groups. Atkinson and Cam York were absent from the skate.
Felix Sandstrom will start in goal and play the first period. Samuel Ersson will play the final two periods.
The Islanders lineup will be as follows:
Forwards
10 Simon Holmstrom
13 Mathew Barzal
14 Bo Horvat
16 Julien Gauthier
17 Matt Martin
26 Oliver Wahlstrom
37 Ruslan Iskhakov
46 Karson Kuhlman
51 Brian Pinho
53 Casey Cizikas
57 Eetu Liukas
75 Dmytro Timashov
Defensemen
2 Robin Salo
3 Adam Pelech
7 Dennis Cholowski
8 Noah Dobson
34 Paul LaDue
45 Travis Mitchell
Goalies
30 Ilya Sorokin
50 Kenneth Appleby
The Islanders are utilizing more veterans, but not as many as the Flyers saw against the Devils. Mathew Barzal, Bo Horvat, Matt Martin, Casey Cizikas, Adam Pelech, and Noah Dobson.
Ilya Sorokin is also likely to start for the Islanders.
The game is not televised but will be available to stream on the Flyers website.
Kevin Durso is Flyers insider for 97.3 ESPN. Follow him on social media @Kevin_Durso.
Philadelphia Flyers Uniforms Through The Years