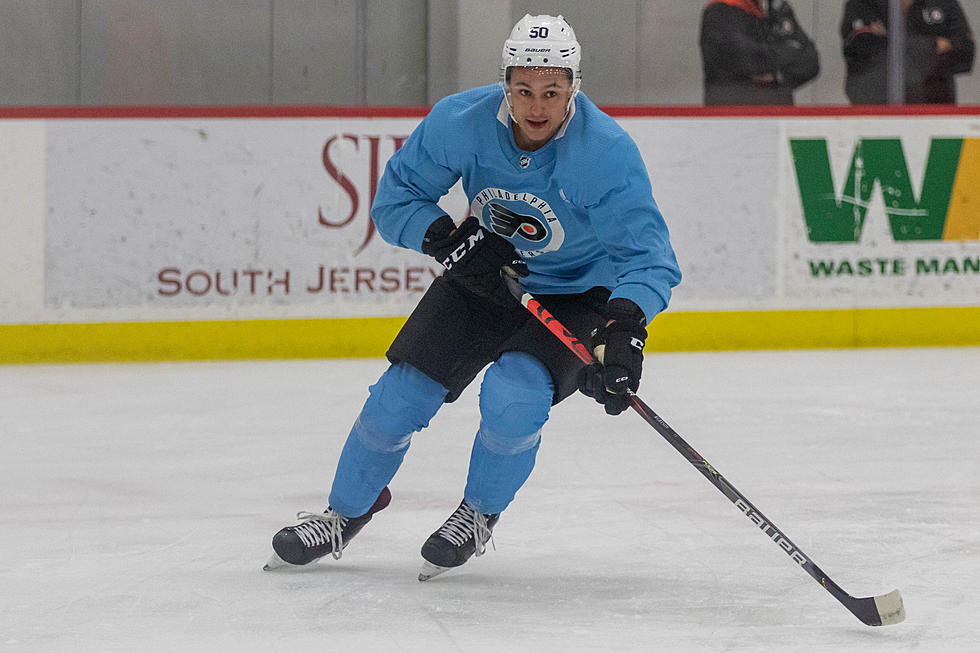 Flyers-Islanders: Rookie Game Observations
(Mike Kruce/97.3 ESPN)
The Flyers opened up a 3-0 lead on the Islanders in the Rookie Game at PPL Center on Wednesday before the Islanders clawed their way back, closing the gap to 3-2 and then erasing a 4-2 deficit early in the third. They claimed the game in a shootout, 5-4.
For many of these players, this was their first real competition on the ice in a long time, and for several of them, this was a step up in competition, facing professional players.
Let's take a look at five observations from Wednesday's game.
The Frost-Farabee-Ratcliffe Line
As it has been in camp, all eyes were on the Flyers top line of Morgan Frost, Joel Farabee and Isaac Ratcliffe. Each had a very positive game.
This line started out very strong, getting relentless pressure on the puck in the offensive zone, but having very little room to work with in front of the net to actually generate quality chances. Farabee was instantly a standout on the forecheck. He's just relentless on the puck and isn't afraid of the dirty areas to collect possession and make a play. His forechecking efforts helped create the Flyers second goal in the first period.
Farabee also couldn't buy a goal despite being in great position to score four times. He had a power-play goal staring him in the face with a wide-open net, but a diving poke check by Oliver Wahlstrom bailed out the Islanders in the knick of time. Farabee hit the post twice, once on a rebound chance and again on a two-on-one in overtime. Moments after, Farabee got a breakaway at the end of his shift. He was clearly gassed, but got a shot off that missed the net.
The puck just seems to find Farabee, and he doesn't seem to mind. He always seemed to be in good position to generate something, and that's an encouraging sign as camp begins.
Frost made a slick pass across the ice to Sean Comrie on that goal, showing off some of his skill. Frost also hit the post on a shootout attempt after making a great move. There's no doubt he's got some silky hands and is a playmaker.
Frost's game overall was solid. He certainly got involved in the forecheck, though not as much as Farabee, and he looked good on transition rushes into the offensive zone. He's certainly a presence on the ice, maybe not as much of a playmaker as Farabee is -- at least in this game -- but still always dangerous.
Ratcliffe's game overall was solid as well, but not on the same level as Frost or Farabee. He's got a good shot and his skill set is there, but he's still a step slower than the other forwards and defensively a little bit below the others. Ratcliffe will certainly be near the top of the list when it comes to prospects nearing the NHL, but unless he really stuns in training camp, he's probably still going to need some time to continue growing his game.
Collectively as a line, though, all three were very good and you can certainly understand why there is a lot of excitement around these prospects. They all have such high potential.
It didn't take more than a few minutes to see that Phil Myers was above the group he was playing against. Scott Gordon even said it after the game. He's an NHL player.
Myers displayed silky smooth skating, made a great move before setting up German Rubtsov on the first goal of the game, and was defensively sound the entire game. Among this group, Myers was far and away the best player on the ice.
Myers' test comes now that training camp gets underway. He gets to play alongside NHL-level defensemen and against NHL-level competition. If Myers plays anywhere close to the level he played on Wednesday, he should be a lock to make the team.
If it wasn't for Felix Sandstrom, the Flyers may have trailed 2-0 after the first period instead of holding the lead. Sandstrom stood on his head in the opening period, making several difficult saves as he was peppered with 17 shots.
Sandstrom isn't going to be in play for the NHL anytime soon. He just turned pro last season and has one game of AHL experience under his belt. But if he wants to start his pro career as a regular on the Phantoms, he made a good first impression.
Two of the more veteran players in Rookie Camp were Russians German Rubtsov and Mikhail Vorobyev. Each has pro experience, more for Vorobyev than Rubtsov, but both looked solid in this Rookie Game, connecting on the power play for a goal.
Rubtsov has particularly stood out in this camp. In the past, Rubtsov was always good in drills, but in any games you would see, he would be relegated to a more defensive role and disappear at times because he wasn't a play driver. That wasn't the case in this game. He scored twice and was around the net frequently. You can certainly see the growth he has made over the last year or so. His first pro season was cut short by injury. Here's hoping his second is fruitful and puts him back on the radar even more than he is right now.
As for Vorobyev, it was a rough start to his NHL career. He had an excellent camp and made the team, but very quickly dropped through the ranks again before eventually going back to the AHL. He certainly knows what it takes to make the NHL, but it's about finding the level of consistency needed to stay there.
The Flyers had their top line of top prospects and a second line that included Phantoms regulars like David Kase and Vorobyev. The rest of the group -- outside of Rubtsov -- featured players with maybe a game or two of pro experience at most. Many of them had never faced this kind of competition. It showed.
Sandstrom was able to bail out the Flyers in the first 32 minutes of the game for the lapses that these combinations had. Kirill Ustimenko was not, and that was how the game was tied up at four within 11 minutes of game action.
Ultimately, you saw the difference between a top pick and a camp invite. These players seemed to tire out as the third period progressed. That's not to say that even the top line started to slow down late in the game, but their mistakes were so few and far between, it was noticeable for the lower lines. The Flyers purposely held out players like Carsen Twarynski and Connor Bunnaman as well as defenseman Mark Friedman to get a better look at younger players and camp invites.
It's a game result that doesn't matter, but the results the players show from three days of on-ice activity at camp do matter. For some, it means a chance to earn a contract within the organization. Still, it was a disappointing game result for the end of a good Rookie Camp.