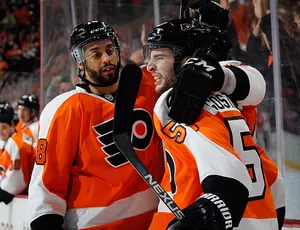 Flyers Looking for Answers for Shuttered Offense
The Flyers haven't scored a goal since Feb. 2 (Photo by Bruce Bennett/Getty Images)
VOORHEES — The Flyers could break a record Thursday night and not the good kind.
No team in orange and black has ever been shut out in three straight regular-season games. The Flyers haven't scored in 122 minutes, 49 seconds and counting.
They are clinging onto the last playoff spot in the East by a mere point. While they have done quite well on the defensive side of their game lately, scoring has been an issue and that's bad news in a playoff run.
"We were doing better during that 10-game stretch (of wins)," Pierre-Edouard Bellemare said. "The goals we scored were not always the most beautiful ones, but we found a way to get that bad goal, that ugly one. We don't get so many of those right now. Maybe we're trying the pass too much."
That has seemed to be the case recently. Sure, the Flyers managed 26 shots against St. Louis Blues goalie Carter Hutton Monday night. He stopped all of them and very few came with traffic in front of the net.
Quantity over quality has been somewhat of an issue and when no one has a scoring prowess these days, the split-second mental game when the puck is on the stick hasn't been going well.