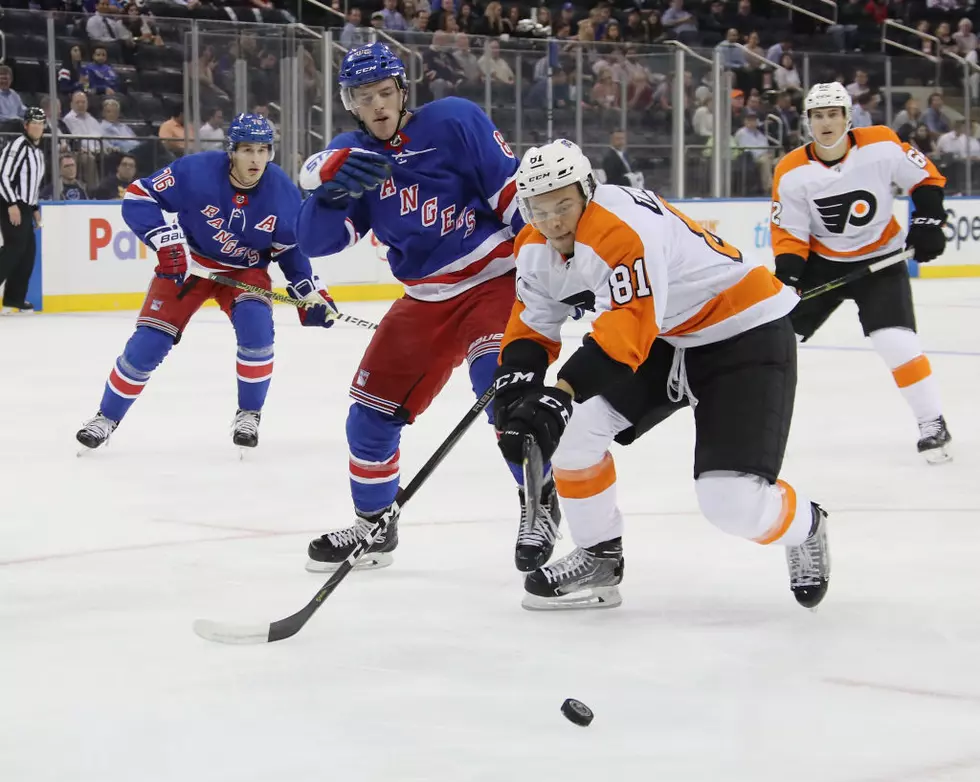 Flyers Send Goulbourne, Twarynski to Phantoms
(Bruce Bennett/Getty Images)
The Flyers have one preseason game remaining before the final roster decisions have been made. A few decisions were made ahead of that on Friday.
The Flyers sent forwards Tyrell Goulbourne and Carsen Twarynski to the Lehigh Valley Phantoms, bringing the training camp roster to 31 players, GM Ron Hextall announced on Friday morning.
Goulbourne was placed on waivers on Wednesday and cleared Thursday afternoon before playing in the Flyers preseason game against the Rangers. He had nine hits to lead the team in 10:21 of ice time.
Twarynski was dubbed one of the big surprises in camp, playing in five preseason games with a goal and an assist. He also scored a goal and had an assist in the Flyers 6-3 win in the Rookie Game against the Islanders. He begins his first pro season with the Phantoms after scoring 45 goals in juniors last season.
The Flyers have eight remaining cuts to make before finalizing the roster, though four players on the roster are listed as injured -- Sam Morin, Pascal Laberge, Alex Lyon and Michal Neuvirth. Corban Knight was also injured in Thursday's game and an update is expected after he is re-evaluated on Friday. He did not take the ice for practice on Friday.
The Flyers close out the preseason on Saturday afternoon against the Boston Bruins at 5 p.m.
Kevin Durso is Flyers insider for 97.3 ESPN and Flyers editor for SportsTalkPhilly.com. Follow him on Twitter @Kevin_Durso.