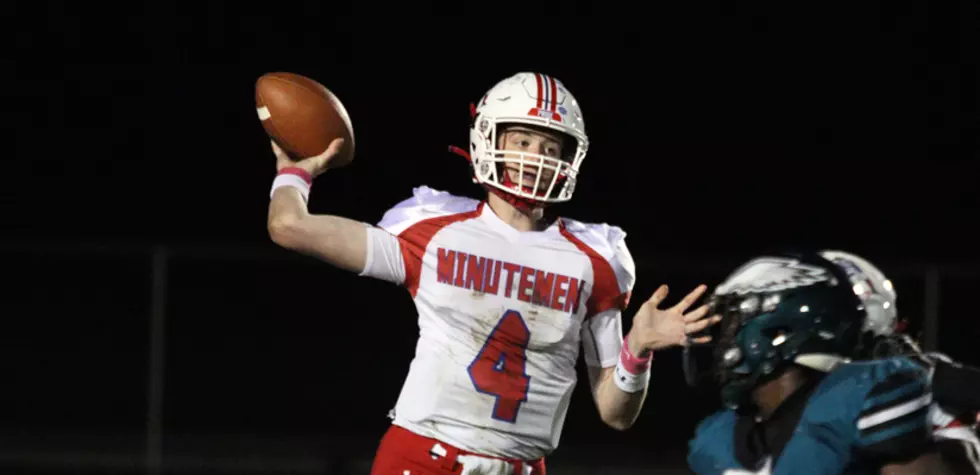 From Offensive Line to Quarterback, Liam Friel Help Lead Washington Twp.
(Glory Days photo/Sully)
Freshman football coaches have to learn to be resourceful. After all, the varsity team takes the best of everything — equipment, practice field and weight room time. Players.
A couple years ago, before Mike Schatzman took over as head coach at Washington Township, the former Minutemen player and lifelong township resident was the skipper of the school's freshman team, and when the junior varsity program plucked away his only quarterback, Schatzman did what any freshman football coach would do: he asked if anybody on the team knew how to throw a football.
Enter your number to get our free mobile app
Young offensive lineman Liam Friel, whose father was once a star quarterback at West Catholic in Philadelphia, stepped up and told coach Schatzman that he had a pretty good arm. From that first day of freshman football practice, and every day since, Friel has been a quarterback at Washington Township. He became the starter early in his junior year and has helped usher in a new enthusiasm for the program under coach Schatzman. The Minutemen went just 2-2 in an abbreviated COVID-19 schedule in 2020, but have begun to show some promise that they can start to turn things around and become a playoff competitor after a couple of two-win seasons.
A lot of the credit for a new belief in what the Minutemen can be going forward has to go to Friel and the other four captains on this year's squad, who put in the time and effort it took to help build a foundation that Schatzman believes can put Washington Township in position to become a consistently winning program in the years to come.
"I started playing football when I was 4 years old and I was a lineman all the way through youth football. We didn't have a quarterback the first day of practice (freshman year), I threw a ball to coach Schatz and he said, 'you're going to be our quarterback.' I was very surprised," Friel said. "I was a little nervous at first because I had never played the position before, but once I got the hang of it, it became second nature to me and I really love it now. My dad was a quarterback so he helped me out a lot, and I just got better and better at it as freshman year went on. I actually had a very good freshman year, then sophomore year came and I kept getting better and it has ended up working out for me."
"He played offensive line his whole life before we made him a quarterback when he was a freshman. I was coaching the freshmen then and they brought a kid up to play quarterback on JV, so the freshman team didn't have an other quarterbacks. We kind of did the old-school way of just asking if anybody knew how to throw a football. Liam said he had a good arm but never really got a chance because he was a bigger kid on the youth level, so he always got stuck on the line or playing defensive end," Schatzman explained. "He had a natural ability to throw the football. He's still raw, even though he's been getting better every year, and he has that offensive line mentality. He's a tough kid, and he's surprisingly a very good runner. He can sneak up on you."
And Schatzman said he believes Friel, a 6-foot-4, 205-pound senior, is just scratching the surface in terms of his football potential. Friel said he has garnered interest from schools such as Montclair State, William Patterson, Dickenson, McDaniel and Rowan. Friel threw for 467 yards and three touchdowns this past season, and as a junior he threw for nearly 1,000 yards and eight touchdowns.
"I think the biggest thing for a lot of the colleges that are recruiting him is his potential and the opportunity he has to get better," Schatzman said. "Based on his junior year film to his senior year, it's a big difference, so I think his best football is in front of him. He's just scratching the surface. Against Eastern this year he threw for a couple touchdowns, ran for a couple and put up over 300 yards of offense. I would have been curious to see what he could have done had we had a full schedule."
After losing 51-6 to start the 2019 season and trailing Kingsway in the second game, Schatzman decided to put Friel into the lineup full time. The Minutemen lost that game against Kingsway, 21-0, but then went on a three-game winning streak with Friel as the starting quarterback, beating Atlantic City, Eastern and Egg Harbor Township.
"I didn't start the first game of the season but I came in at halftime of the second game, then started the third game and we got our first win and then went on a little winning streak after that. When I got the chance to start, I was really nervous. The first few drives showed that, but once I calmed down and relaxed I was able to do my thing," Friel said. "It's different. Going from being an offensive lineman where you walk up to the line of scrimmage and just point out the guy you are supposed to block to having to read a defense, check plays and do everything else — it was nerve wracking, to say the least.
"I love it. I really think (playing quarterback) has helped me as a person," Friel added. "I think it's done a lot of things for me and I really love playing the position. I think the hardest thing for me was learning to go through the progressions when you see certain coverages, but being an offensive lineman helped me play quarterback. It made it easier to know how to read defenses, and if we were in a run play I knew what kind of front the defense was in, so I could check to a pass play. It made things like that easier."
Schatzman said what he enjoyed even more than Friel's development as a quarterback the past three years is how far he has come as a person and leader.
"He's an awesome kid and a good student. He's definitely a kid who we enjoyed having. He's not the most vocal kid in the world, but as a quarterback he really commanded the huddle, and he did all the little things," the coach said. "He's a worker and he led by example. We had some younger quarterbacks that he took under his wing, so there were a lot of little things people don't necessarily see — but things I would notice — that made him a good captain. When he had to be vocal, he was. If things weren't going right he would definitely get on guys, and that's something he improved on. He really came out of his shell a lot this year and I think a lot of that had to do with experience and just being more confident in his ability. I think that played a big factor, but he's such a good kid that other kids would follow him.
"Some of the things he did as a junior were just growing pains, and I think we had a better cast around him (this year). The past two years, before this year, we played a lot of young guys, so he kind of grew with those guys throughout the course of his high school career and I think this year he had a more natural feel for the position, and he was more comfortable with some of the throws. And having another year under his belt he was able to pick things up a lot quicker than in previous seasons. That's the biggest thing for any quarterback, gaining experience and having the ability to see different defenses."
"I took (being a captain) as seriously as I took everything else. I just wanted to keep everybody's head up about our season. A lot of seniors had their heads down, but we had five senior captains and we all worked together, even when we were shut down we had to keep our heads up. I tried to be vocal and help guys out," Friel said. "Being a leader is about making sure you're the first guy on the field and the last guy off the field. I've learned about the kind of leader I can be. There were times when we were down and I had to be there to pick the guys up and say, 'come on, let's go, we can do this.' And our whole mindset would change. There were times when we came back and won a football game because of that, so I think being a quarterback helped me become a better leader both on and off the football field."
Friel's Washington Township career may not have ended the way he and his senior teammates would have hoped, but wherever he chooses to go next year he'll bring some fond memories with him.
"My first varsity touchdown pass is a great memory, against Eastern. It was like an under-Sam, over-Mike, almost like a dig route, and I threw it about 20 yards right to the back of the end zone," he said. "It's one of the greatest feelings in the world when you score a touchdown, or throw a touchdown, or complete a big pass — that's always the best feeling when you can do something like that.
"I'm going to miss this a lot."
Contact Dave O'Sullivan: sully@acglorydays.com; on Twitter @GDsullysays
KEEP READING: Greater Atlantic City Area Athletes Who Played Games In NFL