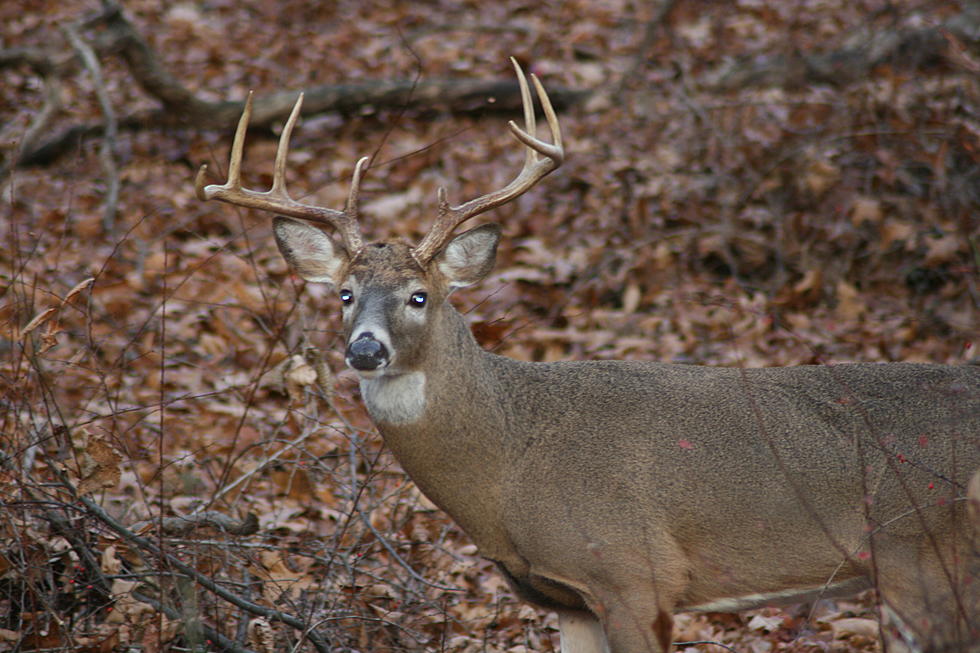 TSM, Tom P.
It's the long-awaited "stoopid" time when whitetail bucks, from dominant rackers to precocious spikes feel the urge to merge and, for the most part, toss caution and normal routines aside in the quest for a doe in estrus.
This coincides with the permit bow season, and if there is time to be in a tree stand or in a ground blind, it's now!
To be sure, this primary rutting period kicked in big-time a few days ago and will run through the second and maybe into the third week of November. There is a secondary and sometimes a tertiary rutting period in December and January, but the effects of these diminished desires pale in comparison to the antics of a chase for a November tryst. Feeding is greatly curtailed bucks, according to biological data, can lose up to 30% body weight building up to and continuing through the first rut to its end.
We've witnessed some crazy stuff during the heat of the rut, such as big, mature bucks walking around, or nose to the ground, in the middle of the day, seemingly oblivious to their surroundings or possible danger such as vehicles (hence the high counts of roadkill this month) or human scent. We've had some decent antlers walk by directly downwind, give a glance, maybe, and keep on following whatever love trail they're on... and we were not wearing any masking scent, as we were hunting pheasants and squirrels.
A buck in rut will maintain a bit of survival smarts no matter how intense the procreative stimulation. It can also be beyond-the-normal aggressive and, as world-renowned wildlife expert and photographer Leonard Lee Rue III once told yours truly in his mountain abode in Blairstown back in the mid-Nineties, "A whitetail buck in full rut is one of the most dangerous animals in the woods."
That statement was brought instantly to mind while on a Sunday hike in a section of a state forest during the November hot time a few years ago, with only camera in hand. The pungent aroma (read: stink) of the rut was evident, and a turn in the narrow trail revealed a good size buck that showed no evidence of moving on even with a bipedal intruder a mere 40-50 yards away. In fact, he moved closer and circled not once but twice, narrowing the distance between him and this suddenly concerned shutterbug. Getting a few clicks in, it became more of a matter of getting behind one of the trees (my climbing days being decades in the rearview mirror) than trying to get the optimum photo. After a few tense moments, he stopped, tested the wind once again, and gave an upper lip curl turned and went past, obviously in quest of a doe that had secreted an invitation wafting in the late Indian Summer zephyrs.
Whew on that one!
The craziness, while certainly increasing the odds of success, does not mean one should not follow the same precautions such as utilizing a cover scent or attracting scent (remember, by law, none with natural doe urine or gland), setting up in wind-friendly locations, and keeping movement to a minimum.
***
The pheasant stocking numbers for Thursday, Nov. 11, and Saturday, Nov. 13 are as follows on our Rack & Fin Radio "Lucky 13" WMAs in the central and southern regions.
Central: Colliers Mills- 200, 300; Howardsville- 50, 70; Manahawkin- 50, 70; Medford- 80, 130; Stafford Forge- 160, 240.
South: Dix- 130, 190; Nantuxent- 110. 170; Millville- 340, 510; Port Republic- 50, 70; Glassboro-100, 150; Tuckahoe- 110, 160; Mad Horse- 90, 140 and Winslow- 140, 210.
Bobwhites release numbers for the Greenwood and Peaslee WMAs for Nov. 11 and Nov. 13 are 260 and 400 respectively for each.
Hiking NJ: Tatum Park
A Visit to Beautiful Tatum Park in Middletown, New Jersey
RANKED: Here are the most popular national parks
To determine the most popular national parks in the United States, 
Stacker
 compiled data from the 
National Park Service
 on the number of recreational visits each site had in 2020. Keep reading to discover the 50 most popular national parks in the United States, in reverse order from #50 to #1. And be sure to check with individuals parks before you visit to find out about ongoing, pandemic-related safety precautions at 
www.nps.gov/coronavirus
.