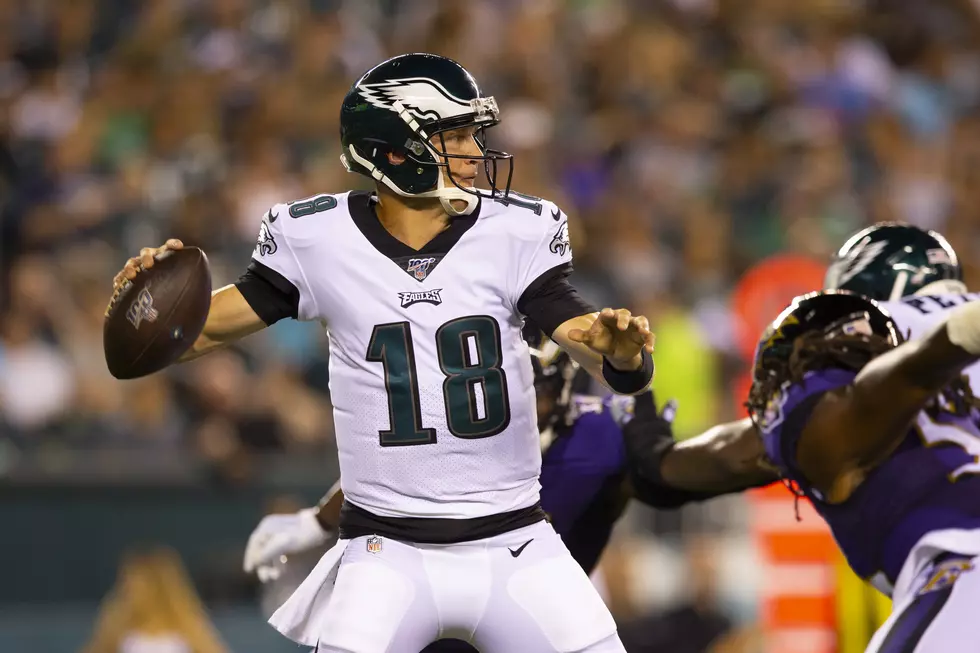 Grayson's Grades: Eagles vs. Ravens (Preseason)
Getty Images
PHILADELPHIA - The Philadelphia Eagles dropped their third game of the preseason to the Baltimore Ravens 26-15 in a weather shortened game. The result is not the important part of the equation. It is the continued evaluations that take place by the coaching staff as the regular season approaches that matter the most.
This game featured the first appearance by new Eagles Quarterback Josh McCown. He made like Thor in this game having an electric second half that brought lightning into the area causing most of the fourth-quarter to not be played. The lightning arrived not long after McCown was replaced by Clayton Thorson.
McCown's biggest sidekick was rookie Wide Receiver J.J. Arcega-Whiteside. He hauled in McCown's first touchdown and had a big night in his own right.
The Eagles will close out the preseason next week when they visit the New York Jets. First, here are this week's Grayson's Grades:
J.J. Arcega-Whiteside - The Eagles rookie wide receiver continues to show great progress. His best grab came in the third quarter when he shook a defender on a corner route and pulled in a well-thrown ball from Josh McCown in the corner of the endzone getting both feet in-bounds and scoring the touchdown. He also did a great job of catching a pass over the middle, reversing field quickly and turning it into a great 35-yard gain. Arcega-Whiteside also made several other solid catches in this one. He did a great job early of catching a ball over the middle, absorbing some of the contact and gaining a total of 18 yards on the play. Arcega-Whiteside finished with eight receptions for 104 yards and one touchdown.
Josh McCown - McCown's goal was to shake off some rust after signing with the Eagles less than a week ago. The 40-year old Quarterback looked rusty through his first two possessions. He dropped a perfect shotgun snap on his second play of the game and fell on it to kill the play. He also missed receivers on those first two drives. However, McCown started to get into a rhythm on his third possession and led the Eagles on a solid drive. McCown hit Arcega-Whiteside a couple of times as well as Greg Ward and Carlton Agudosi. Both Ward and Agudosi made great catches on the sideline on well-thrown passes. That drive ended with Jake Elliott missing a field goal. McCown later stared down a blitzing defender and threw a perfect strike in the endzone for a touchdown. After missing on his first three passes, McCown completed his final 17 of 21 passes for 192 yards and two touchdowns.
Brandon Graham - Graham bust off the line of scrimmage recognizing a jet sweep and dove into the running lane blasting Hollywood Brown for a four-yard loss. Great recognition and even better ability to finish the play.
L.J. Fort - Fort got some serious playing time at linebacker due to some injuries to players in front of him on the depth chart. He played with a lot of the starters early in the game and made a great play to drop Justice Hill for a loss of one deep in his own territory. Fort made a great play early in the second half to recognize a short pass play to the running back. He closed on it quickly for a loss of five yards. Fort finished second on the team with four tackles including two tackles for a loss.
Rodney McLeod - McLeod showed great closing speed to catch McSorley as he fled the pocket and headed for the sideline. McLeod got to him for a one-yard loss forcing third and long. McLeod saw his first action since suffering an injury last season. He told the media afterwards that he had some butterflies and that it felt good to hit someone again. McLeod finished with three tackles including one tackle for a loss.
Greg Ward - Ward is likely battling with Hollins for the final receiver spot on the depth chart. Ward has looked good as a receiver but is not quite the contributor on special teams that Hollins has been. Ward made a couple of nice catches in this game. The question is whether he has done enough to beat out Hollins. Ward caught four passes for 45 yards.
Andre Dillard - Dillard had some ups and downs in this game. He looked good blocking and continues to display many of the skills needed to be a successful offensive lineman in this league. However, he did draw way too many penalties in this one. There were a few false starts and holding penalties. Those are easy enough to fix. The rookie should continue to progress and have a solid future in the NFL.
Jordan Mailata - Mailata has come a long way since his rookie year last season. He was new to the game as a former rugby player from Australia and has learned a ton. Mailata's footwork was impressive to kick out of his stance and pass protect. His six-foot-eight 346 pound frame is tough for a defender to try and move. Mailata has a bright future in this league and played well in this game as a left tackle. He saw most of the snaps throughout the game in that position.
Jeremiah McKinnon - McKinnon had two different halves of play. He struggled in the first half and rebounded nicely in the second half. McKinnon got beat multiple times including on a touchdown pass when McSorley hit Jaleel Scott in the corner of the end zone. Scott held position on McKinnon and then created separation when the ball was thrown. However, he was able to bat away a pass early in the second half. Later in that half, he closed on a pass and nearly picked it off. He finished with two tackles and two pass-breakups.
Cody Kessler - Kessler was a little hit and miss with his accuracy on the opening drive of the game. He missed DeSean Jackson on an out leading him too far and out of bounds. Later on the drive he fired complete to Zach Ertz to get the ball near midfield. However, on fourth-and-three the Ravens brought what appeared to be an all-out blitz and Kessler held onto the ball as he tried to move left out of the pocket. He took a sack for an eight yard loss forcing a turnover on downs. Kessler's internal clock also seemed a bit off on the second possession. He got pressured and failed to find any open receivers. Kessler bought a little time on third down but threw a pass nowhere near his receiver and the Eagles were forced to punt. Kessler completed three of five passes for 34 yards.
Mack Hollins - Hollins is in a battle to make the final roster. He is a solid contributor on special teams. Hollins has to produce more as a receiver. He did a great job to drag his toe and record a catch for a first down early in the second half. It is likely between Hollins and Greg Ward to secure the final receiver spot on the depth chart. Hollins caught two passes for 15 yards.
NFL Preseason - The NFL preseason from a fan perspective has become an absolute joke. This game was not very entertaining. It is completely understandable to not play starters or play them for very long. The threat of injury is real. However, it is unfair to ask fans to pay what they pay to attend these preseason games given the product they get to watch. Coaches have figured out that joint practices are the preseason of the future. They can accomplish much more in a controlled setting and get their starters great reps in those situations. The future should include no more than two preseason games to help coaches get the game settings they desire to evaluate and help form their final 53-man roster. Both offensive and defensive coaches rarely open their playbook very far in preseason games and for good reason. They do not want to put anything on tape for any future opponents to see. My prediction is the NFL will figure this out and ultimately go to a preseason schedule featuring joint practices and two preseason games. I believe it will also result in either a 17 or 18 game regular season. That would bring in more revenue for the league and the teams. It should also create a little more money for the players and a much more enjoyable product for the fans. Sounds like a win-win for everyone. Now the players and the league need to get it done.