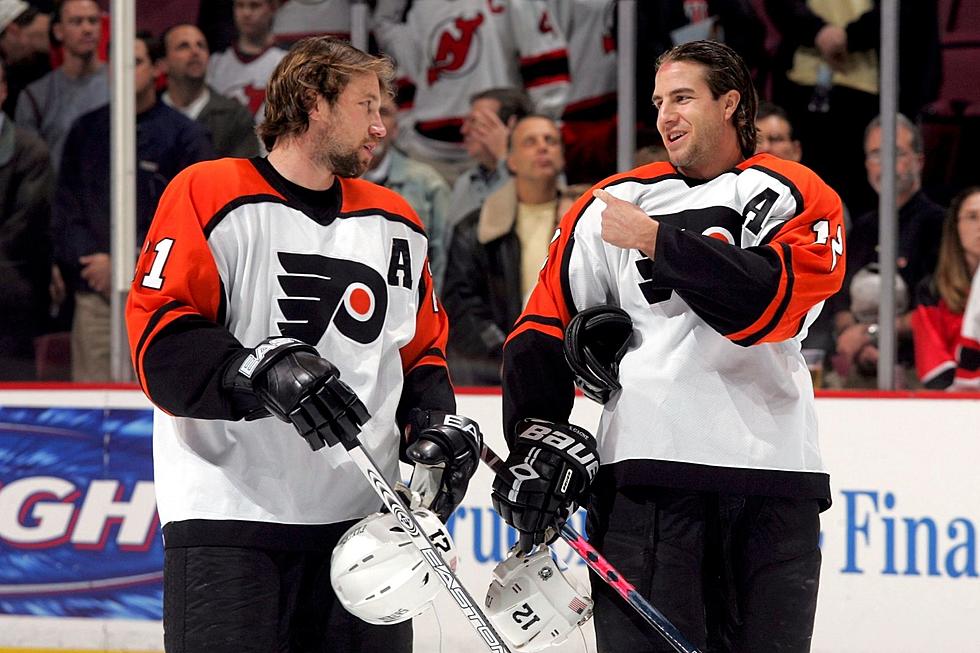 Greatest Skaters Drafted by the Flyers: Top Ten Thursday
(Photo by Jim McIsaac/Getty Images)
This weekend is the 2021 NHL Entry Draft and the Philadelphia Flyers after missing the NHL Playoffs this season, they landed the 13th overall pick as a consolation prize. The Flyers have found a lot of great talent in the NHL Draft over the last 50 plus years, a list that includes four Hall of Famers and some of the biggest names in the team's history.
For this week's Top Ten Thursday, I will give you my list of the Greatest Flyers Skaters who were drafted by the franchise. The prerequisites for this list includes: 1) Players has to have been drafted by and played for the Flyers and 2) Weight of career accomplishments gives players higher ranking on the list. Also, this list can have Forwards and Defenseman Skaters, not Goaltenders, which means no Ron Hextall on the list and Bernie Parent arrived on the team via the Expansion Draft.  My Honorable Mentions for this list are:
*Justin Williams 320 Goals 477 Assists (2000 Draft - 1st Round - 28 overall - Smythe Trophy Winner)
*Ken Linseman (1978 Draft - 1st Round - 7 overall - 807 Career Points)
*Vinny Prospal (1993 Draft - 3rd round - 71 overall - 3x All-Star)
*Peter Zezel (1983 Draft - 2nd round - 41 overall - 607 Career Points)
*Sean Couturier (2011 Draft - 1st round - 8 overall - Selke Trophy Winner)
10. Scott Mellanby (1984 Draft - 2nd Round, 27 overall - 1x All-Star)
-Member of the Flyers Stanley Cup Finals team of the 1980's was Scott Mellanby who finished his 22 year NHL career with a total of 364 Goals and 840 Points.  Mellanby had eight seasons with at least 20 Goals Scored and he is currently Top 25 in NHL History with 2,479 Penalty Minutes.
9. Jeff Carter (2003 Draft - 1st Round, 11 overall -3x All-Star)
-Even though he won two Stanley Cups with the Kings, the best individual seasons of Jeff Carter's career came in with the Flyers. Carter has five seasons of 29 or more Goals Scored in his career and four of those five seasons playing in Philadelphia. Carter has five seasons in which he was Top Ten in the NHL in Game Winning Goals and he is tenth among Active Players in Goals Scored with 399 in his career. In the NHL Playoffs, 13 of his 43 Goals in the postseason came with the Flyers and Carter has 79 Points in 126 Postseason Games Played.
8. Rick Tocchet (1983 Draft - 6th round, 121 overall - 4x All-Star)
-One of the most physical goal scorers of his generation of players, Rick Tocchet has the Flyers Franchise Record for most Penalty Minutes with 1,815 total.  Tocchet had five seasons with 31 or more Goals and simultaneously had no fewer than 150 Penalty Minutes in those seasons. Also a postseason performer for the Flyers 1980's teams, Tocchet had 27 Goals in 95 Playoff Games in a Flyers uniform and for his career 112 Points in 145 Postseason Games.  He finished his career with 440 Goals, that is the most Goals Scored by any player ever drafted by the Philadelphia Flyers and they found him in the Sixth Round.
7. Patrick Sharp (2001 Draft - 3rd Round, 95 overall - 4x All-Star)
-Yes this is kind of a technicality to have him on the list since he only played 44 Games in a Flyers Uniform before being traded to the Chicago Blackhawks, but Patrick Sharp has an underrated NHL Career. Aside from the four All-Star selections, Sharp also finished top ten in the NHL in Goals Scored twice and had four seasons with at least 30 Goals Scored. Sharp was a key member of the Blackhawks Stanley Cup Championship teams, leading the team in Goals Scored two of those three seasons. But it was the Philadelphia organization that gets credit for finding a talented Goal Scorer in the Third Round of the NHL Entry Draft.
6. Claude Giroux (2006 Draft - 1st Round, 22 overall - 6x All-Star)
-The Flyers current Captain has played 943 Games in the Black and Orange, a career that lands him Top Five in Flyers History in Games Played, Assists, and Total Points. Giroux has seven seasons in which he was Top Ten in Assists in the NHL along with four seasons tallying at least 80 Points.  While Giroux is model of consistency, he is not an elite Forward compared to the other players ahead of him on this list and one could argue many of his career statistics are the biproduct of a 14-year career, not that he was one of the 5 best at his position in the NHL every year or Hockey Hall of Fame Caliber career.
5. Simon Gagne (1998 Draft - 1st Round, 22 overall - 4x All-Star)
-One of the top ten Goal Scorers in Flyers Franchise History, Simon Gagne was an Elite Scorer whose overall career was limited by injuries. Gagne had two seasons with at least 40 Goals Scored and had three seasons in which he was top ten in the NHL in Even Strength Goals. Gagne was also a guy who scored in the NHL Playoffs with 32 Goals in 90 Postseason games in a Flyers uniform.  Gagne was a member of three straight teams that reached the Conference Finals with the Flyers then the Lightening and finally won the Stanley Cup with the Los Angeles Kings; In the 38 Playoff Games played over those three postseasons, he compiled 14 Goals that included Three Game Winning Goals and Five Power Play Goals.
4. Bill Barber (1972 Draft - 1st Round, 7 overall - 8x All-Star, Hockey Hall of Fame)
-A member of the Hockey Hall of Fame, Bill Barber holds the Career Record for most Goals in Flyers Franchise History with 420 total and he played all 903 Games in his career in Philadelphia. He scored 30 or more Goals in Nine of his Twelve seasons in the Orange and Black uniforms along with four seasons of 80 or more Points. Some of Barber's more prolific scoring seasons came in the years after the Flyers back-to-back Stanley Cup wins. He finished his career Top 20 in NHL History with 31 Short-Handed Goals.
3. Brian Propp (1979 Draft - 1st Round, 14 overall - 8x All-Star)
-One of the greatest Scoring Wingers of his generation, Brian Propp has the second most Goals Scored in Flyers Franchise History (369) and the second most Goals Scored of any player drafted by the Flyers (425). Propp had eight seasons of 30 or more Goals plus he is top 90 in NHL History in both Career Goals and Career Points. Propp is one of only five players in Flyers History to average minimum 1 Point Per Game; His 1.07 PPG (849 Points in 790 Games) is better than Claude Giroux's 0.91 PPG (858 Points in 943 Games) and Bill Barber's 0.98 PPG (883 Points in 903 Games). On top of all of that, don't forget Propp was a clutch postseason player who compiled 53 Goals in 116 Games in a Flyers uniform and he has 148 Postseason Points in 160 Playoff Games.  His career is Hockey Hall of Fame worthy on part with the best players of his era.
2. Peter Forsberg (1991 Draft - 1st Round, 6 overall - 8x All-Star - 94-95 Calder Trophy Winner, 2002-03 Hart Trophy Winner, Hockey Hall of Fame)
-I could argue that Peter Forsberg should be on this list even if he never played 100 Games in a Flyers Uniform because he was an important part of the trade that landed Eric Lindros with the Flyers, a move that changed the trajectory of two franchises. Before joining the Flyers for the 2005-06 Season, Forsberg was one of the best players in the NHL during his time as one of the superstars of the Colorado Avalanche Two Stanley Cup Championship teams. Forsberg had six seasons with at least 80 Points and five of those seasons he ranked top ten in the NHL in Points. During his run with the Flyers later in his career, he had 30 Goals and 85 Assists in 100 Games Played along with Four Goals and Four Assists in 6 Postseason games in a Flyers Uniform.
1. Bobby Clarke (1969 Draft - 2nd Round, 17 Overall - 3x Hart Trophy Winner, 8x All-Star, 1982-83 Selke Trophy, Hockey Hall of Fame)
-In the "Golden Era" of Philadelphia Sports from the Mid-1970s to the Mid-1980's featured Bobby Clarke as not just the best player on the Flyers Roster but one of the best in the NHL. Just like his in-city sports counterparts Mike Schmidt and Julius Erving, Clarke won the MVP of his league and led his team to win the World Championship. Clarke had four seasons tallying 90 or more Points along with six postseasons of 10 or more Points. Clarke is either at the top of the list or top five in every significant Offensive Category in Flyers Franchise History and he is top 50 in NHL History in both Career Assists and Career Points.
KEEP READING: Flyers Top Goal Scorers Each Year Since 2010