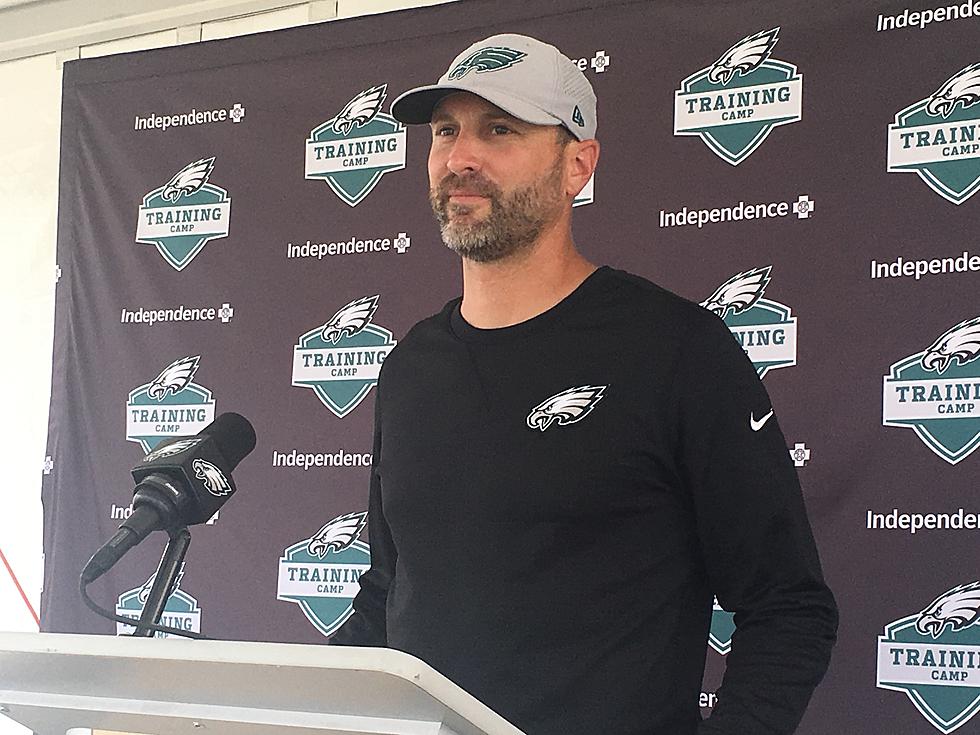 Groh and Walch Fired; Explaining Doug Pederson's 180
(Photo: John McMullen/973espn.com)
PHILADELPHIA (973espn.com) - Less than 24 hours after insisting they would be back, Doug Pederson fired offensive coordinator Mike Groh and wide receivers coach Carson Walch Thursday.
"After much consideration and discussion, I have decided to make a change at the offensive coordinator and wide receivers coach positions," Pederson said in a statement.
That was a complete 180 from Wednesday's season-ending press conference in which Pederson not only intimated the two embattled coaches would be back, he stated that.
"Both of those guys will be back," Pederson said while general manager Howie Roseman looked on.
The comments were couched a bit later in the session when Pederson didn't give highly-regarded defensive coordinator Jim Schwartz, who was in Cleveland interviewing for the Brows head-coaching position, the same deference.
"I'm still evaluating the whole process," Pederson said. "They are still currently here and I'm going to continue to evaluate and assemble the best staff moving forward. But currently, they're still here."
The evaluation evidently sped-up overnight and former New York Jets quarterback and ESPN college football analyst, Greg McElroy, claimed changes were coming. An Alabama product, McElroy, was getting that information from Groh, who also has Alabama in his background, an NFL source told 973espn.com.
"It was not an easy decision for me to make, and I appreciate everything that Mike Groh and Carson Walch contributed to the organization and to my staff," Pederson insisted.
Pederson is keenly aware of the narratives going on around his team and understood that Groh and Walch were taking significant hits from outside the organization for their job performances. The coach actually went out of his way to cite both assistants for the job they did late in the season when a number of little-known, practice-squad graduates put some life in what had been a moribund Eagles offense.
"I commend Mike Groh for putting plans together to help those players play and be successful," Pederson said unprompted after clinching the NFC East with a 34-17 win over the New York Giants. "Carson Walsh for putting them in the right positions to be successful," Pederson said before moving on to other coaches who haven't be in the crosshairs like tight ends coach Justin Peelle, assistant head coach/RB coach Duce Staley and offensive line coach/running game coordinator Jeff Stoundtland. "... That's where it starts, so that's where I'm the most proud, is with my staff."
Pederson furthered that theme when dismissing Groh and Walch.
"As I said yesterday, they were a big part of our success down the stretch this past season," Pederson explained. "This is one of the most difficult parts of the job and something that weighs on me, but ultimately I have to make decisions that I believe are in the best interest of the football team moving forward."
Groh was the Eagles' offensive coordinator the last two seasons after excelling as a wide receivers coach during the 2017-18 Super Bowl season. He was promoted over Duce Staley and Jeff Stoutland when Frank Reich got the top job in Indianapolis and Josh DeFilipppo jumped to Minnesota as an offensive coordinator who got to call plays.
Walch was brought in as an assistant wide receivers coach in 2018 to Gunter Brewer and was promoted after Brewer was one-and-done at the position, a consistent theme in the Pederson era. The Eagles will now be looking for their fifth receivers coach in five years after Greg Lewis, Groh, Brewer and Walch.
From those in the know, Groh did not have Pederson's ear like Reich and the Eagles' game-planning process had more chefs in the kitchen post-Reich with Groh handling the passing game and Stoutland the running game with Staley also mixing in. Pederson, though, obviously put together the final call sheet and called the plays.
Pederson's season-ending press conference took place before he met owner Jeffrey Lurie for his own season-ending evaluation which was Thursday when the decisions were made. Either Pederson had this course of action in his back pocket and got the go-ahead or Lurie, typically a hands-off owner, decreed there needed to be changes.
The Philadelphia Inquirer, citing a source, reported that Lurie made the decision that Groh and Walch had to go back in December.
From that perspective, Pederson's comments over the past month certainly come across like a Super Bowl-winning coach trying to use the cachet he has acquired and his bully pulpit to save his guys and change the owner's mind.
Messaging remains a problem for the Eagles under Pederson who tried to explain his strange takes on his own coaching staff 24 hours earlier.
"I apologize for any confusion that I created during yesterday's press conference, including my comments on Coach Schwartz, who has done a great job as our defensive coordinator," Pederson said. "It was my intent not to comment on any of my staff during the ongoing evaluations because I wanted to be able to go through the process and communicate any decision with the individuals.
"I did a poor job of explaining that the first time I was asked."
The poor job, however, has nothing to do with explanations. It had to do with scapegoats and failing to understand there were powers in the building insisting that sacrifices needed to be made.
Put bluntly, Lurie meddled Thursday.The Eagles'
owner is never going to be Jerry Jones or Daniel Snyder but that's not a positive development. Pederson has earned the right to make his own decisions with his coaching staff.

-John McMullen covers the Eagles and the NFL for 973espn.com. You can reach him at jmcmullen44@gmail.com or on Twitter @JFMcMullen