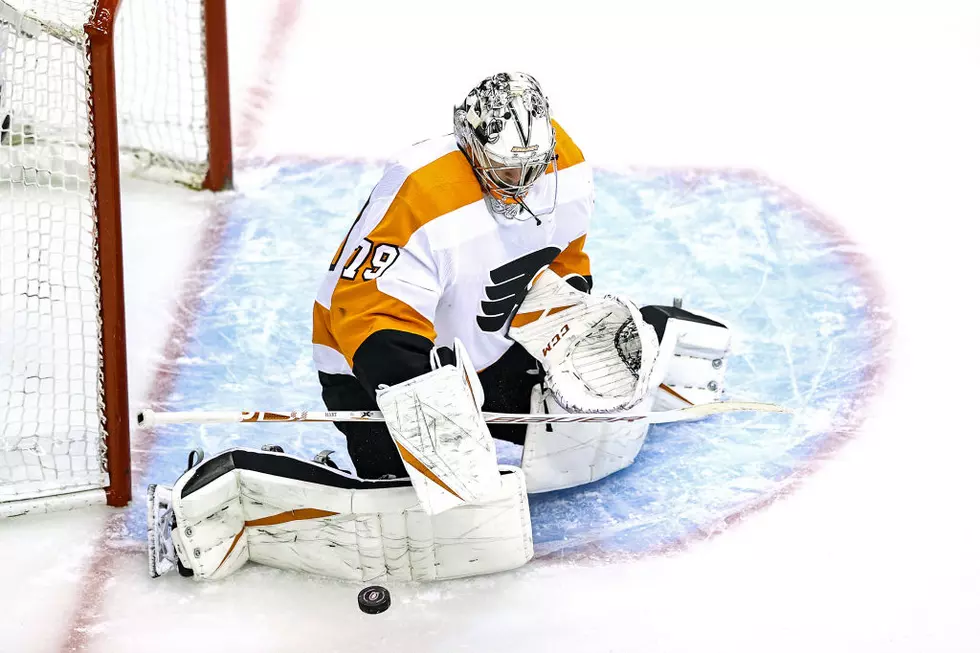 Here are 5 Gifts Philadelphia Sports Teams Gave us in 2020
(Elsa/Getty Images)
Christmas day is has come and gone, and while 2020 has been a very difficult time for many, there are some things to be excited about as the calendar is about to change to 2021.
As sports fans, we watched from a far, as the sports world hit the pause button.  Now that sports are back, they are playing games without fans in the building.
The Philadelphia sports teams were disappointing in 2020, but did provide some moments to cheer.
Enter your number to get our free mobile app
Here are some of the best gifts that 2020 brought us.
Jalen Hurts 
The Philadelphia Eagles may have changed the face of their franchise back in April, selecting quarterback Jalen Hurts from Oklahoma in the second-round. At the time it left fans criticizing and scratching their head, now he has fans wanting more.
In just two-and-a-half games, as the teams main signal-caller, Hurts has six total touchdowns with 647 passing yards and 254 rushing yards for the Eagles.
Carson Wentz, meanwhile, has struggled virtually in every game he has played in this season. He's amassed 2,620 passing yards with just 16 touchdowns and 15 interceptions, completing just 57.4% of his passes.
If Hurts continues to play well, the Eagles will have a major decision to make at the most important position in football.
The Flyers run in the bubble. 
The NHL bubble was not ideal for everyone, but the Flyers made the most of it when they got there.
The Flyers took advantage of the three-game round-robin, and grabbed the Eastern Conference No. 1 seed by sweeping Boston, Washington and Tampa Bay.  They then locked up with Montreal in the first-round of the playoffs, earning their first playoff series win since the 2011-12 season in the first-round against Pittsburgh.
Maybe the Flyers were knocked out in the second-round by the Islanders, but internally it mattered. It mattered that Carter Hart got his first taste of playoff hockey. It mattered that Alain Vigneault got to put his thumb print on this roster, whose core has remained together for the 2021 season.
Hart registered back-to-back playoff shutouts in the series against Montreal, becoming the first Flyers goalie to do so since Michael Leighton had his run back in 2010.
Daryl Morey and Doc Rivers
The Sixers changed the face of their front office and sidelines, first bringing in Rivers to coach the team then hitting a home run landing Morey to run the front office.
While we'll see what impact Rivers brings to the floor, Morey has already put his fingerprints on the roster.  In his first order of business, Morey was able to move Al Horford's contract for veteran 3-and-D man Danny Greenm.  He was also able to spin Josh Richardson to add more shooting, landing Seth Curry fro Dallas.
Will these two help bring a championship to Philadelphia?
Time will tell, but the Sixers definitely have two NBA heavy hitters in the organization.
Alec Bohm 
The Phillies haven't had a home grown, everyday impact star, come through the organization to get excited about since the Ryan Howard, Chase Utley days.
Is Bohm going to be that guy?  We're about to find out.
What we saw in 2020 was enough to get fans excited about what he could bring to the Phillies everyday lineup. The 24-year old hit four home runs, 23 RBI and slashed 338/.400/.481 over his first 44 major league games.
While it was a small sample size, Bohm has given Phillies fans big expectations for 2021 and beyond.
Carter Hart 
We mentioned earlier the Flyers playoff run in the bubble that got them the No. 1 seed and Hart's back-to-back shutouts in the Montreal series.
What we didn't mention was how dominant Hart was for most of the 2019-20 season.  The Flyers have been looking for a goalie for most of our entire lives, they finally seem to have landed one.
Hart was spectacular, going 24-13 on the season with a 2.42 goals against average and .914 save percentage. The 22-year old was even better in the playoffs, going 9-5, with a 2.23 GAA, and .926 save percentage in 14 playoff starts this year.
Lets just hope Hart is the gift that keeps on giving for years to come.
Was their a player of team or story I forget?
Let us know in the comments below!
KEEP READING: Flyers Top Goal Scorers Each Year Since 2010