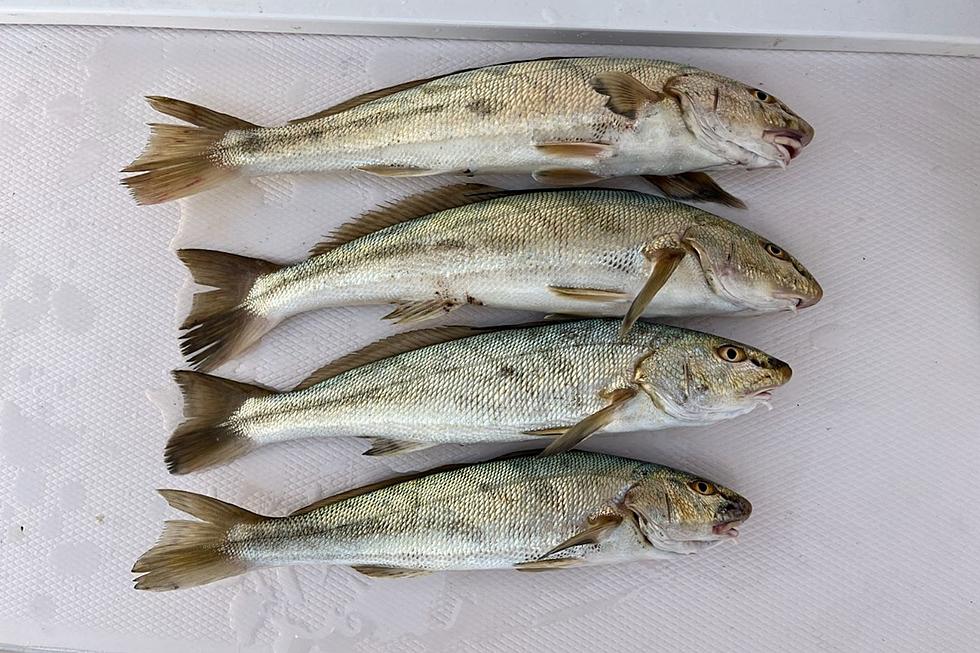 T. Montalto
It's a beach and bay assault that has actually been going on since, hmm, early July along certain beaches and in some of the bays, but the run of kingfish, aka "royals" is now going full tilt.
Besides the surf, these delectable bottom feeders are now showing in most bays and also tidal rivers from Monmouth County to Cape May. Easy to catch with the simplest of light tackle and simple rigs, it's merely a matter of finding those pockets and sloughs in the surf, or, if in a boat in a bay getting down a chum pot or two loaded with a clam chum log, and then letting the royals come to you. To be sure, kings have been showing in chum trails set out for blowfish. An added bonus in this scenario is the likely appearance of weakfish, spot (some the size of jumbo sunnies...the smaller ones make great late-season live baits for fluke), big snapper blues, and whatever other finned critter finds the melting clam goop appetizing.
Beach or backwater, a hi-low rig, either with miniature floats or not, and a sinker, usually one to two-ounce pyramid shape in the suds, with one-ounce bank style usually sufficing bayside. Out front, there's no need for the long surf rod setup, as the kings cruise in close, generally within 20 yards of the suds line. We've caught them many times with light action rods from 6-1/2 to 7-1/2 feet. In the bays we've used rod 'n reel outfits from 4-1/2 to 6-feet. Royals don't get large, the ones you'll be catching in the 7-11-inch range. Any over a foot is considered a big'un, but don't be surprised if you catch some specimen fish in the 13-16-inch class. Yeah, there are more than a few of these in the mix.
Effective baits are pieces of clam, bloodworm, squid, or sand flea. We like the muss-no-fuss effectiveness of pieces of Fishbites, either the Bloodworm, Sand Flea, or Blue Crab formula, and also the Gulp! Bloody Blood Bloodworm or one-inch Peeler Crab.
Royals will tickle the taste buds for sure. The firm, sweet white flesh is right up there with sea bass. The smaller ones we fry or broil whole, the longer kings, from 10 inches up, we fillet and then either deep or air fry for one yummy pile of fixins for fish sandwiches.
There's no minimum length limit or bag limit.
7 reasons why you need to kill the spotted lanternflies infesting NJ
LOOK: Here are the pets banned in each state
Because the regulation of exotic animals is left to states, some organizations, including The Humane Society of the United States, advocate for federal, standardized legislation that would ban owning large cats, bears, primates, and large poisonous snakes as pets.
Read on to see which pets are banned in your home state, as well as across the nation.