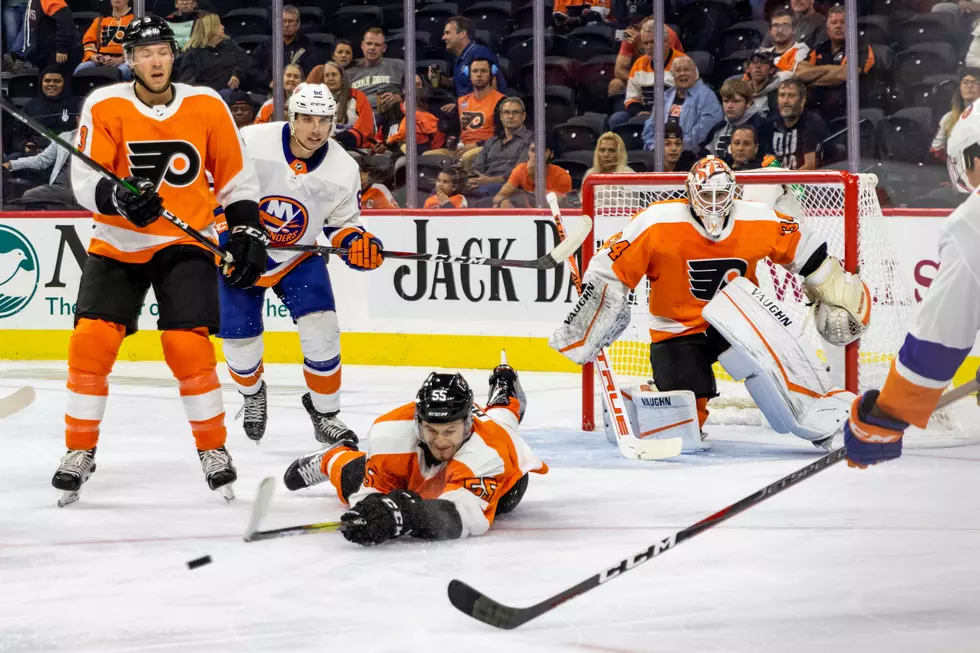 Islanders Outlast Flyers in Preseason Opener
(Mike Kruce/97.3 ESPN)
The first preseason game is not usually pretty, and by the scoreboard, it wasn't a pretty night for the Flyers. There were miscues and execution errors that led to some opportunities and ultimately a preseason opener defeat.
The Islanders got a goal early in the third period to snap a 1-1 tie and went on to win Monday's preseason opener, 3-1, at Wells Fargo Center.
The Islanders grabbed the early lead just 2:03 into the game. Thomas Hickey fired a shot from the point that got through a screen and went between the legs of Brian Elliott.
The Flyers had a couple power-play chances in the opening period, but could not score. Shots were even, 6-6, after 20 minutes.
In the second, the Flyers got the game tied on a great passing play by Monday's top line. Kevin Hayes gained control of the puck and protected before getting a pass across the slot to Jake Voracek. Voracek went back across the slot to James van Riemsdyk, who put it home to even the score at 4:27 of the second period.
The Flyers had to kill off four penalties in the second, including a 5-on-3 for 1:55, and did successfully. Elliott exited midway through the period as scheduled, finishing with eight saves on nine shots. Semyon Varlamov finished with seven saves on eight shots, exiting at the same time as Elliott.
Early in the third, the Islanders re-gained the lead on another long point shot. Luca Sbisa fired a shot off a turnover and beat Alex Lyon.
The Flyers had two more power-play chances late but were unable to capitalize. The Islanders iced the game with an empty-net goal by Erik Brown with 50 seconds remaining.
Final shot totals were 26-16 in favor of the Flyers.
The Flyers will be back on the ice for another preseason game on Tuesday night when they take on the New York Islanders again, this time on the road, at 7 p.m.
| | | | | |
| --- | --- | --- | --- | --- |
| | 1 | 2 | 3 | T |
| Islanders | 1 | 0 | 2 | 3 |
| Flyers | 0 | 1 | 0 | 1 |
NYI Thomas Hickey (1) (Grant Hutton, Travis St. Denis) 2:03
PHI James van Riemsdyk (1) (Jake Voracek, Kevin Hayes) 4:27
NYI Luca Sbisa (1) (Unassisted) 2:24
NYI Erik Brown (1) EN (Cole Bardreau) 19:09