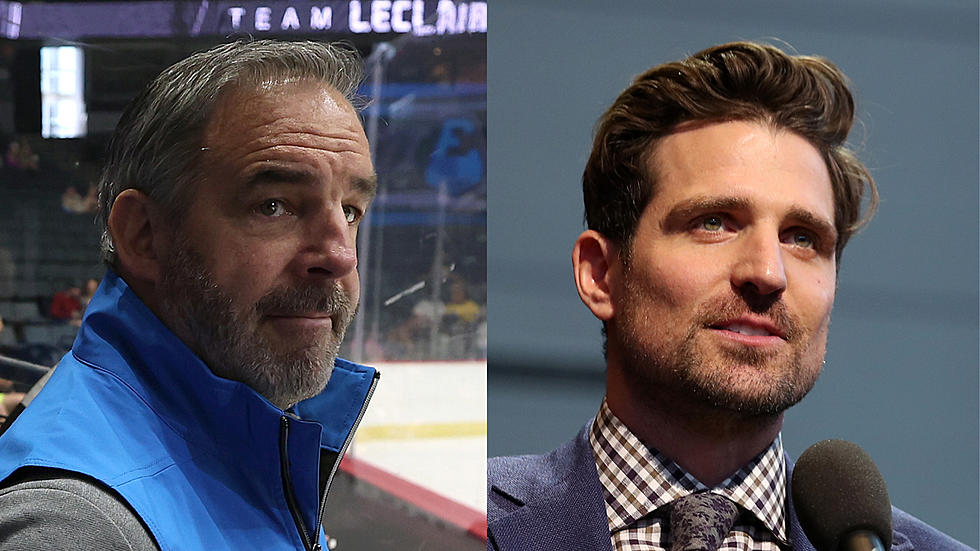 LeClair, Sharp Focus on Development to Help Restore Flyers Culture
LeClair Photo: Gregory Shamus/3ICE/Getty Images; Sharp Photo: Chase Agnello-Dean/NHLI via Getty Images
Two former Flyers joined the organization last week as Special Advisors to Hockey Operations. President of Hockey Operations Keith Jones put his stamp on the department by hiring two former teammates in different capacities. Jones played with John LeClair upon joining the Flyers for the final three seasons of his career. Jones and Patrick Sharp were broadcasting teammates at NBC Sports.
Both LeClair and Sharp now have new roles within the Flyers organization with a focus specifically on player and prospect development, an area that has already experienced wholesale changes from last season. Entering a rebuild, the timing is right for the Flyers to make their decisions on how to address players making the climb through the ranks to the NHL, as a rebuilding team that will rely on prospects to be the sources of a turnaround.
"I think it's a big focus of the organization," LeClair said. "Things aren't good enough right now. We're not where we want to be and we need to get better. To get better, we're going to need some fresh legs and faces to get in there and do that. We have some pretty good talent that we can develop and that's what we want to do. We want to get the most out of those guys for them and for us."
"That's what I'm most excited about, to get involved with the development process of the Flyers prospects and players," Sharp said. "We've got a number of players in New England and on the East coast that I'll be able to track and monitor their seasons and try to help in any way. That's something that's important to me because it was helpful in my career."
LeClair and Sharp have different paths through the organization as players. LeClair was acquired in a trade in 1995 and immediately became one of the Flyers leaders. He had a very successful career that included three straight 50-goal seasons and ultimately resulted in a Flyers Hall of Fame induction. But LeClair also knows the ups and downs of being a player trying to find his way.
"You want to rely on your own experiences a lot," LeClair said. "I've been fortunate enough to play in a lot of different situations, between international, world juniors, different levels as far as being a fourth-liner, being scratched, to being on the first power play and a go-to guy in the lineup.
"That's one of those things that I think helps me when talking to a guy. I've been on all sides of the game. I know what it's like to get scratched, I know what it's like when the coach benches you. Those are things that you can kind of help these guys through. Everybody has ups and downs. There are ruts that everybody goes through. You try to guide them and help them get through those the best they can."
Sharp was drafted by the Flyers and came up through the minor leagues. Though the greatest successes of his career came following a trade to the Chicago Blackhawks, Sharp remembers a year with the then Philadelphia Phantoms during the 2004-05 lockout where the city embraced the AHL team and their championship run.
"I look back at my career as a player and clearly the three Stanley Cups in Chicago stand out," Sharp said, "but that year in Philadelphia, that deep playoff run, the way that the city got behind us and just the experiences that I went through individually as a player — challenging myself, being competitive throughout four playoff rounds — that followed me around through the rest of my career and it helped me become the player that I later became.
"My experience, not only with the Flyers, but most importantly with the Phantoms, is something that I'm looking to pass on to our guys now."
Another key aspect of developing prospects into future NHL players is the big-picture goal for the Flyers to restore a winning franchise and a culture of winning that has been lost in recent years. Both LeClair and Sharp think back to their days as players as recognition of what could be again if the Flyers build this back properly.
"The former guys that have been here and lived it understand the culture," LeClair said. "That's one thing we've talked about is that we've gotten away from a little bit of that. We want to get back to the Flyer culture that we had that was bringing us winning seasons. It didn't bring us Cups, but we're going to get to that next step and that's what we want to do is get over that final threshold and win the Cup. 
"It seems like it's gone away from the culture that we had – that excitement in the building, just that family feel that we had back when the Flyers were one of the top teams in the NHL. That's what we want to get back in a big way."
"I believe that every winning team starts with a great culture, a great core group of players, and a strong development system," Sharp said. "That's what I'm excited to work with here in Philadelphia, helping some of our young prospects take that next step and be great Flyers down the road."
A focus on youth is a huge part of the recipe for success for the Flyers. What happens between now and the years ahead in developing talent will ultimately influence how the rebuild goes. With four Stanley Cups and 1,906 NHL games between them, LeClair and Sharp are hoping to serve as guides to bringing the winning culture back to Philadelphia.
Kevin Durso is Flyers insider for 97.3 ESPN. Follow him on Twitter @Kevin_Durso.
Philadelphia Flyers Uniforms Through The Years