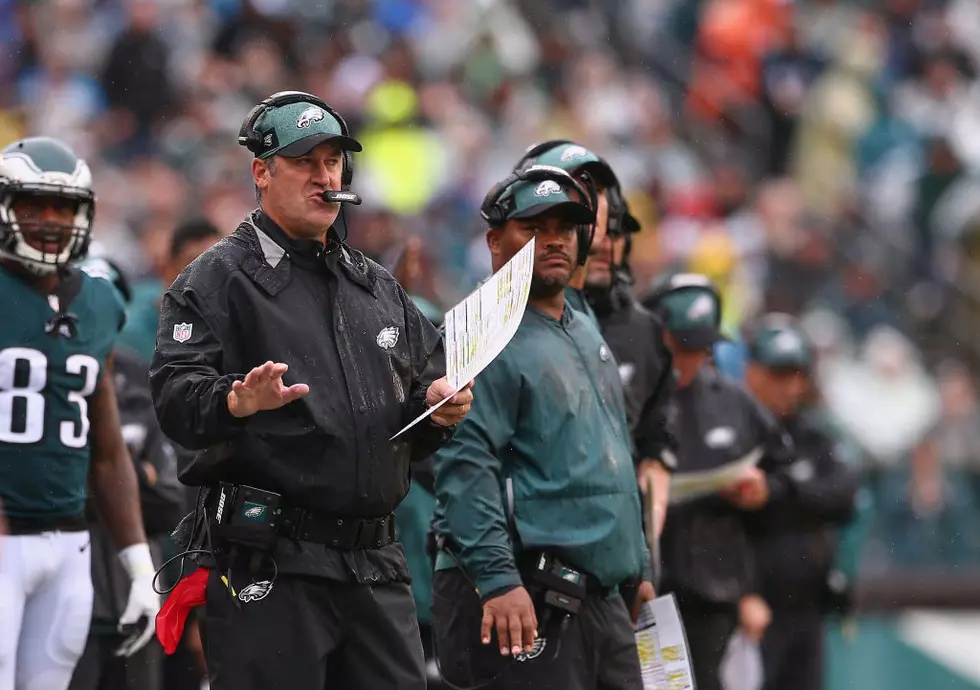 McMullen: Could Traffic Derail the Eagles?
Photo by Mitchell Leff/Getty Images
PHILADELPHIA (973espn.com) — An influx of skill-position talent and divergent personalities at different stages of their careers are some of the more significant issues Doug Pederson will face as he enters Year 4 as the head coach of the Philadelphia Eagles.
If life existed in a vacuum just about every coach in the league would be envious over what Howie Roseman has assembled for Pederson as the Eagles prepare to kick off training camp on Thursday.
Receivers DeSean Jackson and JJ Arcega-Whiteside, and running backs Jordan Howard and Miles Sanders, join a skill-positional group that still revolves around Zach Ertz and Alshon Jeffery and also includes Nelson Agholor, Dallas Goedert and Darren Sproles.
If you look into the context of certain players -- things like Jackson's history of wanting the football, Agholor, and Howard entering their contract years, and Jeffery likely realizing that Arcega-Whiteside was likely drafted to replace him -- you might see some combustible situations starting to develop on the horizon.
In the past Pederson has talked about his game planning and the fact it starts with Nos. 86 [Ertz] and 17 [Jeffery]. That's unlikely to change in 2019 despite the new additions meaning some really talented players will have to be happy with limited touches.
"There's just one ball, and that's just my opportunity to communicate that to players," Pederson said last month when asked about all of his available options. "And listen, if defenses come in here and want to take DeSean away, then you got two tight ends and two other receivers and running backs that you can kind of exploit and get touches to. So it all kind of gets predicated on how teams want to approach us and how to attack us."
And all that makes perfect sense on paper but if Goedert, a player considered to be an emerging star inside the organization, is on the field, Agholor, a player on the last year of his rookie deal trying to convince people both inside and outside the organization he deserves a significant second contract, likely isn't.
Meanwhile, if the traffic continues to be funneled toward Ertz and Jeffery that likely means impactful but few touches for Jackson, who has sulked in the past when the volume is missing. If the rookies -- Sanders and Arcega-Whiteside -- start gaining the confidence of the coaching staff Jeffery might start wondering about being a salary-cap casualty come the offseason and Howard may start to wonder about what his next contract will look like in his next city.
"You just have to sit down and say, 'listen, there's going to be times when you get either no targets, one target, (or) you might get 10 targets," Pederson explained. "The bottom line is winning the game, and how are you helping us win the game?'"
Pro football isn't a video game and managing personalities is every bit as important as the X's and O's. Through three years that's been a strength for Pederson.
"I think just overall managing the football team with a lot of the different personalities that kind of come and go with your team and, you know, being able to handle the LeGarrette Blounts and Jay Ajayis and now DeSean Jackson back on your team and guys that are unique personality types and profiles," Pederson said. "I mean, just being able to manage all that and listen to the team, I think I've had a pretty good handle on just listening to the guys and understanding where they are."
Often injuries take care of traffic problems and if that doesn't, a lack of talent does. The Eagles don't want the former and the latter isn't an issue. Also helping is the youth of players like Goedert, Sanders and Arcega-Whiteside and the age of a player nearing the finish line like Sproles, situations that limit the cachet to push for the ball more.
"It just has to come through a lot of conversation and just making sure – even schematically on offense – that as we put game plans together, we keep all those guys in mind," Pederson explained. "We've got to because that's the beauty of where we are, of having multiple weapons, so to speak, on offense. Some of them are young."
The have nots in this league might call all of this rich-people problems. In this case, the currency is talent and if you're going to have an issue, that is certainly a nice one to have but no matter the labels, a problem always needs to be solved.
"We won a championship without a [1,000]-yard receiver, a 1,000-yard rusher," Pederson said. "It can be done. You can move the ball around a little bit and still be successful."
-John McMullen covers the Eagles and the NFL for 973espn.com. You can reach him at jmcmullen44@gmail.com or on Twitter @JFMcMullen