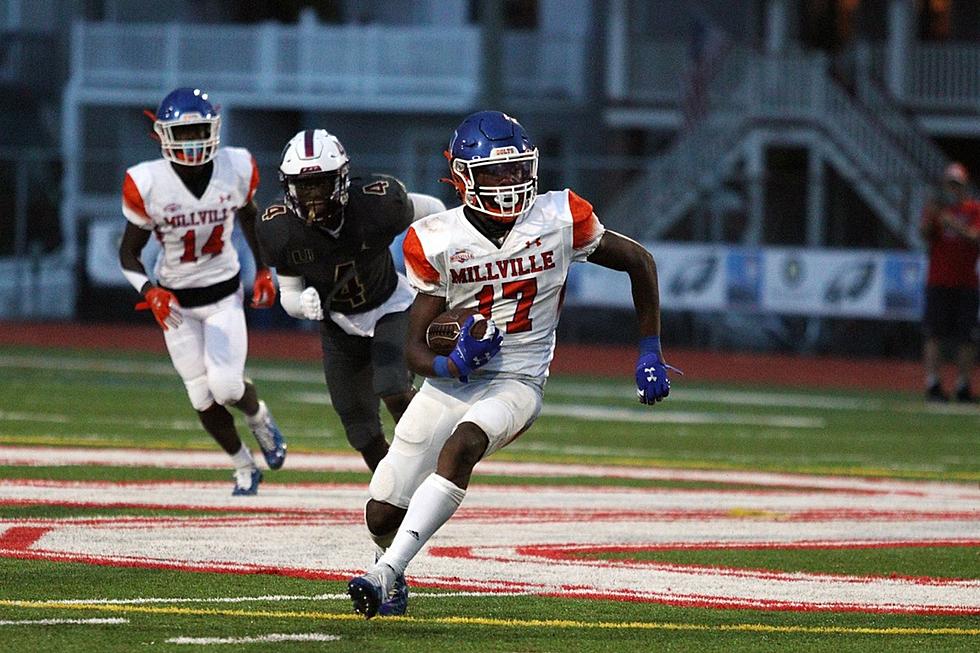 Millville, NJ, football standout Lotzeir Brooks gets SEC offer
Photo by Dave O'Sullivan/Glory Days Magazine
Talented Millville High wide receiver Lotzeir Brooks, continues to pick up offers to play at the next level and on Tuesday he got a big one from SEC and national power, Alabama.
Brooks, who is entering his junior season, has 104 catches for 2,077 yards and 27 touchdowns during his two seasons with the Thunderbolts,
He is the Cape-Atlantic League area's top returning receiver in 2024.
The offer from the Crimson Tide brings his total up to 20 offers, with still two seasons left to play at Millville.
Along with Alabama, Brooks has offers from Arkansas, Boston College, UCONN, Georgia, Penn State, Rutgers, Pittsburgh, Syracuse, Kentucky, Louisville, Nebraska, Oregon, Temple, Tennessee, Texas A&M, and West Virginia
Here is the scouting report on Brooks from 24/7 Sports:
Has slot receiver size with ability to add strength and mass throughout frame. Is young so physical growth not complete. Impacts all three phases of game. Has quickness, hips and speed to play corner. No verified time markers but multiple in-person evaluations allays any speed concerns. Dynamic offensive talent with big-play ability and proven on-field production. Gets off line of scrimmage quickly and able to beat jams. Is tough to re-route. Has reliable hands. Can get behind defense even when safety is trying to play over the top. Electric and elusive after catch. Difficult to bring down in space and can change direction at high rate of speed. Weapon on bubble screens because of ability to pierce defense. Good ball skills down the field and will battle for 50-50 balls. Drives well on ball from corner position and shows make-up speed. Has willingness to come up and hit in running game. Good route runner but has to continue to re-fine ability. Sometimes rounds routes coming out of break. Has to continue develop strength. Is not asked to run many intermediate routes. Could be impact player early in college career at high-level program.
Brooks was a first-team Group IV player and was named the West Jersey Player of the Year by NJ.com and the Press of Atlantic City.
Millville went 1-2 last season, winning the West Jersey Football League American Division and a state Group IV championship as a sophomore. with an 18-14 win over Northern Highlands in the title game.
Fore! The Absolute Best Mini Golf Courses for Memorial Day Weekend