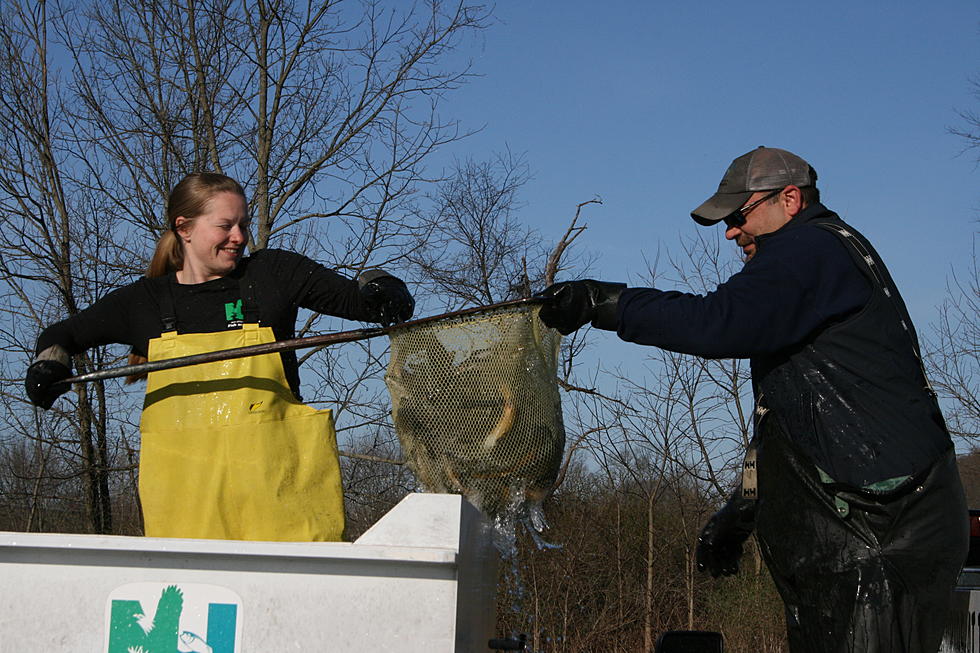 New Jersey Trout Season Opens Saturday
Tom P.
The eagerly anticipated statewide trout season opener kicks off at 8 am this Saturday, with an opening count of 184,500 rainbows spread over 171 waters from Sussex County to Cape May County.
This coincides with the 40th Anniversary of the Pequest Trout Hatchery located in Oxford, Warren County.
The 'bows come in at a 10.5-inch average, but in the mix are approximately 6000 breeders ranging from 16 to 22-plus inches and weighing up to six pounds. Every water stocked received a dose of these jumbos for opening day.
When the seven-week in-season stocking season concludes the Friday afternoon of the Memorial Day weekend, the baseline number of 569,790 trout will have been released.
Like rules, baselines were made to be broken, and the crackerjack crew at Pequest, under the direction of superintendent Ed Conley, always seems to produce a surplus number of trout for springtime stocking. Last year, some 12,000 extra fish were added to the stocking numbers starting with the fifth stocking week. These were loosed in those waters still on the release schedule.
Adding to the robust rainbow rodeo is the wildly popular Bonus Broodstock Program wherein 10 waters divided between the northern, central, and southern sectors of the Garden State are chosen to receive 3-1/2 year-old breeders. These fish range from 18 to 25-plus inches and can weigh upwards of seven pounds. These are included in the pre-season load for the opening day rush, with the number predicated on the size of the venue.
Trout of a lifetime for sure!
Following are the South Jersey waters on the list. The number of breeders is in parenthesis following the pre-season number.
Heritage Park Pond/Atlantic County: 440 (30); Sylvan Lake/Burlington County: 440 (50); Ponderlodge Pond/Cape May County: 500 (30); Giampietro Park Lake: 440 (50).
The daily limit from April 8 to May 29 is six trout at a minimum of nine inches. After Memorial Day, the limit is reduced to four.
The 2023 spring stocking schedule including waters and the respective numbers and stocking days is available at www.njfishandwildlife.com.
For more information about the Pequest Trout Hatchery and its operations, and New Jersey's spring trout stocking, including the Bonus Broodstock program, visit the April 1 podcast of Rack & Fin Radio on 97.3 ESPN with Pequest superintendent Ed Conley, and trout stocking coordinator Maria Berezin-Dowling.
7 reasons why you need to kill the spotted lanternflies infesting NJ
LOOK: Here are the pets banned in each state
Because the regulation of exotic animals is left to states, some organizations, including The Humane Society of the United States, advocate for federal, standardized legislation that would ban owning large cats, bears, primates, and large poisonous snakes as pets.
Read on to see which pets are banned in your home state, as well as across the nation.