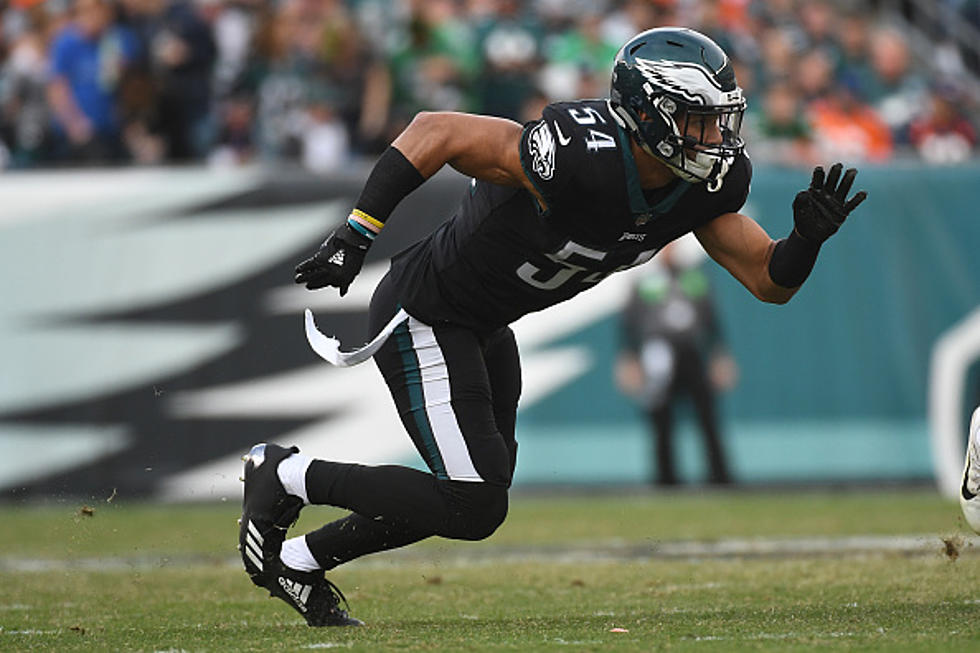 Pederson Acknowledges 'Disappointment' with Kamu Grugier-Hill
(Photo by Andy Lewis/Icon Sportswire via Getty Images)
PHILADELPHIA (973espn.com) - Eagles linebacker Kamu Grugier-Hill admitted Thursday that he suffered a head injury on the first play of the Eagles' Dec. 1 game in Miami but the linebacker misled the medical personnel on hand purposefully in order to stay in the game, intimating that he dinged his shoulder.
In a nutshell that is one of the many problems, the NFL has to deal with when it comes to concussions because so many players want to play through getting their bell rung so to speak. The difference from being an athlete in his prime vs. a 50-year-old experiencing the fallout from multiple concussions changes priorities, however.
Ronald Darby intercepted a Ryan Fitzpatrick pass intended for DeVante Parker when Grugier-Hill and the lengthy receiver collided. After successfully obfuscating the problem, Grugier-Hill ultimately played 42 snaps against the Dolphins, the second-most traffic he's seen all season.
By the Tuesday after the game, everything seemed fine and Grugier-Hill even spoke to reporters in the locker room but by Thursday he was still experiencing difficulties and reported symptoms which ultimately placed him in the concussion protocol and out of the lineup Monday against the New York Giants.
Grugier-Hill was cleared this week, is back on the practice field, and online to play against the Washington on Sunday.
Doug Pederson, though, admitted he was not happy with the way KGH handled the situation.
"This goes back to training camp when we sit in here as a team and have a medical meeting and we actually disclose to our players, we stress how important it is for our players to, one, either self-police themselves and/or a teammate, kind of say something to a medical team member of this importance," the coach explained.
In some ways the Pederson and the league are swimming upstream because players want to play and KGH is hardly the first and won't be the last that will try to play through a poential concussion so it remains about educating and trying to change a culture that has been around for decades.
"We know how important head and neck injuries are to our league and to just the person, the player himself and the well-being of the player," Pederson said. "So from that standpoint, to have this come back like this and for him to admit what he has said and done, it's very disappointing for me as a head coach, after putting our players through meetings and instructing our players."
Pederson played in the culture where players were almost expected to fight through issues like this but acknowledged the changes in the game.
"Our game has changed since I played and maybe then you could [play]," he said. "But now, there's too many things in place, too many protocols, too many standards that we as coaches and as players, we're trying to protect our game and the well-being of every player.
"In a sense, it's a little bit of a selfish act to take it upon yourself and make that decision when he could have gotten checked out right away. ... "Yeah, I'm disappointed."
-John McMullen covers the Eagles and the NFL for 973espn.com. You can reach him at jmcmullen44@gmail.com or on Twitter @JFMcMullen