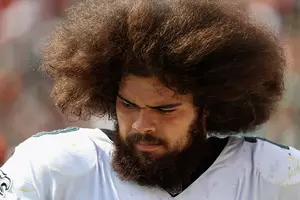 Pederson Plays Coy for Giants
Who's the left guard for the Eagles? (Photo by Rob Carr/Getty Images)
PHILADELPHIA (973espn.com) — In a combative press conference that resembled an Abbott and Costello routine Eagles head coach Doug Pederson refused to admit he's making a change at left guard.
"I have not made a change yet," the second-year head coach claimed.
Chance Warmack handled first-team snaps at left guard during the Eagles' first two practices this week during the open period observed by the media, and several members of the offensive line, including Lane Johnson and Brandon Brooks, believe the former Alabama star will replace Isaac Seumalo in the starting lineup.
When pressed Pederson continued to be vague, however.
"It's still being evaluated," the coach claimed. "And I'll talk to [offensive line coach Jeff Stoutland] on that as we go forward."
Pederson insisted the Eagles are moving forward and preparing both players to be ready in case needed on Sunday against the New York Giants, although the preparation part of things has certainly changed because Seumalo was getting all the work with the first team through the first two weeks.
"Listen, it's always been a next-man-up mentality," Pederson explained. "Every team goes through this. Every team goes through injury. Every team goes through game-time decisions, especially now we're in Week 3 and it's going to happen in Week 4 and the rest of the season. The psyche is you've just got to make sure that all the guys, the whole team is on [the same] page, not just one side of the ball or the other because it does and it can affect not only offensively, defensively, but it can affect special teams."
Seumalo, a second-year player, struggled mightily in Kansas City, allowing four sacks and five pressure against a Chiefs' defense that game planned around his deficiencies.
In other news Pederson also refused to offer up some clarity on the safety situation in advance of the final injury report, saying that Rodney McLeod, Jaylen Watkins and Corey Graham would not practice for the third straight say but claiming each would be a game-time decision.
When practice did start, McLeod was trying some things so he looks like the most likely to have a chance to play against the Giants.
"All of them actually are doing well," Pederson said. "We'll just continue to monitor all of them, that situation. But they're doing well and [are] still probably going to end up being a game-time decision."
-John McMullen covers the Eagles and the NFL for 973espn.com. You can reach him at jmcmullen44@gmail.com or on Twitter @JFMcMullen