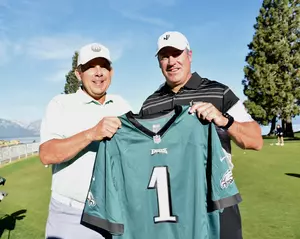 Pederson vs. Payton Round 2
Doug Pederson and Sean Payton at the American Century Championship. (Photo: Jeff Bayer)
(973espn.com) - Doug Pederson is getting used to winning.
The Eagles' coach is coming off a Super Bowl LII win and got the better of another Lombardi Trophy-winning mentor on the golf course at the NFL Meetings.
The result of Pederson and Sean Payton's friendly wager back in March means Philadelphia will get to wear its home jerseys when visiting the New Orleans Saints at the Superdome on Nov. 18.
The rematch between Pederson and Payton takes place at the American Century Championship celebrity golf tournament in Lake Tahoe, Nev., this week where Payton is looking to get even for a good cause.
Prior to Thursday's celeb-am round at Edgewood Tahoe Golf Course, the two announced that the one who finished lower in the tournament will make donations to team-affiliated autism charities in both cities.
"Pederson and Payton are going to play for Autism," Payton announced.
Asked if there was anything else on the line this week, Payton said, "We've got to figure that out. ... But there is pride on the line."
Payton is typically the better golfer and is listed at 50-1 in the tournament at the legal Nevada sportsbooks, while Pederson is at 100-1 to win.
-John McMullen covers the Eagles and the NFL for 973espn.com. You can reach him at jmcmullen44@gmail.com or on Twitter @JFMcMullen