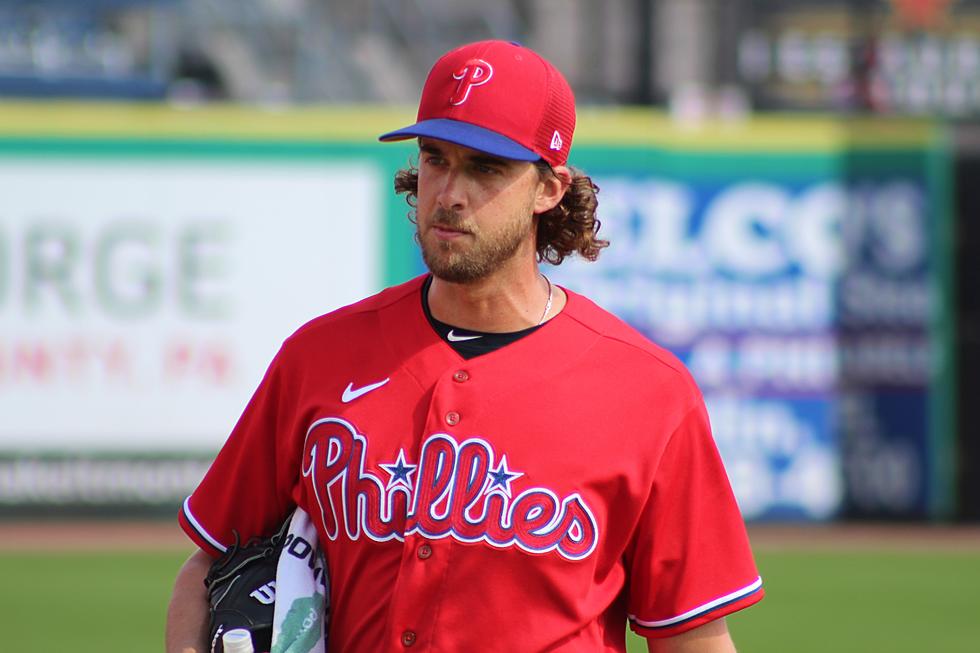 Phillies Mailbag: Starting Pitching, Pitching Velocity, Deadline Deals?
Starting pitcher Aaron Nola (Frank Klose/97.3 ESPN)
We are back once again with the 97.3 ESPN Phillies Mailbag.  We take your questions and answer them on The Sports Bash with Mike Gill.  Tune in Tuesday afternoons to hear your questions answered live on the air.
Bailey Falter cannot continue in the starting rotation.  Who can replace him?
~James
The Phillies were hoping that Bailey Falter could step up in the manner he did in 2022, when admirably filled in for an injured Zack Wheeler.  But 2023 has been tough so far  for Falter.  After seven starts, Falter is 0-6 with a 5.75 earned run average.   The Phillies have won just one of his starts (Falter did not get a decision).  So the question is a fair one.
The answer will not be Matt Strahm, apparently.  With Ranger Suárez set to return to the starting rotation, he will be assuming Strahm's spot and not that of Falter's, as manager Rob Thomson has said on multiple occasions.  This seems to be confirmed with Strahm's relief appearance (and save) on Sunday.
One name not on your radar that could be the answer would be none other than Nick Nelson.  Yes, the former Phillies long man who started no games since joining the Phillies might be a rotation option.  Nelson recently wrapped up his rehab assignment and the Phillies optioned him to Double-A Reading.
Yesterday, the Phillies "promoted" Nelson to Triple-A Lehigh Valley.
The moves suggest that this was no demotion earned by Nelson.  The way they are continuing to use him is as a starting pitcher, building up his innings.  In back-to-back starts with Double-A Reading, Nelson reached the five-inning mark.  He threw just 59 pitches.
Nelson will next start at Triple-A Lehigh Valley. Double-A doesn't seem like much of a match for Nelson.  While the pitch count was low, the act of getting up and down from inning to inning is a consideration for someone stretching out.  So the Phillies will continue to stretch him out at Triple-A.
I would not be surprised if Nelson joins the Phillies rotation soon.
Are the Phillies concerned with the decrease in velocity for Aaron Nola and Zack Wheeler?
~Joe
So far, the answer from the Phillies is "no".  There are a couple new dynamics this season which could be the reason why.  One would be the different offseason, and one would be the new pitch clock.
The Phillies played into November last season, the first time either Aaron Nola or Zack Wheeler had done so in their careers.  Therefore they took the appropriate rest after the season ended.  Then they picked up the ball again much later than past offseasons.
With the change, we have seen starting pitchers working their way back up to their old velocity.  Alex Coffey of the Philadelphia Inquirer noted on April 30 that Nola's fastest pitch a couple starts ago was actually below his average pitch velocity for the season.
Another issue could be the pitch routine being altered due to the new pitch clock.  In Coffey's piece, she noted that Nola was traditionally a slow worker and pitching coach Caleb Cotham was looking into his routine on the mound.
The Inquirer's Scott Lauber picked this idea back up yesterday, considering the change for both Nola and Wheeler.  "A little off" is the way it was described.
But across baseball, Lauber notes, earned run averages for pitchers are up.  Across the board.  That could suggest the wider effects of the pitch clock and the level of comfort for pitchers adjusting.
Could that change as pitchers get acclimated?  Could the sample size still be small?  Both could be at work.  So it's something to keep an eye on.
Even if the Phillies are in the "hunt" at trade deadline time, what would be a trade for Aaron Nola that they could not refuse, granted one would exist?
~Bob
The question is an interesting one, since a player approaching free agency is always a candidate for a trade.  I am not sure there would be a scenario that the Phillies would consider for Aaron Nola, however.
I do believe that the Phillies will be in contention at the July 31 trade deadline.  I would think that they would be buyers at that point.  They might be looking to add starting pitching. which a team can never have enough.
But I think Nola is too much of a central piece to the Phillies to explore a trade.  Even if they would be able to simultaneously trade Nola and add two other starting pitching pieces, I think that would represent a big disruption to what the Phillies are trying to do this season.
I would think that the Phillies would continue to try to extend Nola, and will do so after the season.  After all, he would only cost them money.