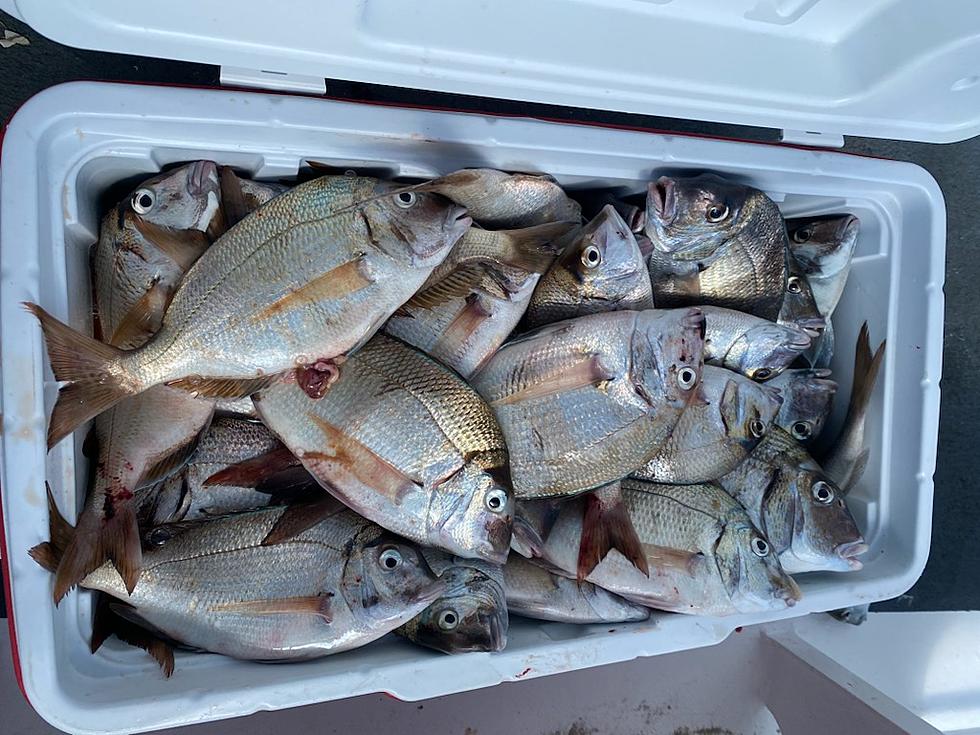 Tom P.
Talk about a warm-up act blowing away the headliner!
Porgies (scup) are doing that amid the sea bass fervor on the party boats...and on more than a few charter and private boats dropping baits down to the wrecks, rubble, and other structures jutting from the ocean floor.
While decent counts of sea bass limits (10 fish; 12.5-inch minimum) are being swung, and average catches in the 5-7 range (as per conversations with captains from the Highlands down through Manasquan down to Barnegat Light), it's the ferocious porgy bite that is helping fill coolers.
One party boat skipper quipped that it's sometimes difficult to get the baits down to the sea bass because the porgies are grabbing them before they can reach the bottom structures where the sea bass are prowling.
With a 30 fish limit, which is down 20 from last year as per regulation, at a 10-inch minimum, it's been both size and numbers, as max catches are the norm, with scup in excess of three pounds not uncommon, some even larger. Indeed, the angler classification of porgies as "pork chops", "pie plates" and "hubcaps" is certainly proving true so far this month.
Indeed, some of the scup are the sizes generally seen on the offshore safaris for giant sea bass in November and December.
So far, this has been and looks to continue, a drop 'n reel scenario. Those that target porgies among the mobs of sea bass will let the sinker hit bottom, then make a few turns of the reel handle to get the bait off the bottom and into the scup strike zone above the bottom cover.
Fave baits include fresh and salted clam (both natural and the pinkish-orange, mega salted "rainbow" clam), and squid. Pieces of Berkley Gulp! and the Fishbites Coquina E-Z Clam will also put scup in the coolers.
Porgies make great eating. While some may contend they are not as delectable as sea bass, blackfish (tog) or triggerfish, from this corner, we put them right there with fluke, especially when it comes to venerable fried fish sandwich. Scup are also excellent baked, broiled, or in a chowder.
7 reasons why you need to kill the spotted lanternflies infesting NJ
Gallery Credit: Kylie Moore
LOOK: Here are the pets banned in each state
Because the regulation of exotic animals is left to states, some organizations, including The Humane Society of the United States, advocate for federal, standardized legislation that would ban owning large cats, bears, primates, and large poisonous snakes as pets.
Read on to see which pets are banned in your home state, as well as across the nation.
Gallery Credit: Elena Kadvany