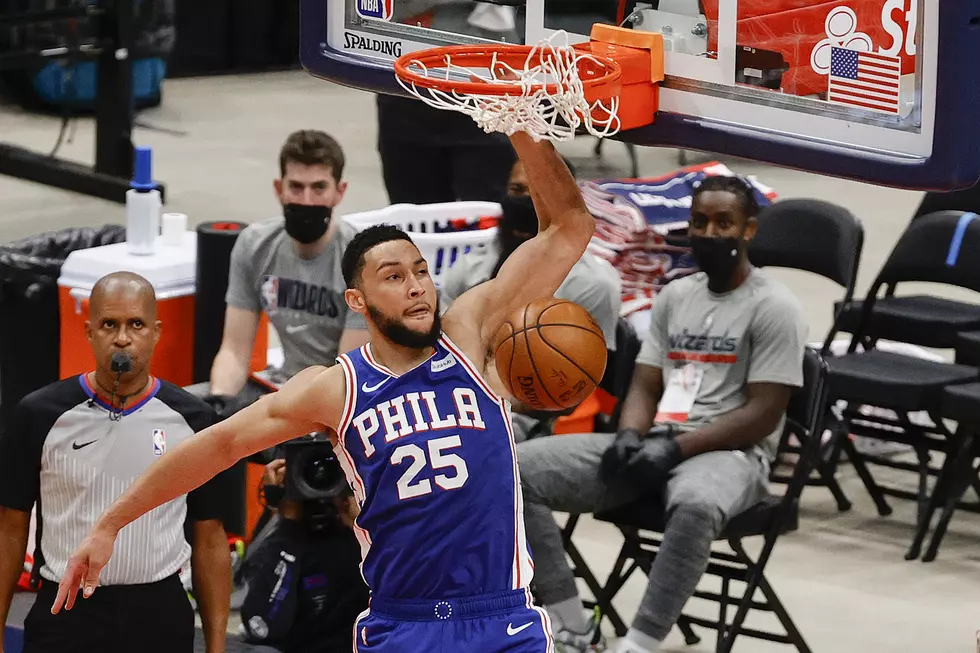 Rivers Should Defend Simmons, But Free Throws Need to Improve
Tim Nwachukwu, Getty Images
If you watched the first three games of the series, you knew it was coming. Wizards head coach Scott Brooks didn't even try to keep it a secret before Game 4.
Lo and behold, in the first quarter, Washington deployed the "Hack-a-Ben" strategy. For the uninitiated, it's derived from the "Hack-a-Shaq" tactic where teams would foul the nearly unstoppable Shaquille O'Neal to exploit his poor free-throw shooting.
Ben Simmons is familiar with this strategy — it was Brooks who first implemented it during Simmons' rookie season, forcing the three-time All-Star to attempt 29 free throws in a game.
"I'm not upset," Simmons said postgame Monday. "It's basketball."
While Simmons shot poorly from the line (5 of 11), it's hard to deem the strategy a great success. There were plenty of other factors for the Sixers dropping Game 4 Monday, most notably the absence of their MVP finalist Joel Embiid because of a right knee injury. Tobias Harris having an abysmal night (8 of 24) is another.
Simmons himself getting into foul trouble might've doomed the Sixers more than anything after Embiid left the game. The team seemed disjointed on both ends without either of their All-Stars for long stretches.
"Obviously he's going to be more critical of himself than anybody else," Danny Green said of Simmons. "He's going to be in the gym making sure that he gets his rhythm back. It's more of a mental thing than anything for him.
"But that's not why we lost the game. It wasn't free throws, it wasn't the referees. It was us not executing the way we know we should and the way we could down the stretch."
Simmons came into Game 4 having missed nine straight free throws to start the series. He failed to complete an and-one in the first quarter, extending that streak to 10. Ironically, Simmons made his first free throw of the series the first time Brooks decided to foul him on purpose.
The strategy was used again as the Sixers mounted a furious comeback in the fourth. The Wizards led by as many as 14 before Tyrese Maxey and Furkan Korkmaz led a small-ball lineup on a run to eventually tie the game. That's when Brooks sent Simmons to the line for three straight Sixer possessions.
The result: 3 of 6.
Doc Rivers, who has been steadfast in his defense of Simmons, chose to see it as the team earning a point per possession.
"Listen, analytically if you split all those free throws, you'll take a point per possession," Rivers said. "He did that. I had no issues with it. Obviously we would've loved if he made them both, but I didn't think that changed the game at all for us."
A point per possession isn't a bad outcome in crunch time of a playoff game. When asked if he considered sitting Simmons during that stretch, Rivers bluntly said, "no."
The subject changed over the course of the next couple questions. When the conversation circled back to Simmons, Rivers defended him more adamantly than he had all season.
"You guys keep this Ben Simmons narrative alive, which to me is freaking insane — how good this guy is and all the things he does," Rivers said. "Ben is not a 40-point guy. That's not what he does. He does other things for your team, and I just don't understand why that's not sinking in in our city. Everybody on the team doesn't have to be a scorer to help the team.
"Ben scores, but Ben creates scoring for us. That's what he does. If I'm Ben, at some point I'd get tired of it. I just would, because he's just too good and he does so many good things for this basketball team. And I keep saying, celebrate him. Celebrate all the stuff he does well. We don't do that enough."
There is a gray area here. Rivers isn't wrong in believing a point per possession is a decent outcome in a playoff game. He's also not wrong to defend one of his star players, who is immensely talented and important and was likely already feeling down.
With that said, Simmons needs to be better from the line. That has nothing to do with position. Going 5 of 11 isn't good enough for any NBA player. Nor is the 5 of 20 Simmons has hit for the series.
To Simmons' credit, he made no excuses postgame. He understands the position he's in and knows he needs to be better.
"Just step up and knock them down, for real," he said. "That's about it. I'm not discouraged going to the line, so I got to knock them down."
Simmons and the Sixers know it's coming again, whether it's in this series or beyond.
It might not matter against a team like the Wizards, but who knows — maybe Brooks is doing Simmons a favor for down the road.
Sixers First-Round Picks Since 2000