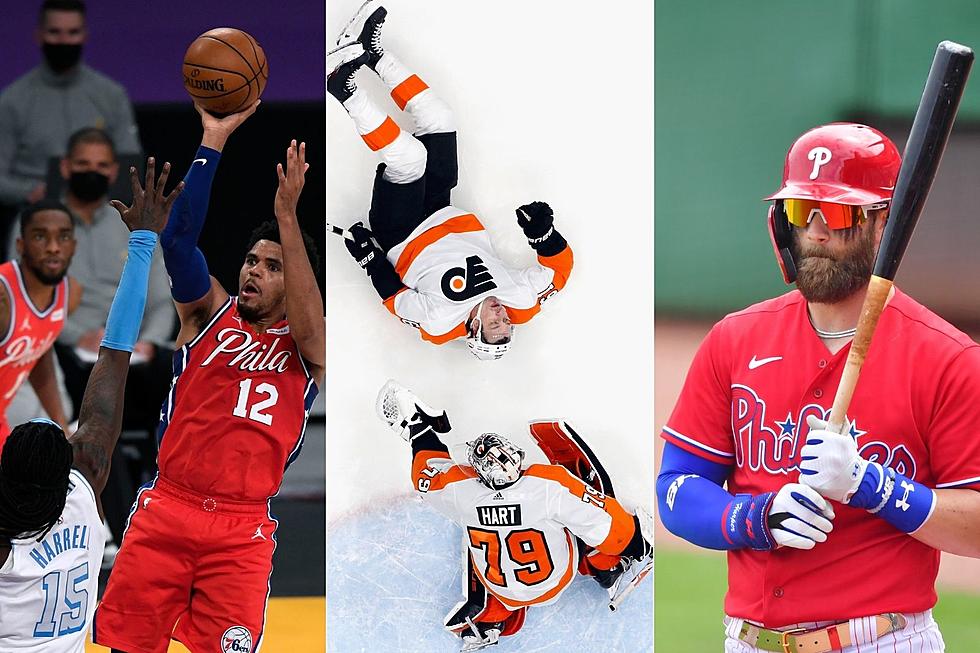 Sixers Are Up, Flyers Are Down, Phillies Are Coming to Town
-Tobias Harris: (Photo by Harry How/Getty Images) -Carter Hart: (Photo by Bruce Bennett/Getty Images) -Bryce Harper: (Photo by Julio Aguilar/Getty Images)
The Philadelphia 76ers are playing great basketball right now!  The Sixers are 10-1 in the month of March and are 3-0 on their current road trip. They've been without their MVP candidate Joel Embiid since March 13th after he hyperextended his knee against the Wizards which resulted in a serious bone bruise. Despite his absence, the Sixers keep winning games in a variety of ways.  With 27 games left in the regular season and the return of Embiid coming sooner than later, the 76ers are looking good down the as they hit the stretch run of the regular season.
The Flyers on the other hand are fading fast and there are no signs that they can straighten it out.  The Flyers are 4-10 in the month of March and with 24 games remaining on their regular season, they need to turn it around fast or they will not reach the playoffs.  Remember, only the top four teams in the East Division will get to play in the 2021 NHL Postseason.
The Phillies are in preparations to open up their season on April 1st at Citizens Bank park against their divisional rival Atlanta Braves.  Phils fans are hoping that the 2020 season was just a speed bump on their path to becoming MLB contenders again.
Finally the NCAA tournament picks up where it left off this weekend with the Villanova Wildcats reaching the Sweet Sixteen and playing Saturday night against the number one seed Baylor Bears.
We have a lot to cover in The Locker Room with Billy Schweim, starting with Saturdays show Scott McKay and I will discuss the hot topics of the week and get you ready for Flyers rematch against the Rangers at 1pm.  We have two special guests lined up on Saturday: We will talk with former NHL referee Paul Stewart about the controversy that led to the firing of NHL official Tim Peel.  Then we will hear from the Radio Voice of the Villanova Basketball Ryan Fannon for a preview of the Wildcast clash against the Bears on Saturday night. 
On Sundays edition of The Locker Room with Billy Schweim, the PT is back on the show: Pete Thompson returns to produce and co-host.  We will review the Sixers and Flyers action from Saturday plus Phillies baseball and more.  We will also talk with Bill Meltzer of Hockeybuzz.com and Flyers website writer about the state of the team. 
It's The Locker Room with Billy Schweim every Saturday and Sunday from 10am to 12 noon on 97.3 ESPN FM!
Sixers Head Coaches With Most Wins In Franchise History
KEEP READING: Flyers Top Goal Scorers Each Year Since 2010