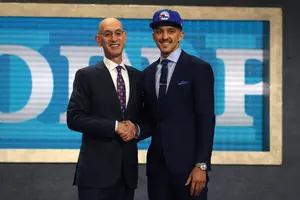 Sixers select Wichita State's Landry Shamet with 26th pick
Getty Images
After dealing Mikal Bridges to Phoenix fo Zhaire Smith earlier in the first round, the Philadelphia 76ers used the 26th overall pick to select Wichita State guard Landry Shamet.
In 32 games last season, Shamet averaged 14.9 points and 5.2 assists per game, shooting 48.9 percent from the floor and 44.2 percent from beyond the arc.
In three years combined at Wichita State, Shamet shot 43.7 percent from beyond the arc. Here's what Sports Illustrated viewed as his strength's leading into the draft:
Terrific size and length for a point guard. Shamet reportedly has a near 7'0" wingspan. His length and tenacity made him a pesky defender in Gregg Marshall's system. Shamet couples elite shooting (44.2% 3PT) with a high basketball IQ and excellent pick-and-roll ballhandling abilities. He can shoot comfortably on the move. He checks key offensive boxes for modern guards.
SI lists his weaknesses as lacking superb athletisism and his history of foot injuries should be cautioned. They compared his talents to that of Brooklyn Nets guard Spencer Dinwiddie.
Brandon Apter is a contributor to 97.3 ESPN and managing editor at SportsTalkPhilly.com. Follow him on Twitter @bapter23